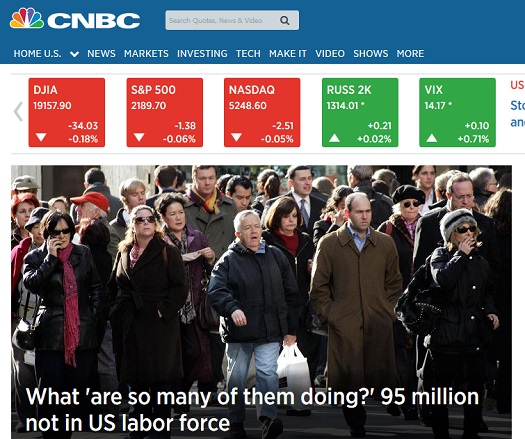 Look at that headline. Look at it!
I know I was excited in my 6,000 word election recap to observe that the problems with our reported unemployment figure and its relationship to labor force participation data had become a mainstream understanding. But the headline of CNBC on jobs Friday? Wow. Now everyone understands what I first started talking about four years ago – the BLS headline figure for unemployment is not only not the whole picture of unemployment, it's actively misleading.
Here, look, if we zoom out on the page, we can even see this headline in the sidebar: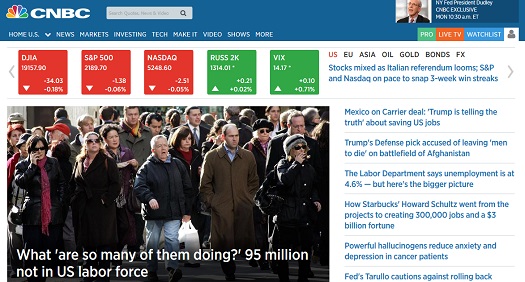 Did you see it? The Labor Department says unemployment is at 4.6% — but here's the bigger picture
It's like Christmas. Well, it really almost is.
It may be weird or insensitive to gloat this much about something that represents the ongoing entrenched suffering of millions of Americans. But don't misunderstand me. I'm gloating about being ahead of the curve on understanding a phenomenon that represents the revelation of past gaslighting of people who are suffering. This is a key distinction. I'm not excited that the unemployment rate has actually been above 10.6% for almost nine years. But I'm excited that people are talking about this fact widely and with greater awareness, because it means both that we are starting to get a better handle on the limits of capitalism and that other things I think may manifest themselves in the mainstream discussion. Like, for example, the idea that Donald Trump is a real threat to win the Presidency.
Oops.
While unemployment was reported to fall by 0.4% in November, it was one of those rare months where both Real Unemployment fell and the Reporting Gap increased noticeably. Real Unemployment did fall by 0.14% (to an 8-month low of 10.72%), presumably because seasonal hiring outpaced even normal seasonal adjustments in our consumer-obsessed culture. But the Reporting Gap increased by 0.16% (to a 6-month high of 6.12%), because holy hell is 4.6% not accurate.
Here are your charts:
The big picture is that an ever-increasing majority of the unemployed are invisible to BLS' reported numbers, though are easily visible to a basic analysis of those same numbers. And really they aren't invisible anymore, at the point where both the President-Elect and CNBC are talking about them all the time. And that's something. Unfortunately, of course, it looks like the President-Elect's prescription, much like adding even more cowbell to a Blue Oyster Cult hit, is going to be the same mistaken clang of lower taxes to bail out the rich and further inflate what is widely being seen as another calamitous bubble in our marketplace of exhausted ideas. The man who touted the problems with our current unemployment rate and painted himself the champion of the little guy remains a corporate kleptocrat with Reagany presumptions about how capitalism "works". What else can you expect from our next Entertainer-in-Chief?
Have no fear, when Trump's bubble bursts and unemployment, real and imagined, spikes further, I'll be here to cover it in my dinky little Excel charts. Until then, let's keep planning for the post-work economy, shall we? Stephen Hawking is starting to talk about it, but he still thinks that "retraining" is a good prescription for capitalism's endless stream of "losers", rather than realizing we need something to replace jobs and, ultimately, the whole system. But the surprise subhead is that Stephen Hawking is still a lot smarter than Donald Trump.
---
This is part of a continuing series on the under-reporting of unemployment in the United States of America.
Past posts (months indicate the month being analyzed – the post is in the month following):
May 2016
September 2015
July 2015
June 2015
March 2015
February 2015
December 2014 – labor force participation assessment
December 2014
November 2014
October 2014 – age assessment
October 2014
September 2014
August 2014
April 2014
December 2013 – seasonal assessment
December 2013
March 2013*
August 2012*
July 2012* – age assessment
July 2012*
*My initial analyses led to a slight over-reporting of the impact of the reporting gap, so the assessments in these posts are inflated, as explained and corrected in the December 2013 analysis.