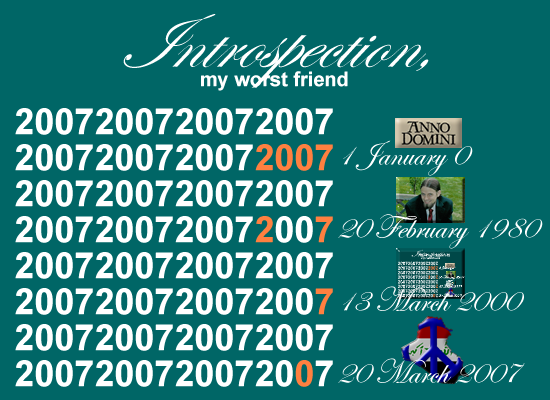 ---
--Everyone should keep a diary of some kind. Mine happens to be public. View or don't at your own leisure.
--Emily: One for the Masses [24 February 2002-present]
--Everyone: Blue Pyramid People
--Local Archive: Waltham Weekly [8 September 1998 - 10 March 2000] -~- Introspection [13 March 2000-present] -~- Introspection Stats
--First 900 days in Waltham, followed by 600 days in Berkeley, then 600 more days in Oakland. Currently based back in Berkeley. Other cities if stated.
--Latest redesign of this page's heading circa 24 February 2007. [Past Graphics Archive]
--Regularly updated features: Duck and Cover (daily) -~- Search of the Week (weekly) -~- Top Visitor Town (weekly) -~- Questions for God (weekly) -~- Mep Report (weekly)
--One Million Blogs for Peace -~- One Million Blogs for Peace Blog
--More information on Loosely Based, my novel published in June 2003. Buy LB from Amazon...buy from Barnes & Noble...buy from the publisher.

---
PLEASE NOTE: Introspection closed with the final entry below, on 15 July 2007, ironically talking about when updates would next be posted.
Storey Clayton's NEW blog (StoreyTelling) can be found here!

15 July 2007
-Leaving for a week in Oregon this morning to show Em my old hometowns & celebrate our anniversary. We will tour the coast, Portland, & Multnomah Falls. Very exciting! I'm going 'net-free for a week (I know I was letting updates lapse here for awhile anyway), so updates from there will be posted upon return.
14 July 2007
-Watched an atrocious movie last night ("Running with Scissors") & now have a day to catch up with things & goof off before our trip. As much as I would've liked to attempt to spend every minute of our nine days off in Oregon, I have to admit that the idea of putting bookend days at home was a much better approach.
-Hypothetically, I was going to use this day to catch up on things, but I actually just played all day. Tennis & cards with Gris & Anna (& tennis with four kids & eventually their mom from the neighborhood near the park where we were playing), a couple of leisurely meals, & a few errands including the procurement of my third lifetime wallet. As far as the Blue Pyramid & its updatedness status, the newly discovered momentum-vs.-direction question just has to be addressed. Upon return from this trip.
13 July 2007
-I was telling one of my bosses today that the time in a marriage seems to speed up... the first year took quite a while, but two, three, & four have piled up faster. At the same time, it feels like it's been more than four years. He noted that pretty soon I'll be saying that 18 years piled up fast. I really get nervous when people say things like that... I want my time to pass more slowly.
-Got through the day with an abnormally easy Friday... & now I'm off for nine days! Other than Christmas, I haven't taken a legitimate week-long vacation since coming to Glide, so I'm pretty excited.
-Thank you, Ichiro, for this anniversary present!
12 July 2007
-The BP is going through another huge revival phase, & I wish I were being diligent about new content to keep up with the interest. The CQ2 has been pushed back time & again, not to mention more publicity for the upcoming August Challenge for OMBFP & this page being updated & everything else. Ah well. This is notable because midsummer tends to be the worst time of the year for website traffic, & yet the quizzes have seemed to find a whole new audience, plus a bunch of reposters. Today one of my two new supervisees said she has felt like she knows me from somewhere & in the course of the conversation, it came out that the BP might be the source. That kind of thing makes me pretty happy.
11 July 2007
-Saw the midnight show of the latest Harry Potter film at the Grand Lake, even though no one would go with me. To be fair, about 900 people went with me as they sold out (or very nearly did) the main downstairs theater in said location. The movie disappointed me, though not severely. It's very strange to have the longest book be one of the shortest movies, & the lack of detail really showed. It also just seemed to take itself less seriously than most of the HP movies, which was really unfortunate given the grave nature of the fifth plot. My opinion seems in marked contrast to many others', however, so a second viewing would be welcome to see if I can distance myself from initial expectations. As always, they did do a great job of staging scenes exactly as one pictures them when reading... but I think Rowling writes quite cinematically.
-This job continues to exhaust, but I can start to see the light at the end of the week approaching...
10 July 2007
-In truly one of the most ridiculous moves which proves the existence of curses, the Saturn had another window breaking this morning. & it was the most blatant since the Seneca kids, & another windshield smash. Less than a hundred feet from our front door, the front windshield was squarely kicked in the center of the glass, shattering the whole thing but leaving it just intact, so no one even was able to actually break in. There were footprints all over the hood. While it seems like a possible revenge for being able to track down the person who broke in about 36 hours prior, it seems quite a stretch that he'd be able to trace us that far. Still, it's a bit of a chilling way to have glass broken. So, for those of you scoring at home, this is the eighth broken window on this one car in our possession (ninth overall in car history), the second smashing of the front windshield, & the sixth stranger-initiated action (seventh overall). Basically nothing else has ever gone wrong with the car. In case of Saturn, break glass.
-Ah, the ever-approaching Brave New World. My favorite is the person who thinks antidepressants are 50% under-prescribed as the leading prescription in American "medicine". As long as there are people who aren't on the happy pills, our objective of making everyone live with a miserable life & have no motivation to change will not be achieved!
-What a ridiculously great All-Star Game! Ichiro MVP, Putz getting runs out of his system, & by far most importantly, the announcement that Ichiro will be almost definitely re-signing with the Mariners for 5 years! This year I decided I wanted to get a Mariners jersey, but I was trying to decide between Johjima & Betancourt since Ichiro was certainly going to become a free agent with Bavasi's mismanagement of the team & their ongoing losses. But suddenly they've turned things around & this convinced Ichiro to stay! Not only can I get a jersey now, but the M's can count on being in the race & drawing more talent for the next half-decade. So great. & if they get there, of course, the M's can host the Series.
9 July 2007
-The new AA took over today, so I can finally stop doing two jobs at once! She seems highly competent & motivated & will be learning a lot quickly since we only have a week until I take off for vacation.
-So... many... meetings!
8 July 2007
-Mariners 7, A's 3. The M's wrapped up a wonderful series in Oakland that lifted them to 3-1 in my presence this year & is really convincing me that they have erased everything that was wrong with the team last year. We went with a bunch of friends who've been coming to the Saturday baseball games & I had the pleasure of being the only active Mariners fan in our section when a bench-clearing brawl erupted after a bases-clearing double by Raul Ibanez. In any case, it's been a fantastic baseball weekend & things are looking way up in the AL West.
-As great as the game was, it was less than stellar to emerge in the parking lot & discover that someone had, once again, broken glass in the Saturn. This marks the fifth time it's been broken into by strangers in our possession (the sixth overall) & the seventh window breaking (eighth overall), with the two lovely windshield smashes courtesy of the Seneca clients. Breaking the streak of only the triangular back windows & windshields, however, this was the front driver-side window, leaving just three original pieces of glass intact in the nine-year-old vehicle. In an actual surprise, several digital photographs were taken of the break-in by someone living nearby who seemed to have a personal vendetta against the breaker. The guy tried to pry the stereo out, but either gave up upon realizing the face-plate was detached & not in the vehicle or just found it too difficult. He did a nice job of jacking it up, though. So this marked the fourth time of five break-ins where nothing was taken, though the BART police officer noted that usually they don't take incidental stuff that might link them to the crime, even if it has some value, if they miss the big prizes (the stereo or the whole car). Nifty.
7 July 2007
-Skipped the M's game today to play baseball (with a tennis ball) as the second game in this summer's series in the park. We had another great turnout despite some concerns about who would show, & even increased the number of folks coming from my work. My team lost 23-17, but we played a full nine innings for perhaps the first time ever. I'm not sure I've ever won one of these games (I think I did exactly once), but I am elated that these are becoming enough of a phenomenon to field full teams of nine & get everyone into it. If only all the people who've moved since last summer were still here... with Fish, Stina & Dav, Zimmy, & Kevin & Natasha, we'd almost be able to field three teams!
6 July 2007
-Mariners 7, A's 1. This was looking like another fantastic & close game before the M's just kept piling on. Adrian Beltre, who has decided to precisely trade places with fellow 2005 free agent signing Richie Sexson, went 5-for-5 with a couple homers & the M's cracked open a game that proves this team has come a long way from last year. I enjoyed standing for nearly everything in the game except the national anthem & watching the generally atrocious Jeff Weaver hand the third loss of the year to perhaps the best starter in the AL (one of the other two losses was to the M's as well). This is starting to look like a really exciting year for baseball. In the pregame, I was within about a half a foot of Felix Hernandez during batting practice (I was right over the bullpen), but again forgot to bring a Sharpie despite having my glove there. I would then promptly have had to retire my glove, though, & we're playing tomorrow...
5 July 2007
-A's 3, Mariners 2. Sometimes one gets great seats & they are squandered on a pretty marginal game for one's team. Tonight was one of those nights, with my best lifetime seats (in the majors), just five rows behind the M's dugout. Sometimes one has to admit that a game of baseball was great despite the final score. Tonight was one of those nights, with a close game from start to finish, where neither team was ever out of contention & every play seemed to matter. & so it goes as the M's lost again in Oakland, but seemed like a much better team than last year. Watching the M's live is less of a luxury than it was a couple years ago before my MLB.TV subscription, but is more of a luxury given the seats I can now afford. At least the losses don't feel as monumental this year in a season where we're contending & it doesn't feel like my last chance to see them for a long time. After all, I'm coming back tomorrow.
4 July 2007
-Here's the Mep Report's controversial & much-discussed latest video, wishing you all a stellar fourth of July! This is our country, my friends.
-Nice to have a day off, even if it's for this reason. A Wednesday off is just about an ideal break in the week... it's nice to have a three-day weekend, but there's something about a mid-week break that's really great. Em & I didn't really plan our un-American party idea, so we just spent a chill day together & went to the Public Market, which was somewhat surprisingly open.
3 July 2007
-Well we did most of the work on our latest video before, & now finally it will be ready for launch tomorrow. It feels like this one has to be huge, but at the same time, it might just make a bunch of people angry. Stay tuned...
2 July 2007
-Goodness, am I glad this week is bifurcated by a day off. Whole lot of shaking going on.
1 July 2007
-July? Really? If only the year had an All-Star Break like the baseball season. The Mariners would certainly make my all-star team for 2007, along with the work promotion (maybe... if I get a new AA soon...), & OMBFP (especially if I were better about updating it). I wish I had more in the writing column, but when hasn't that been the case?
30 June 2007
-Went up to Six Flags with Gris & Anna on our last day to use our bring-a-friend passes (the June ones, at any rate). Gris was surprisingly un-participatory about many of the rides, but still went on a couple & we got to see all the animals & had plenty of popcorn. The swings, my absolute favorite theme park/fairground ride of all-time, were closed & this dampened my experience a fair bit, but overall it was still a great time. We then hit a Chinese place on the way back & went to "Ratatouille" at the Grand Lake, which was great fun. Suffice it to say that this was a pretty full fun day.
29 June 2007
-My entire attitude about life went from about a 12 on the old 100-point scale to a 92 in a five-minute timeframe. We've been working on this reapplication that's due tomorrow in Sacramento for a key contract for our program's funding. The FedEx drop-off point is supposed to be open till 5:00 & I had an interview that ran till 4:45, leaving me 15 minutes to lock up & get there. When I did, the guy told me they'd come at 4:30 & that was it. He redirected me to the Flood Building, where I was supposed to be able to find a drop-box with a later pick-up time. I put the critical package in the drop-box I found there, but it caught on the lip of the door, which prompted me to double-check & discover that it was a USPS box, not a FedEx. Horrified, I was just able to retrieve the package before dooming it to being actually lost or discarded. I ran into the Flood Building & asked a security guard if there was a FedEx box around the building. "Around the building or in the building?" he asked. I said in front of the building. He said there wasn't one there. I watched the clock behind him change from 5:00 to 5:01. I asked if there was one in the building. He smiled & said there wasn't. Why the hell would he ask me about in or around the building then?! I dashed out of the building, but realized that with the time passing past 5:00, I pretty much had to eat the package & perhaps drive it to Sacramento the next day. Oh disaster. I began dejectedly tromping down Market Street, on my way to Chipotle & the ballgame, with nothing to do with this essential contract in its shiny Saturday-delivery envelope. I was halfheartedly looking for another office supply place with a pick-up, knowing full well no one picks up after 5:00, when I stumbled across a Copy Central that said "UPS/FedEx" on the door. I stumbled in to see a box by the door that said... choir of angels... last pick up: 5:15! Triumphant but hesitant, I asked the swamped woman behind the counter if they'd come already (I had no sense of time at this point). She said she didn't think so. I hesitated while fingering the door. I told her it was important. She said she definitely hadn't seen them & it was before 5:15. I couldn't restrain an enormous grin as I dropped the envelope in the box & sauntered off to my reward of crispy tacos. Life is good.
-Diamondbacks 4, Giants 3 (10). Another extra-innings heartbreaker brought my mood back to Earth, especially after it had skyrocketed even further with the lifting of Barry Bonds' 750th career homer. Suffice it to say that the Giants need bullpen help in the worst way & are probably not headed for great things (aside from the career home run record) this season. We did get pins in honor of #750 after the game & got to see the All-Star cable cars posted outside, but this is little consolation for such desperately close losses in our Friday night package with Gris & Anna.
28 June 2007
-It's tough to have an off-day from baseball after such a great series. I again have to thank MLB.TV for putting the M's back to front-&-center in my summers. & someday I will figure out how to be productive in my free time & be a baseball fan at the same time...
27 June 2007
-I am becoming flippant. While this seems to amuse many of my co-workers, it's probably not a good overall policy. I am sensing patterns from my time at Seneca re-emerging & it's not ideal. Approaching 14 months here, which would put me at October '04 at Seneca... when things were not much improved post-camp & I was opening up with people enough to not really conceal my frustration. Breaking cycles & not making the same mistake twice are key.
-Now that's more like it, Mariners! Sweeping the best team in baseball! You can putitontheboard... yes!
26 June 2007
Happy Birthday to Mom
-Okay, things have to start getting better now. Everything's coming back into place. & I'm getting flack for working too hard again. Hopefully this means other people will be doing work too.
25 June 2007
-Frustration... rising! On the scales weighing oblivious against malicious, the latter is starting to eek out a victory over the former. As Bob Dylan would put it, oh no no, I've been through this movie before. & it's not like that, but it's still obnoxious. I need some time off. But first, I need an assistan.... oh wait.
-At least some people are doing their job.
24 June 2007
-& the great thing about playing baseball on Saturday (we mostly played on Sunday last summer) is having a full day off thereafter. I'm not sure I could work that well with this degree of soreness anyway. Hopefully that will fade if we get going on a schedule of playing every fortnight as we discussed yesterday.
-I'm not entirely convinced I'm ready for the week ahead.
23 June 2007
-Reinaugurated our baseball in Ohlone Park tradition with a massive crowd... I think we actually had nine on each team at one point this afternoon! We got the summer started a little late, but the weather hasn't really hit the full stride of summer until recently. We played seven full innings, my team barely lost, & lots of folks hung out afterwards at Triple Rock & then playing Mafia at our place. A fantastic time & a really good sign of summer to come!
22 June 2007
-After ruling the APDA Forum for a fortnight, The Witches of Parliam Village, an online game of Mafia/Werewolf, is done. It has established itself as the longest thread in APDA Forum history (eclipsing several games from last summer) & seemed to be enjoyed by most. While that was a blast, it was awfully time consuming for something purely recreational. & yet I have so many game design ideas for further experimentation...
-In follow-up news, the Camry has been recovered! No worse for the wear, it was found by police & returned to Gris & Anna!
21 June 2007
-One of my favorite things in the world has to be being blamed for miscommunication when someone else overinterprets what I'm asking, jumps to conclusions, & makes assumptions before asking me to clarify when they were unclear on what I said. That's the best. Additionally, if I hear one more time about politics internal to the organization, I am going to scream. I don't want to learn how to play politics. I work in non-profits precisely because I don't like the compromises, baby-kissing, & utter nonsense of the political landscape. If we have to navigate that here, what good are we really doing?
20 June 2007
-Well I thought we were going to go to Oregon the week of the 4th, in part to save vacation time by having a day built-in to the middle. But it looks like a couple weeks later will have to suffice instead. So it goes. This will also give me a chance to have an AA in place at FYCC before I cut out for a week, which seems like a much better practice overall.
19 June 2007
-I'm not entirely convinced that I'm cut out for all this. I'm just saying.
18 June 2007
-Today is my first official day at Glide as the Youth and Family Development Division Information Systems Administrator. Yes, that really is my title. Yes, it is quite a promotion. I will now be someone's boss... supervising two people who will be Administrative Assistants in the two departments covered by the division... one of which is my old department (FYCC) & one of which is our department aimed at slightly older kids & young adults seeking jobs & high school diplomas or GED's (TAES). I am elated at this new challenge & all that goes with it, but less so about doing my old job, new job, & covering for one of my bosses' upcoming vacations all at once while we seek a new AA for FYCC.
17 June 2007
Happy Birthday to David Gray
-Gris' celebratory birthday dinner became a mourning ceremony for the beloved & much worn '91 Toyota Camry, which was stolen from their street either today or yesterday. This is no way to spend a birthday. The Giants lost too. We all hung around & told stories of the Camry while trying to keep Gris from getting too depressed.
16 June 2007
-Just when it looked like the Mariners were going to have the best season since the 116-win year of 2001, we go on a crazy losing streak against... the NL Central? Oh disaster. Not auspicious.
-It is so frustrating to have such disparate perceptions sometimes.
15 June 2007
-Returned to work today & things seem much improved, & I got the one piece of paper that I found to be most important. This is a big relief, though it does not entirely erase the sting of Wednesday's series of events. I still question peoples' motivations & have to wonder what's going on, but I'm starting to get enough control that it might not matter. I wish I could be less vague, but there has to be some reason that people would buy a memoir of mine a decade or two hence when this site is available on the net for free...
14 June 2007
-So sometimes one can make a series of assumptions & intentions that all make sense at the time, but then end up in a place that seems inexplicable. It's that whole A to B, B to C, C to D concept where each of those steps seem perfectly logical & then A to D looks crazy. I think that's a very meaningful & important concept in this world, although I have to recognize that today there was a bit more of a visible moment of truth. In the end, with all that's been said & done, I know it doesn't actually matter. But I still feel a little weird.
13 June 2007
Happy Birthday to John Schneider
-Well today was one of the most frustrating days in history. Certainly the most frustrating I've spent at Glide. I wound up talking about it far too liberally on the Mep Report, so I guess plenty of information can be read between the lines, but suffice it to say that I do not feel good about the way I've been treated at work & all of my assumptions are starting to come crashing down around me. There was a brief comeback at the end of the day with another staff member offering support that gave me a fair amount of cause for hope, but it was looking really ugly there for a bit. & I'm still fuming. Thank goodness I have jury duty tomorrow. I really don't think I could stand to go back there the way I feel today without some cooling off.
12 June 2007
-I love articles like this. Despite a study that "discovers" the blindingly obvious fact that killing people professionally is likely to lead to self-doubt, depression, & suicide, the person running the study notes that he would not say that the study proves that military service itself results in an increased risk of suicide. Even though, you know, that was what the study was setting out to examine &, uh, it found that twice as many people commit suicide from the military end of things. Huh. It's not quite like saying that military service overall doesn't make you more likely to die, but it's close. I'm sure that study is being developed now. "Life is too complex," says the researcher. Maybe everyone killed in combat was about to fall out a window & military service saved them! Amazing!
-How about these Mariners. How about them! 5 straight wins, this one in the 13th, none of them by more than 2 runs! What a great era for MLB.TV.
11 June 2007
-A neat little OMBFP surge, in large part due to a post at crooksandliars.com, is getting me excited all over again. I will have to sleep sometime, though, presumably.
-I gotta say, this M's team is looking more & more like the Refuse to Lose squad of 1995. Four straight one-run comeback wins? Whoo!
-Feeling a little hopeless about everything else, though.
10 June 2007
-Had a great, if somewhat slackery, day hanging out with Gris, then joined by Anna, then joined by Em. There was baseball, food, & reading at the beach of Alameda, before it just got too cold.
-I AM LIVING BY MOMENTUM AND NOT DIRECTION. THIS, MORE THAN ANYTHING ELSE, NEEDS TO CHANGE.
9 June 2007
-Communication wards off most everything. But I suppose not everything. At least I started to begin to catch up with the rest of everything.
-The Mariners just can't stop coming back against the Padres. & the whole of MLB. This team is good! I can't tell you how much more fun life is when one's baseball team isn't just a gaping hole of terrible.
8 June 2007
-So much limbo. I'm going to put up a limbo stick in my doorway at work.
-So much fun is this Werewolf game. A little too much fun, perhaps. So it goes.
-A's 5, Giants 3 (10). For most of the game, this one was one of the best baseball games I've ever seen, or at least the most interesting. Then the A's got ahead & put it away, & it was way worse. But it was still great to see not only extra innings, but a game where Pedro Feliz (3B) debuted as a catcher, Randy Winn (OF) played at third base, & Noah Lowry (SP) played in right field! Utterly surreal, but all for naught when the Giants lost. 'Twas also a night of high frigidity & Em just wasn't feeling well at all with an extremely rare headache.
7 June 2007
-The APDA Werewolf/Mafia game, The Witches of Parliam Village, has begun. Check it out. This is going to take a fair amount of my time over the next few days, but should be tremendous fun & offer a chance for me to freestyle some writing in a new context.
-Zabu Zabu is a great little place, but I fear they're just not going to make it. I think they fear this too.
6 June 2007
Happy Birthday to Paul Garin III
-Everything is in order, just in case. I feel strangely less apprehensive than I normally do on this day, which of course feels in some way like a bad sign in itself. But the mind can drive itself completely crazy. I'm not an Abraham Lincoln fan, but I have always loved this quote: "If I am killed, I can die but once; but to live in constant dread of it, is to die over and over again."
5 June 2007
-Surrealist limbo mixed with bouts of crazy. This will all be over soon.
-Remember last year's crazy obsession on the APDA Forum with the game Werewolf (same as Mafia)? I've been aggravatedly playing the latest one here. I'm going to be running one starting early next week (or late this week), & I will post the URL here so you can follow along with the craziness & my storytelling. I have a feeling my game is going to blow people's minds more than most.
-Maybe I shouldn't play poker while watching M's games...
4 June 2007
-Came back up with a friend of Gris & Anna's last night, hit the Mexicali at Em's request, then headed home. The last few weekends have been great, but I'm also looking forward to one just spent at home.
-Work is in a somewhat surreal kind of limbo lately. At some point, I might be able to talk to everyone more thoroughly about it, but for now it's just... limbo.
-What a comeback by the Mariners! All with two outs! Four games over .500! Best team since 2003! Wooooo!
3 June 2007
[from Clovis, California]
Happy Birthday to Nikki Hay
-Worst. Lunch. Ever. Nothing exacerbates bad moods like food that comes 60-80 minutes late. I don't complain at restaurants, but if I did...
-Grizzlies 3, Isotopes 1. Didn't come that close to a foul ball from out behind the screen, but we got plenty of sun in another lackluster performance for Albuquerque. I did reflect, however, at the difference in my mood between watching the 'Topes lose back-to-back & what it would have been had it been the M's. For example, after these two games, I am still fit to be around other people...
2 June 2007
[from Clovis, California]
-Came down here late last night, bringing friends for the first time. Something oft-discussed but never realized until now. Giving Gris & Anna the full tour from the inside has been strangely entertaining.
-Note to self: La Posada puts meat in almost everything. Always ask!
-My new strategy got shellacked in Puerto Rico (Anna won handily), so I now am coming to the conclusion that this game, more than perhaps any other, requires moment-to-moment adjustments & shifts in strategy to be successful. A test of flexibility.
-Kaitlin remains one of the most amusing children of all-time. Even if she did try to watch "Bambi" by herself at age 3, only to find that this was not such a hot idea.
-Grizzlies 8, Isotopes 2. This was a great, close game until Fresno exploded with a 6-run 7th that seemingly never ended. We had fantastic seats (it's Minor League Baseball!) behind home plate, though the screen kept us from any foul balls. Apparently Em's parents hadn't been to a ballgame since the 1970's, so I'm glad we rectified that.
1 June 2007
-7 billion souls on this lonely raft. I think we all have a secret (or not so) solipsistic streak, if for no other reason than it can be overwhelming to contemplate how much cognition &amp comprehension really exists here. But one of the only things that consistently gives me hope is the awareness that everyone has access to the same tools of observation & learning. If we choose, we could all get a lot done in a hurry.
-Wrapped up a week & taking off again for the weekend, this time for Fresno with Gris & Anna in tow. Updates perhaps from there & if not, then from here.
31 May 2007
-"Pirates 3" was great fun, but not quite as witty as the first film in the series. There were moments, mostly early in the movie, that I was truly worried it was going to be awful, but the ship got righted in a hurry & most of it ended up being very enjoyable. Recommended overall.
30 May 2007
-I am so good at scheduling myself right up to the hilt, without ever scheduling other projects or time. At some point, maybe not soon, I will have to change that.
-Y'know... I'm just not sure it's a team sport. Which may seem obvious, but hey.
29 May 2007
-Beat Mesco, Afsheen, & Em at Puerto Rico with a new strategy, got about 3 hours of sleep, got on a plane, got another hour of sleep, got off a plane, got on a BART train to work, went to work, & now came home. It's been a whirlwind, but such a good one. Thank you wonderful LA friends for a great weekend!
28 May 2007
[from Los Angeles]
-Somehow Russ & I have been friends for ages, but much about my life history has never been discussed between us. Catching up was quite an experience, all at once. Good (if intense) times.
-Unending board games! & I finally get a win, in Settlers.
-Mariners 12, Angels 5. What a fantastic way to break my streak of watching the M's lose live, which had gone back to late 2005! Jake, Russ, Em, & I all enjoyed the drubbing, though Russ was trying to get himself kicked out of the game with his constant taunts of the Angels fans. They were remarkably suggestable, clapping when the "make some noise" signs were on, but then immediately ceasing when such signs went off. In any case, Beltre & Sexson combined for a baffling 3 homers, Ichiro continued his hitting streak, & I got to stand up & clap countless times... so satisfying.
27 May 2007
[from Los Angeles]
-Landed, ate, & promptly got some FIFA underway. Good times. Leaving Saturday instead of Friday just made a ton of sense in making for a non-stressed trip opening.
-Venice Beach is almost exactly what I had pictured from Ray Bradbury's late novels. What a weird, half-dead, but somehow beautiful place.
-Spent the day today with the whole crew (Jake, Russ, Mesco, Afsheen, Em, & I) playing board games, then going to a park, & then to eat. "Pirates" never quite materialized, nor did any real traction for me in the games. But much fun.
26 May 2007
-Scrambling to get everything caught up & updated before we head down to LA for a 3-day jaunt, sure to include video games, board games, & baseball games. & at least something that's not a game... maybe. Updates posted upon return, or maybe from an LA computer, or perhaps on the weekly cycle I seem to be lapsing into.
25 May 2007
-Potentially exciting developments on the old work front. Not that there weren't indicators of something like this coming along, but it's still neat to get confirmation. I will provide more details once things are actually in place.
-Rockies 5, Giants 3. A classic heartbreaker of the first order. Matt Cain barely lost his shutout in the 7th, then the Giants bullpen just melted down. If you put the M's lineup & bullpen on the Giants, or the Giants starting staff on the M's, you'd have a World Series caliber team. Instead, we have two .500 teams. But while the Giants bullpen unraveled, it just wasn't complete till Benitez came into the 9th in a 3-3 tie & promptly surrendered two runs. Only his 2nd loss of the year, but we have plenty more Giants tickets. Watching the M's drub the Royals on the scoreboard was the only consolation, but that was over before the SF meltdown as well. Fireworks were some consolation as well, I suppose, though they had a decidedly American slant. Silly Memorial Day. So it goes.
24 May 2007
-The M's were down 12-4 & came back to lose 13-12. They'd been on a roll & should've swept Tampa Bay, but their pitching was just worse than TB's today. I had predicted that about 22-23 runs would be scored in this game & just missed. This team feels like they're about 15 small breaks away from being the best team in baseball, but instead are 21-22...
-So my headache book that Russ gave me (can you believe this is my 2nd non-fiction book in the same year, after reading perhaps one in the prior five years...) says that seemingly chronic recurring ear infections can be caused by migraines. This caught my attention for obvious reasons, even describing how antibiotics won't work on these "infections," because they are derived from the headache mechanism. This would be much more compelling if author Dr. Buchholz didn't also blame about 405 other physical maladies on migraines, as well as two World Wars, global warming, & the extinction of the dinosaurs. I'm exaggerating slightly, but only just slightly. & while he could be right - maybe everyone in the world does suffer from some level of misdiagnosed migraine - it's hard to suspend disbelief after a while when the guy implicitly advocates replacing all hospitals with headache specialists advocating his "Storey starves" diet. Ah ha! you may say... if it's a Storey-starves diet, then clearly he's on to something, since Storey gets terrible migraines! Maybe. But he also advocates things like the complete elimination of caffeine (in a book saying you need to "control" your headaches) & yet coffee is the only thing that's ever given me any level of control over migraines. The months-long headache I had in high school may have lasted the last 10 years had I not coincidentally started drinking coffee. His analytical critique of caffeine is pretty dubious as well, admitting that it constricts the swelling that is the entire cause of migraines, but warning that it leads to ever-escalating cycles of consumption & bad headaches when one misses the caffeine. While he's somewhat right about the latter (but he also advocates taking certain medicines & refraining from certain foods... & the missing of either of these protocols will also lead to bad headaches!), he couldn't be more wrong about the former in my case. As I've studied my eleven-year relationship with coffee & migraines, I've learned to regularize the intake of coffee & it has never led to some apocalyptic spiral into a coffee IV. So with this as a fundamental baseline, it makes me skeptical of the rest of the diet. Though there are interesting key triggers that I've always found horrendous, such as alcohol & bananas. Is there some part of my consciousness that knows these would be horrible migraine triggers & has thus always avoided them? More likely I just hate so much food that there are bound to be things I love & hate on any list that bisects the total foods of the world. In summation of this rather lengthy analysis, the book has talked saliently about some things & even taught me a bit about cumulative rather than specific triggers, but I don't think it has all the answers, & it really stretches its own credibility by claiming this approach as a cure-all for humanity.
23 May 2007
-I woke up this morning convinced that it was Friday & was eventually able to talk myself back down into it being Thursday. I never quite found the handle on it being Wednesday. Strange.
-Two all-ins into higher pocket pairs in the big blind? That's just unlikely!
22 May 2007
-Days when I can just sit down & crank out the FYCC Current, the monthly newsletter for our center that I created, are really good days.
21 May 2007
-The difficulties & aggravations of the April/May season are starting to subside a bit, which is nice since they've been rather intense this year. Maybe I can just coast out the end of this one. With a nice trip this weekend (that will test my ear/sinus adjustments with a brief plane flight), hopefully everything's back on track.
20 May 2007
Happy Birthday to Stina Robison
-Em walked Bay-to-Breakers & made it sounds like an entertaining enough venture that perhaps I should've been on the sidelines. Her mom, brother Will, & his friend all joined in, though some of them actually ran. The entire concept of a race, run or walked, is about as anathematic to my personality as one can get, but I guess there's just enough silliness in this "race"... including people dressed up as salmon who run the race in the wrong direction. Afterwards, we went with Em's fam to the same Indian restaurant I'd been with Zim about 16 hours prior. I'm impressed at the lack of weird looks from the wait staff.
19 May 2007
Happy Birthday to Guen Mesco
-Spent the day with Zim-Zim as he's got just 10 days left in the Bay Area & we're headed out of town next weekend. We talked life & his future & saw "Fracture", which was quite entertaining despite a somewhat dubious ending. Still well worth it along the way. Zimmy again impressed me with how much he's matured & progressed from the sophomore transfer student I met in 1998. Reading that, it might come across as a silly & obvious statement, but ... well we all know my perspective on this issue. He will be missed 'round here.
18 May 2007
-Fridays often seem to be the most difficult days at work here & I can never quite discern why. Part of me wonders if it is related to enjoying this job & actually not liking the end of the week, but I think that's too deeply buried & unlikely an explanation. It's not like I still don't see this as a job, & don't still enjoy free time. Maybe it's just trying to clear my plate before the weekend, & somehow there's more to clear? It's just a quirky aspect of this particular employ.
-Drove into the City a couple hours after work with Em, Will, & their parents to visit a favorite restaurant of Will's. I had perhaps the best vegetarian soup in history, a spicy cous-cous soup. Then a bookstore closed on us.
17 May 2007
-This year, for the first time in my 15 years of Mariner fandom, I've gotten into M's blogs. I'm beginning to think I prefer Lookout Landing to USS Mariner. It's funnier & not quite as achingly negative. Both of them, though, have that strange internet disease of griping taking over for everything else. Not that it hasn't been a very gripey time for the M's these past few years (& much of it is well-placed at Bavasi), but... I dunno. Reading too much general shlocky commentary from internet users leads to a malaise with life for all the wrong & unnecessary reasons.
16 May 2007
-As much as I loathe driving into the City (& it certainly put on a show last night), it was well worth it for an evening with a couple work friends last night. I think the whole City/East Bay divide has thrown up a lot of the roadblocks to my really developing outside-work friendships with my co-workers at this job. That may finally be starting to change...
-It's a remarkably positive thing to sometimes have a task that one wants to put off at work. If there's something on the to-do list that one wants to avoid, one is suddenly inspired to do everything else on the to-do list that's small or been put off in the past. By comparison, these needling little things are great, because they're not doing the big task one wants to put off. & then if one has done everything else, one has to confront the big thing. The point is that without these occasional big boppers, one would never clear out the needling stuff, & thus that would always get left behind, which is bad.
-I think they have a message for us. If I had to inhabit the oceans in their current state of abuse, I think I might try to swim to a nearby seat of the abusers' power as well.
15 May 2007
-Gris & Anna wound up coming home earlier than their landlords expected, only to find that the latter had torn up the former's bathroom! & a bathroom is a remarkable portion of the reason to have an apartment. So they're hanging here whilst their landlords scramble to put the place back together. An unenviable position for them in the wake of returning from a whirlwind trip...
-Life is just always better with a good book. Period. No wonder I want to write.
14 May 2007
-I feel overwhelmed, though thankfully not exhausted, as I face this new week. My goal is simply to make sure the sinus problems & complications are not spilling over into something larger that will again require medical attention. My frustration with this multifaceted ailment clinging on to another week would be mammoth. If I can get over that, everything else will be gravy.
-Hello Sweden! Today is on pace to be the biggest day of 2007 for traffic, in large part due to the enormous contributions of Swedish bloggers discovering the quizzes. Welcome!
13 May 2007
-Made a somewhat abortive trip to Six Flags today, realizing too late that my sinus headache has extended to a second day & gotten worse. Luckily we have now both procured season passes (Em got hers on an earlier trip with her family), so we now do not have to commit a whole day to going up there & have lots of coupons to take friends up as well!
-The times when I am truly enthralled by a book are some of the best, though like anything, the book seeps into my consciousness & dreams when I'm that focused on it. The book at this point is Sophie's Choice (apparently everyone in the world knows its plot except for me & I'd like to keep it that way for the next few hundred pages, thank you...)... I've never encountered a writing style quite like Styron's. I don't know exactly what I find so remarkable about it; perhaps the sweeping effortlessness of such a wide-ranging vocabulary. Though by page 150, I notice a repetitiveness to some of the verbosity that I didn't see at first (the word freighted seems to dominate his diction, for example). & yet there's just enough that I can't stand about the protagonist that I'm not even sure I like the book, as much as I am captivated by it. There's also just enough mood of impending swirl of doom-laden plot (reminiscent, most recently, of The Time Traveler's Wife, the best book I've read in years) that I think it still may end up being one of my classics. It's also nice to have something to focus on in the midst of the skull-shattering feeling of a sinus headache. The early exit polls have sinus headaches being more tolerable than migraines, if only because they still allow me to read & focus.
12 May 2007
-So this is what a sinus headache is like. Tremendous. A full week after mostly recovering from my sinus infection, it looks like something residual is still lodged there. & now I get to compare & contrast sinus headaches with migraines, or maybe even (joy of joys) experience both at once! I somehow thought I just wasn't one of those people who had sinus problems... this has seemingly turned rather rapidly.
-Saturday is by far the most wasted day on the calendar these days. All of my recent optimism is well due to be cautioned until I can steer out of the April/May morass. How is this time so laden with joyful anticipation & energy by the rest of the world? So few tidbits of collective wisdom share my almost alien loathing of mid-Spring.
11 May 2007
Happy Birthday to Megan Dean
-Sweet blessed Friday. I am proud of myself for rebounding to work a full 40 after having so little energy at the week's outset, but am still ready to crumple in a heap at the day's end. Oh, the exhaustion!
-What a gem by Washburn! Shutting out the Yankees! I'm glad we're throwing two lefties at them this weekend, since the entire lineup is lefties. This is one of the only reasons the Yankees are so good... too many righty pitchers in the AL. It doesn't hurt that our lefty also shut down A-Rod, the notable exception. I think he may be truly rattled in Seattle.
10 May 2007
-The extent to which I hate Jeff Weaver cannot really be fully expressed. I wrote several e-mails about this today to Greg & Russ, since I subjected them to earlier rantings in our pre-Mep yesterday. Suffice it to say that he has established an incompetence at pitching baseballs unseen in the modern era. Without him, the M's would undoubtedly be in first place, perhaps substantially so.
-The Mother's Day event we held at FYCC helped remind me why I take such joy in working at this particular branch of Glide. While my role was one of those behind-the-scenes troubleshooting & technical support roles this time around (& only called for at the last second when logistics were discovered to be running behind), it still felt great to be part of something so heart-rending & pivotal for so many families. It remains to be seen as I recover from this illness & strive to make another real drive at setting up a proper literary routine whether I can strike all the right balances, but it still seems clear that this position offers me the best chance at said balances of anything I can be doing right now. There are more extreme measures optional in each direction, but only this road for balances. & I am eager to give those balances a fair shot. My health & attitude may have to delay this effort till June 7th at this pace, however. Earlier would be great. In the meantime, there was really something special tonight in FYCC's basement. I should get Pete to put his Mother's Day Movie on YouTube & then you can all see a piece of what I'm talking about.
9 May 2007
-Doing a Mep Report after so much ravaging of my voice & energy was an interesting & tiring experience, but ultimately good on my road to recovery. I'm starting to rebuild my crumbled routine after two weeks in the hole.
-Also a satisfying M's game to watch... it's nice when they're not close in the right direction. & how about that Baek!
8 May 2007
-I managed a migraine last night & tonight have a different one, given that it's flipped sides. This is an inauspicious start to what is theoretically my first week of health in the last three, but so it goes.
-It's nice to watch as much baseball as I have been lately, & makes me wonder whether I would leave myself no choice but to buy season tickets were I to actually live in Seattle. Games like tonight are frustrating, though, & I have to wonder whether Horacio Ramirez would not stand out as the worst starter on any club were Jeff Weaver not doing so abysmally.
7 May 2007
-Just slightly more optimistic than yesterday as I face actually going into work this morning. Some year, I will figure out a proper buffer for April/May, but until that time, it's best to schedule 60 days of hopelessness each year...
6 May 2007
-Spent a miserable day exhausting myself with more errands & chores, while terrified of how far behind I am on everything, how overwhelmed I feel, & how utterly incapable of reconciling my exhaustion with work or a normal routine I feel. I am drowning.
5 May 2007
Happy Birthday to Aaron Harper
-Fifteen days of being sick, but I'm almost over it. Feeling a lot better today, & ended up going out a couple times. We walked up to La Cascada & bought a Go set at Games of Berkeley (though I needed a 3-hour nap after doing all that), then later went out with Gris & Anna. Almost feeling human. But sooo tired.
4 May 2007
-Maybe getting a bit better, & the appetite seems to be coming back. I'm able to be awake for a few hours at a stretch. There's even hope that I might be able to get enough rest this weekend to feel human by Monday.
3 May 2007
-I can basically stay awake for an hour or so, plus the Mariners game on MLBTV these days. Everything else is restless sleep, draining & coughing away. Something's gotta give soon.
2 May 2007
-Went to a different doctor today ("my" doctor has been on vacation this whole time) who wound up being great, diagnosed me with a sinus infection with upper respiratory complications, & gave me a new antibiotic. He also said I couldn't go back to work until Monday, which is starting to feel about right. Hopefully I won't hack up a lung before then.
1 May 2007
Happy Birthday to Afsheen Family
-Really feeling miserable, & I feel like I'm getting worse. My antibiotic ran out last night. I'm just overwhelmed, & pretty much only have energy to sleep. I also have no appetite, which seems like it could be a problem.
30 April 2007
-Feeling worse, & my work was again angry with me for coming into work today. I stuck out the whole day, but have committed to not coming back tomorrow & maybe not the next day either. This is really the longest I can remember being this sick in over a decade.
29 April 2007
-Got to have breakfast with Mesco & the Family boys at Sconehenge, followed by some Puerto Rico (Em ran away with it). That was more than enough to wipe me out for the day, coughing & sniffling all the way. I've been sick for 8 days now & just don't seem to be getting better.
28 April 2007
-Doing nothing but sleeping, but I just don't seem to be getting any better. I am falling behind on all of my projects, & have no energy for anything. Sigh.
27 April 2007
-About the same as yesterday, & I can't wait for the weekend so I can rest & finally kick this thing.
26 April 2007
-Feeling better today, though still finding it exhausting to move around & am barely over 50%. But I have a lot to catch up on, need to get out the Current (our newsletter), etc. So I'm toughing it out.
25 April 2007
-Tried to go back to work today & my co-workers sent me home after half a day. I feel like I have to go on Wednesdays, but I really wasn't ready. Maybe tomorrow.
24 April 2007
-So I was in some of the worst pain of my entire life on the plane ride last night, with my ears exploding from the altitude changes flying into both Houston & Oakland. I could hear at 32,000 feet, but not at any lower level, & especially not on the ground in Houston or at home. Went to the doctor this morning & they diagnosed the expected ear infection & gave me antibiotics, but I am now feeling much worse than I was on the other coast. As though I weren't missing enough work...
23 April 2007
[from New York City]
-Not feeling a whole lot better, but going to try to relax today.
-Had a fun breakfast with Greg & then played some PS2 baseball at Drew's apartment with Drew & Greg. The time passed quickly & suddenly it's time to head home...
22 April 2007
[from Poughkeepsie, New York]
-I hate agonizing break-round decisions...
-Four 3-2 quarterfinals. What a close field!
-The best 'Deis performance at Nats since Zirkin & I in 2001...
-But no better. Even if they should've won.
-I would never have expected to give a floor speech at Nats 5 years out, but the moment struck & I think I carried it off well. Em told me I didn't really connect the dots on where the whole speech was going, but I guess I'll have to wait till the video to see if I concur.
-& another close decision!
-Ah, team dinners... though this one couldn't quite compete with last year's, it was still great fun. I've been awfully debilitated by the illness being ongoing, & that's made the whole trip a bit more disappointing than I expected because I've mostly been recovering rather than enjoying. & I'm realizing that it might be about time to hang up my APDA hat, at least having this active a role. But I'm very glad I did this. I'm satisfied without being overjoyed. Mostly the sickness making that difference.
21 April 2007
[from Poughkeepsie, New York]
Happy Birthday to Elias-Axel Pettersson
-Oh no. Getting sick.
-Really very sick.
-Being sick, probably with an ear infection, on the marathon day of running Nats is... way less than ideal. Especially when a sore throat (though not the worst one ever) is prominently involved. But we triple-checked everything & I can be pretty sure there are no tab errors after white-sheet-checking every ballot for 3-3's & up.
-The Nats banquet was utterly surreal, though I was quite moved by a couple senior speeches, especially Marisa Maleck's. She spoke about APDA with the reverent love that I felt in my soul, but it seemed so few people have room for when saying goodbye to the circuit. Not to say that APDA is flawless, but a community centered around debate is, flaws & all, to be loved. For a lot of the banquet, I felt very old & almost out of place, mostly due to the late arrival with the tab staff & trying to balance my tab role, my team role, & my old-folks role. When Mark & Joel broke, though, my role became pretty clear for a while & I went back to help them case before nearly collapsing with exhaustion & illness.
20 April 2007
[from Poughkeepsie, New York]
-Came up on the train this morning along the Hudson, & now am hitting the ground running with running a tournament! How I miss this scene...
-Hand tab rules the day!
-As expected, the balance of time is in tab & running the show, leaving little time to hang out or help prep the team. But this is still a blast.
-Never hurts to triple up in a brief stint at poker.
19 April 2007
[from New York City]
-Got into Newark early this morning & ate at a nifty diner in the airport. Barely caught our bags before they got hauled away, then met up with Drew near his place in the city after a train ride in. All the travel on this trip has been pretty smooth after a close call on making the flight in the first place. I forgot that Drew lived with Newman, but recalled quickly. Drew & I went out to lunch nearby & caught up while Em napped. Drew is freer now than most people may ever be.
-Spent the rest of the day at the comedy club with Drew & Clea, where Em & I were the only people in a crowd of 10 not performing stand-up (I almost went up there at the end, not to be left out). While it was neat to see Drew & Clea perform, I was reminded mostly of why I hate comedy. We then headed out to an Indian place & hung out with Clea before Greg picked us up at Drew's apartment & drove us back to Riverdale. I finally have seen the inspiration behind "Eagle" Studios.
18 April 2007
-The problem with this whole reaction to the shootings is twofold: (1) The obsessive focus on the shooter has gotten in the way of ridiculing the theoretically sane president of VT for not locking down the campus. (2) It's leading to another round of believing in pre-emption of the rights of people who seem weird, sad, or "disturbed". I fear a time when anyone who writes a somewhat dark story or poem or seems a little antisocial is suddenly thrown into a cell with forced medication. I'd really like there to be a more full disclosure of the mental health's system interaction with this individual, because I bet it pushed him closer to the edge.
-Mmm technical difficulties.
-Heading out to Nats around 1:00 in the morning, with stops before & after in NYC. I'm extremely excited about the whole thing, getting to run a tournament, & the zillions of great people who'll be there. Updates from the east coast most likely upon return to the west coast.
17 April 2007
-So I sort of stopped keeping the migraine log after 2006, so I'll just say... ow.
-All the hype this year about Felix Hernandez is warranted, but I've been telling people it's mitigated by the fact that Jeff Weaver is on the team. Jeff Weaver, I hate you. You & your 7 earned runs per game. I haven't hated a Mariner like this since Ryan Franklin. But already, after two completely predictable shellings, Jeff Weaver is the new Ryan Franklin. How many starts will it take to shelve him & call up Cha Baek from AAA? That's the only hope we'll have of keeping first place this year.
16 April 2007
-Taking another shot at this. If so inclined, please Digg now our latest effort to spread the word about OMBFP!
-At this point, I may end up archiving the whole Kurt Vonnegut era at once. Timing, eh?
-Timing indeed.
-I don't know if anyone before today could've said what the largest shooting in US history was. But now everyone will remember this one. Less than several daily death-tolls in Iraq, but still extremely sobering. Also, it makes me extremely glad that we've practiced our lockdown policy at FYCC, though sad that a college president couldn't figure out the same thing.
15 April 2007
-It's good to have time.
-You can now get OMBFP merchandise! I'm very excited about this. I'm also excited by how much easier the CafePress interface seems to use now than it did when I started... I think there will be a lot more BP gear in just a little bit...
-"The Reaping" was about two-thirds of a good movie, then opted for shock-n-awe rather than intellectual curiosity. So it goes.
14 April 2007
-It's amazing what can be done by posting good content in the comments of other peoples' blogs. The degree to which extreme outreach is possible these days is almost unfathomable. The world is more disparate, but almost conquerable through this strange series of tubes.
-Don't look now, but the M's are in first place!!
13 April 2007
-Was a little weary at work yesterday, but still had very little to do. I may never had a week like this again, but it was well-timed this time around. If this were the norm, however, I don't think I'd like it much.
-The video is chugging along, though it seems I exaggerated the power of Boing-Boing earlier. So it goes.
-Now I'm sleeping too much.
12 April 2007
Happy Birthday to Colleen Garin
Happy Birthday to Clea Wilson
-Kurt Vonnegut Jr. (1922-2007). The passing of one of my favorite authors of all-time was a sad shock. So we had no choice but to pull an all-nighter & compile a serious video tribute to the legendary literary genius. Please Digg it & check it out here. You may just cry.
-PS: Our video is already on the front page of Boing-Boing, the #1 blog in the world (according to Technorati). We win.
11 April 2007
-I think half my time at work today will be some sort of special event or celebration. This week is standing out as the calm before the summer. This may be the most balanced job I've ever had with high-pressure & low-pressure times balancing to an average of 50. I like it.
-So many emotions. I'm not sure anyone ever intends anything personally, but so much is taken that way.
10 April 2007
-This week has been on cruise-control. No complaints here.
-Gris & Anna joined us for some veggie posole, Giants baseball, & Puerto Rico to celebrate Em's new job, which starts tomorrow. In case you haven't heard, she's going to be working for the California Labor Federation as their Public Policy Coordinator. This is just slightly a big deal. I edged Em in Puerto Rico & Benitez nearly blew the Giants game.
-I don't think I'm doing my own Tuesday Topic this week, but if you look here, you will see some great responses.
9 April 2007
-Back & not quite ready for work. Lots of projects to catch up on, but it's nice to see how many people signed up for OMBFP while I was gone!
8 April 2007
[from Atlanta]
-The post-reception foosball with the happy couple & others was also not to be missed.
-Mesco's friends from bizzaro-Brandeis (we always joked about going to different schools given our vastly separate circles) are actually pretty cool. Where were these people? Sadly we didn't take an AA or 'Deis photo, which we only would've done to lampoon the concept.
-One last Waffle House, a quick stop by the Carter Library (actually going in this time), & we're off! It's been a fantastic whirlwind trip, & remarkably relaxed given the tightness of time.
7 April 2007
[from Atlanta]
-Ah, there's the jet lag.
-Congratulations to Mesco & Afsheen! Their wedding was tremendously fun & a joy to watch. Many jokes were made by friends from all walks of Mesco's life about her not tripping, falling over, or otherwise being off-balance during the ceremony. Though scheduled outdoors, we were mercifully reshuffled inside, given the literally freezing weather (in April in Atlanta, setting record lows!). The reception featured some beef council food (apparently Afsheen has fallen off the veggie-train), but otherwise fantastic accommodations, including cupcakes, coffee, & some fun dancing. 'Twas also great to hang out with Lisha hours before her departure for Malawi.
6 April 2007
[from Atlanta]
-Somewhat tired after a red-eye into Atlanta filled with Spring Break revelers. We decided to drive into SFO & park, which made everything exponentially easier. Finding a Waffle House after landing, however, was about the hardest thing ever. You might think that finding a WH in Atlanta is roughly as easy as hitting water when falling out of a boat. We have 45 minutes of frustration (followed by simply getting on the freeway east until we saw a sign) that disagree. We did have the best service ever when we finally found one, though.
-Whale sharks! & they even had a video of how UPS transported the whale sharks in 747's (for free in exchange for promotion). The Georgia Aquarium proved vast & almost overwhelming (given how tired we were). But we took our time, made frequent pauses, & saw the sea turtle, penguins, & of course the three whale sharks, who are just babies at 17-22 feet long (on their way up to 40-60). We actually spent over an hour all told watching the whale sharks, including some time in the amazing tunnel underneath the tank. Emily was completely enthralled with the leafy seadragons, tiny creatures who look completely unreal & magical. One of the best aquariums ever, & I am becoming completely obsessed with whale sharks!
-Stopped by CNN Center, but just didn't have the energy to do the tour (there was a 2-hour wait involved). So... sleepy...
-Surreally, we are staying at the hotel complex where I last stayed in a hotel in Atlanta, some 11 years ago for the Emory debate tournament. I have been to Atlanta many times since, but always stayed with Jake or not spent the night. This is really quite amazing. This is also where the wedding will be held tomorrow.
5 April 2007
-Have I ever mentioned that I hate Digg? As in... really hate Digg? You can read all about it here.
-I really should start eating lunch at work at some point... but I get so engrossed in things like today's statistical report! Ah well, it's vacation time!
-Exit Emily & I, stage Atlanta. There will be Waffle House, whale sharks on a plane, & the biggest day of Mesco's life! Updates from Georgia upon return...
4 April 2007
-It's OMBFP Virtual Rally time! You can help out by clicking here & "digg"ing the article (just click digg) about One Million Blogs for Peace. (You may need to register or sign in). Even if you're not part of the movement, I would greatly appreciate your support in this effort to get the word out about the project. We'll know in 24 hours whether this thing is about to really take off... only diggs cast today will really make that difference.
3 April 2007
-TMR has released yet another new video. This one remarkably takes the cake for weirdness. It also, being predominantly Russ' project, is extremely Yankee-centric & involves one of those obscure songs that only Russ would come up with. Regardless, it's still highly amusing & demonstrative of our increasing prowess at that niche media that is clipshow-video. I love the interwebs.
-Had a tough day at work today. This took place two feet off of the block where we're located. Much of the morning was tense as we dealt with the misinformation & rumor that was going around about the identity of the victim... most of the early reports stated it was a teenager or even a younger child, which turned out to prove the flaws of eyewitnesses, but at the time simply made us fear it was another of our clients. (A four-year-old on a sidewalk was killed on his way to our Center last summer). Even though it proved not to be one of our clients, it was a pretty overwhelming note to the day. We all walk these sidewalks five days a week, & we all cross those streets constantly with green walk signals or even the flashing red hand. Any bus, any vehicle, could miscue & take us away any time. There's a reason that "I could get hit by a bus tomorrow" is a cliche to indicate the fragility of our residence on this planet. Coming face-to-face with it, seeing the body in the street, is sobering.
-I don't even have a context for the news I just heard. I have a feeling this will dominate my thoughts for a long while, once the shock wears off.
2 April 2007
-Wrapped up a solitary weekend in Tracy last night with most of Em's fam. We played Puerto Rico twice, after having the game & letting it sit on the shelf for roughly two years. It's up to the massive hype surrounding the game, & everyone should start learning & playing it posthaste! It's a quick one & a nerve-wracker, & I got worse from the first game to the next, after getting beaten by a point the first time around. The rest of the assembled are going to Six Flags today while I work, but given how much I goofed off this weekend, it all comes out in the wash.
-A solid day, easing back into another 4-day week.
1 April 2007
-I wanted to get a lot done this weekend. But I settled for relaxing & bracing. In the end, I think it needed to happen this way. But sometimes I have a hard time accepting myself.
-Or others.
31 March 2007
-The US is going to have to work very hard to stay out of a war with Iran at this point. I don't think they're up to the challenge. This is a somewhat daunting & overwhelming reality to face.
-"Premonition" is solid. Well crafted.
30 March 2007
Happy Birthday to Matt McFeeley
-The calendar says March. But it's April already.
-'Twas nice to have the day off, but it feels like the weekend is already slipping away rather quickly.
29 March 2007
-I was reading over a 64-page draft of a disaster response plan at work today when I ran across this sentence: "Establishing a routine helps to give us focus and control over our lives." Like a thunderbolt, it struck me as completely absurd. I'm not sure there's anything that I feel is less reflective of control over my life than the presence of routine in it. Routine is, in fact, the embodiment of the absence of control. When a routine is established by others (most routine is), it demonstrates obligation and the extent to which others dominate one's life. When a routine is established by oneself (rare), it reflects ceding control over one's life to some sort of autopilot. Rather than letting our thought & agency decide something, routine suppresses choice by making something automatic. This process innately stifles a sense of freedom or control over one's actions and often leads to the terrifying thought that we are all merely observers on a predestined freight train labeled as life. Are there really people out there who believe that routine gives us control over our lives?!?
-Giants 4, Mariners 0. Was great to get to see the M's in San Francisco, but not much else about this game was notable, other than fun times hanging out with Gris & Anna. Washburn looked like his typical mediocrity in giving up 5 consecutive 2-out hits, but then settled down, only to yield another 2-out rally toward the end of his outing. The game was also absurdly fast, lasting just over 2 hours. At least this one didn't count. Season starts next week!!
-When I envisioned Emily's last day at PIRG, it somehow seemed much more joyous than this one turned out to be. This might take a while.
28 March 2007
-I would like to invite everyone to participate in One Million Blogs for Peace's first Virtual Rally! All the details are on the Virtual Rally page, but the basics are that we're trying to get on the front page of Digg in a week's time. This will hopefully be the first of many such united online efforts, so stay tuned...
-Going to miss Miss Etta. FYCC's institution, our receptionist of ~3 years (& a Glide employee for over 16), retires tomorrow. Her goodbye party was today. & don't let the "Miss" fool you... she's a great-grandmother!
27 March 2007
-A relatively breathable day.
-The OMBFP Tuesday Topic this week is about convincing people to change their mind about the war. Though I love debating & am almost obsessed with convincing people of things, I don't think I've directly changed anyone's mind. I feel like a lot of my friends toughen & brace their stands on political issues when discussing them with me, in part so we have a fiery debate & in part just to fend me off (or perhaps because they think I'm so crazy). Regardless, my hope is that I've indirectly changed a lot of minds through media like "Duck & Cover" or some of the subtext of some of the quizzes. It seems unlikely that there's been a huge impact in this manner, but I get the feeling these days that minds are better changed under the radar than over the top. Like many of my friends, I think people toughen their opinion once it's formed & spend more time fending off than listening in a discussion of issues. I'm sure I do this as well (it's hard to be a good LO in parliamentary debate without an ability to do this easily). So it's going to be on the margins of subtlety that hearts & minds are changed... where people start turning their opinion when they aren't thinking in an opinionated way, or even a mindset where opinion is relevant. This is starting to sound sneaky, & that's close to coercion, which is not a viable way of changing minds. So I don't have the answer of how this is going to work. It's probably why I asked the question in the first place.
26 March 2007
-I actually woke up at 1:55 this morning, ready to face the day. It was one of the oddest moves my sleep cycle has made in a long time. I chose to reject the offer & return for a couple more hours, which featured the plot of a potential sci-fi book called The Keyper, wherein time is controlled by a series of doors. It was going to be brilliant in the dream, but what I've pieced together since is only moderately interesting, so far.
-Our new receptionist is in & seems ready to learn quickly & take over some work! Very exciting news on the get-head-above-water front.
25 March 2007
-Today could've been handled better, but at the same time I needed some sort of reset-button of relative seclusion & inactivity. There were plans here & there, but mostly we had to solidify Em's long-term plan & get me feeling like I was not going to get plowed this coming week. We'll find out.
24 March 2007
-Maybe there's a reason to believe.
-Played some excellent tennis with Fish, Gris, Anna, & Em, though the last of these wasn't feeling so great for much of the time. Then we returned for some Oh Hell, which Gris nipped me in on the very last of twenty hands when we were tied going into it. Almost a Barton-Winona State worthy comeback.
-Tom, get your plane ride on time.
-If you do nothing else in a movie theater this spring, go see "Reign Over Me". Phenomenal cinema. One of the most emotionally honest movies that I can remember. It just rings true. But maybe, also, because I see myself in this film.
23 March 2007
-I've gotten into the strange & difficult habit of late of believing my dreams more than reality in the early morning hours. I have been having many somewhat stressful dreams about work or other life situations where I must urgently do or work on something. When the alarm goes off & I am exhorted to get up, I have literally explained to myself (& almost attempted to explain to Emily) that it is important for me to get back to sleep in order to finish the work I was doing or problem I was solving in my dream reality. Of course, I really need to wake up fully & realize that whatever I'm worried about in the dream isn't a worry at all, because it isn't real. I was extremely relieved to make this realization this morning, but it came nearly half an hour after first returning to sleep to wrestle with this fake problem, & diving back into sleep repeatedly.
-Another long slog, with seven minutes outside of the building, but getting a great deal done. If anything ever gets to me here, it's going to be internal politics. But even those aren't going to be too bad just yet.
-Pure exhaustion.
22 March 2007
-Attended an epic groundbreaking for the two new housing buildings that Glide is building today. It was my first time in-person to see the mayor, & I'm not sure I've ever seen so much media gathered in the same location. I must admit slight disappointment, however, that it was not the actual first breaking of ground, as there was already a good big of digging underway. Nevertheless, it definitely felt like being part of something truly great to be there. It also made me think about how long two years (the estimated building time) really is.
-Mmmm... green chile....
-Some ridiculously exciting basketball game finishes, but I continue to be annoyed by Ohio State's death-defying antics. At least Kansas is in. & the teams I really like play tomorrow.
-Congratulations to Gris & Anna for getting into local schools & deciding (in all foreseeable likelihood) to stay by the Bay!

21 March 2007
-Enter Fish, stage Chicago via Sacramento. Going to be fun to have him around for a bit... seems like old times!
-Definitely liking how quickly the Blogs for Peace are ramping up & getting involved.
-It's good that people are looking out for me. I often have the inclination to fight off people trying to protect me, especially when it's from getting overwhelmed, but in the end I know they're right (or close to it) & I appreciate it.
-Went to the only Eritrean restaurant with a Miss Pac-Man table that I've ever seen. The food was solid, but the Miss Pac-Man was stellar. Vests were not lost.
20 March 2007
-I am extremely pleased to announce the official launch of One Million Blogs for Peace! Please note the addition of Tuesday Topics, a weekly blog post prompt designed to provoke thought & discussion around the concepts relating to the War. 217 blogs are on board already... just 999,783 to go!
-I don't know if I'm going to get in the habit of posting my own responses to the Tuesday Topics here or not, but I can refer people to my posts from March 2003 for context on how I felt at the war's outset. Needless to say, it's been bothering me for a long time.
19 March 2007
-One Million Blogs for Peace launches at midnight... get in on the Inblogural train before it leaves the station!
-So many meetings, so little time to actually get the rest of the work done!
18 March 2007
-My last trip to Pismo wrapped up with an epic poker tournament where I exited in the second (!) hand, losing with an ace-high flush to a straight flush. The man knocking me out played 6-8 of spades to a raise & hit a 7 & 9 on the flop, with a 5 on the turn. I even asked him to "show me your straight flush" at the showdown. Needless to say, I didn't really expect him to. But I of course stuck around to run the commentary & deal as the 15 players were whittled to the same champion from last year.
-If I could erase today, I would.
17 March 2007
[from Oceano, California]
-Came down here with board games late last night, to the longest-running game of Settlers on record (we almost eliminated everyone from contention by running through the development cards & blocking routes). Today, there was basketball, featuring (as usual) more people & less time than expected. Though we had very well-matched teams that ran 6-on-6 three times. We lost the two out of three, but I got hot the third game. As always, I yearn for basketball on a regular basis.
16 March 2007
-Following one's own principles is sometimes the most difficult & important thing we can do in life. Here I try.
15 March 2007
-I need a pause button.
-Stayed two hours over at work to complete a grant submission of vital importance, electronically & hours before deadline. I know that all of you who accept exempt positions will scoff, but I was not designed to work for ten straight hours with no food & no break. Don't tell HR. But we got it all done. The drama that preceded it... there's nothing to be done about that. But it's the reason for the delay.
14 March 2007
-Maybe I should start taking lunch a little more seriously.
-I can't believe how quickly days are moving these days. With age, the shortening of the years is starting to reach a critical mass. I'm almost glad when time seems to go by slowly even if it's dull or I feel like I want to be doing something else, because at least these are minutes I can cling to that still feel like minutes, not blippy seconds shooting past me.
-NCAA tourney starts tomorrow, which is quite exciting, then Pismo over the weekend, with the launch of OMBFP on Tuesday. With two big trips in April, which is surprisingly soon. Woo-hoo-woo-hoo-hoo.
13 March 2007
-Seven solid years of Introspection. I don't know if I could've predicted this. I'm glad I didn't think about it too much before diving into the project.
-So Russ, Greg, & I have packaged another of my ideas into a viral video on YouTube... this one makes fun of Vonage. Check it out!
-Jake made an NCAA pool in Facebook & now it's become the week of Storey getting roped into online networking sites ad absurdum. So if you take that seriously (at least it isn't designed as poorly as MySpace), you can find me there too.
12 March 2007
-Came back exhausted last night, with no downtime to plow into the week.
-Massive day at work, where I barely had time to breathe during 8 straight hours. When one has 3 open positions & is responsible for coordinating the calls & interviews for them all, on top of normal duties, it can get a little hectic. Especially since we're trying to move almost overnight on all of them. But I really enjoy days like today, where I never quite get buried but am crazy-busy the whole time. Fun. Hopefully by the end of the week, we'll be close to getting some new people to work with.
11 March 2007
[from Clovis, California]
-Came down here yesterday, hung out with Em's grandmother for her 96th birthday celebration, & had a really amazing few moments as she watched digitized video of her from about a half-century ago that Paul has saved from 8mm reels. Back at the ranch, everyone seemed distracted & unmotivated, so I watched Oregon dismantle USC in the Pac-10 Championship (one of the coolest basketball games I've seen in a long time), proving to me not only that the Ducks are great, but that they will win the national title this year. Em & I went to the Old Spaghetti Factory while the rest of the fam went to a 1-year-old's birthday party for stark contrast to the 96-year-old's. We eventually got in a board game with Paul (Railroad Tycoon, which I am becoming addicted to), lasting long into the night.
-Today we had more Railroad Tycoon after some running around with the kids. Paul V is growing up fast, which is good to see.
10 March 2007
-We are all the stars in our own murder mystery. I think that's a remarkable amount of what keeps life interesting... & keeps people fearful & apprehensive. If we knew the culprit & could estimate the time of death, we'd all be a lot more focused... or a little less engaged.
-Exit us, for 36 hours in Fresno...
9 March 2007
-Today was just a day fading into another. Though my patience is starting to fade with a certain pertinent subject on the nature of change & its timing. Suffice it to say that there are certain things I don't feel I can discuss anymore without just going crazy.
-But I'll keep talking about them anyway, won't I?
8 March 2007
-Conducting interviews full-scale for the first time, starting today. I'm not on my own (& will in fact be flanked by two co-workers), but the person in this position will be taking over about a third of my current responsibilities, so it's a pretty big deal that we get someone competent. Is it weird to feel nervous going into running the interviews?
-The emotional three bears.
7 March 2007
-Maybe I've really made a place for myself here. The idea of progress & positive change is always quite heartening to me. & frankly, I have to accept the fact that I'm going to wind up leading or spearheading anything that I ever become involved in, period. I've resisted this at times in the past because it can get overwhelming, but embracing it is much better.
-So many places to possibly crack through... patience is a key challenge of life.
6 March 2007
Happy Birthday to Thelma Garin
-So many people have been asking me about the earthquake from a few days back... they really feel routine very quickly. It felt a lot less severe than the smaller one in December (or was it January?). The only thing is that when it first hits, you don't know if it's going to be a 9.1 or a 2.5.
-My discipline is waning again. But these are the undulations of life, & in two weeks things are going to really keep me focused.
-So I have jumped on the Uglytown Train that is MySpace. I actually got an account a while back for no particular reason (& Drew found it), but now I'm going to take it (a little bit) seriously as an outreach tool for One Million Blogs for Peace. There's just no other good way to get through to all of the zillions of people using MySpace Blogs, horrifically formatted though they may be. We need these people, so I am now there. If you take MySpace seriously, feel free to drop a line my way.
5 March 2007
-Things are quite relaxed at work these days, though we have some staffing to take care of before we settle back too far. Just storing up reserves of energy for the summer. Like Seneca, we're really on a schedule to counterbalance the school year.
-I spent some of today considering (just a little) getting into the stock market game, even though this is clearly a weird time to do so (& I've always been skeptical of late of the economic bubble the US is perched upon). The fascination I have with this is clearly directly related to my fascination with poker... the market is alluring for the same reasons, & probably even less of a sure bet. But I'm not sure one can play the market game & try to avoid truly evil companies (& frankly, all the corporations are evil), so I'd have to get over that aversion to play it properly. I don't know how I feel about that, but probably not so hot. This is what I get for playing less poker.
4 March 2007
-I continue to be pretty out of it, left over from my tiredness yesterday. I certainly remember competing being this exhausting, but maybe it's the whole atmosphere of debate. Not feeling particularly well, either, though...
-Played a little tennis & realized how completely busy we're going to be for the next few weekends. Whoa.
3 March 2007
Happy Birthday to Alisha Creel
Happy Birthday to Martin Clayton
-Saw a couple interesting rounds last night, but was insanely tired on the way back up from Palo Alto. Today things look blustery & nice, some of my favorite weather, & I'm looking forward to a full day of good debate. Stanford's a small tourney this year (27 teams) & 'Deis had budget issues & was unable to make it, but it's still fun, especially since we have a trifecta of old-timers including Zimmy & Joel Jacobs.
-Stanford wound up being fun, though a little disappointing to not have the team there. I sat out judging the final round to be able to give a floor-speech, but the round was such a farce by itself that no floor speeches came to mind, especially funny ones. We went out to a shmancy place afterwards with the Stanford team & the Harvard dinos who showed up, which was quite enjoyable. Now I'm just wiped out tired.
2 March 2007
Happy Birthday to Anna Geer
-Today will mark the first time since 2003 that I have tried to judge at the Stanford tournament on the same day as working in an office. & that time didn't even work out, because of the hitting of Em's old Ford Probe. I anticipate being a bit more tired than usual, but I'm excited about my first contact with debate since Nats last year!
1 March 2007
-Yesterday, leaving work, I couldn't believe that today was going to be Friday already. Today, however, I almost can't believe that it's not the weekend already. But it was roundly productive.
-Today was a very good day for OMBFP. Virality finally starting to take hold...
28 February 2007
-The way this week is unfolding, it's impossible for me to predict what's going to happen or how I'm going to feel. Volatility. That's all I can imagine. Change is the only constant.
-I guess video games are quite a constant as well.
27 February 2007
-Turns out March officially begins today.
-The landslide in SF was about a block & half from Em's office. Everything was fine & her office was unaffected. Her SF workplaces still seem to be magnet for news & activity.
-Finally tore up my office sufficiently to get it in working order. I moved some large objects (oversized file cabinet) that I had no business moving by myself, but so it goes. I didn't injure my back & I can finally stop worrying about being buried in loose rubble in case of an earthquake. This is a nice improvement & will make me feel like there's nothing hanging over my head... y'know, literally.
-Walking through the rain today was somehow not quite as comforting as a few days back. Especially when the rain was hail. But despite the cold, it was nice to examine how extreme weather impacts other walkers & feel a certain camaraderie.
26 February 2007
-The whole situation with our network at work is starting to drive me nuts. They got e-mail & internet working after not too long, but then there was a struggle with us actually getting documents from the server. This struggle lasted all day & required me skipping lunch to attend to people whose computers were failing in one way or another. The problems were like intelligent diseases, staying one or two steps ahead of anyone's ability to fix them. & everyone was getting frustrated, testy, & strange.
-Today is just a terrible today. That... & I might need to talk to someone about my eating habits. Crying in restaurants we frequent is not the best precedent ever.
25 February 2007
-Perhaps the earliest fantasy baseball draft in history turned out to be one of the best. I feel like I actually carried off what I intended to do, which is always difficult.
-Re-enter Em! While she didn't love Santa Barbara, she won't have to return for a good long while.
24 February 2007
-New graphic up top. I haven't gotten as much done today as in the past few days, but I've been relaxing & I'll take it. Plus, I've still been having much more productive weekends than in a long time prior. Lots of excitement seems to be the ongoing theme. Larger tasks, like archiving this page or updating the horrendously backlogged QFG answers, still remain ahead.
-"The Number 23" was somewhat okay & somewhat disappointing. The remarkable thing was that the movie pretty much managed to never be creepy, which a stunning accomplishment given that this was seemingly the whole point of the movie. A great number of the things which were supposed to be scary evoked laughs, & while there was raw suspense at moments, it was never ever spooky. As a big fan of moods in movies, having seen many films that expertly control the mood in this genre, I was amazed at how much this one missed the mark. At the same time, the movie is not without point or substance. It's just not creepy or spooky as you might hope.
-The downpour I walked in on the way back was one of the most satisying rain-walking experiences I've ever had. I had anticipated it correctly, so I was suited up with hat & parka, & thus was able to enjoy being in the downpour without actually getting soaked. If I lived in Seattle, I would do that all the time.
23 February 2007
-Today at work, our network was down for about 5 of the 8 hours. This gave me an "opportunity" to clean out my office, which houses untouched files dating back to 2000, from residents of the office several moves removed. I made a remarkable amount of progress, though it wasn't quite what I was expecting when I went in to work today. I have been saying for months, however, that I don't have time to work on it, so I said I needed time & I had time.
-While going to lunch, I was doing my usual routine of not making eye-contact with anyone (it's just not a rewarding process). I instead made eye-contact with a large pile of human waste. It actually took me about five full seconds to realize what it was because it was so strange to see in the context of a regular sidewalk. This is life in the Tenderloin.
-I just lit a pilot light for the first time in my life! They're remarkably easy (or at least ours is) & I feel a little sheepish for ever shivering while waiting for a technician's schedule. Though natural gas is one of those strangely commanding things that has a magical intimidation about it, so I think that's most of why people wait for the pros. It's silent, deadly, can heat, can cook, is almost undetectable... it's the stuff of legend. It's a little creepy to think how much we let it into our homes. But now I'm warm & very glad it's there.
22 February 2007
-Exit Em, stage Santa Barbara. I haven't been able to stop saying "You'll love Santa Barbara!" in the sarcastic circa-1993 tone all week.
-This is the most relaxed time of the year at work... after the winter holidays, but before summer. There's still plenty to do, especially when I have to get the Current (our newsletter of 9 months that I started) out, but it's nice to have a slightly less hectic pace. & one of my co-workers today said she felt bad for how many different things I have to cover & how much I have to do. I flatly told her that after Seneca, there is no such thing as stress in my life.
-Must... spread... word... One Million Blogs for Peace!
21 February 2007
-I am really impressed by the outpouring of calls & e-mails yesterday. I think it was some sort of record. So even if everyone flees the Bay, no one's going that far. Thanks, everybody!
20 February 2007
27
-I recognize that I'm an extremely picky eater. Vegetarianism alone is picky enough to utterly baffle many people, but throw on top of that my tastebuds, & it's something that is understandably incomprehensible to the average palate. Even if I didn't believe this myself, I have had years of friends making profuse fun of me, being stunned by my proclivities, & just generally reacting to my opinion on food that has convinced me this is so. & thus I try to live such that no one is ever in a position of having to adjust to (or anticipate) my tastes. I never want anyone to cook for me. I like eating out, & strive to eat out every single meal. If this is impossible, I try to have something simple & prepared that I can eat while others (like Emily's family) eat whatever they like to eat. & under no circumstances will I let someone get food for me without a detailed, written list of instructions & constant exhortations that it would be better & easier for me to just get something myself. But my boss continually insists on trying to be in a position of procuring food for me. I understand why he does it & that it's intended as a nice gesture. He's managerial by the book & management says that you periodically buy meals for people, especially if you find out it's their birthday. Now this would all be well & good if I hadn't had an extensive discussion with him the last time he tried to buy me lunch about just how picky an eater I am. About how no one can anticipate my tastes & for that reason I was insisting on picking up the food instead of him going, because someone's guaranteed to end up with something I find inedible if they try to order for me. I went into vast detail about how fickle & unpredictable (to others) my tastebuds can be. But today, he insists on going, which is somewhat fine, because he goes with written details about exactly what I order from a particular restaurant. But no one could've anticipated that the restaurant would be out of falafel, & thus he returns with something laced with onions (removable) & drenched with mayonnaise & mustard (irremovable). I don't think any of my regular readers will need full-scale reminders of how many layers above most other deathly foods mayo is, for historical reasons. Suffice it to say that I ended up eating roughly the middle 30% of this "lunch" (& the bag of chips) & feel both hungry & unappreciated. I understand that it isn't his fault & in fact I should feel loved & appreciated by this circumstance. But how can I convince people that really, under no circumstances, in any case imaginable, should they ever attempt to buy food for me?
-Despite the issues above, I'm pretty happy overall this birthday. I always seem to celebrate my New Year more around my birthday... it's close to the actual New Year & it always seems like the best time to take stock of everything & sort out where things are headed. For the first birthday in a while, I'm in a really good place. It doesn't hurt that my projects are where I want them to be, coming fast & furious. I like my job, which I've had issues doing the last two birthdays. I'm getting comfortable with getting older & things being on a wider trajectory. Getting. But overall, things are looking up & I don't have to spend my whole turning of the year berating myself for things undone. Twenty-seven is looking like a good number to me.
19 February 2007
-Basically celebrated my birthday today, with a round of Ticket to Ride (I got shellacked), bowling (did much better), & dinner at Au Coquelet. Gris, Anna, & Zimmy joined Emily & myself for the fun, & it occurred to me that all of my friends, already dwindling in this area, could be gone by this time next year (or even earlier), as they are all applying to schools. Little makes me so thankful in this world as the idea that I don't ever have to attend school again in my life. But little makes me so sad as the idea that everyone is leaving the Bay. Regardless, we had one of the great debates, predominantly on the issue of equating Israel's political behavior as a nation-state with the history of the Jews as a people. Zimmy, like so many Brandeisians, is extremely left-wing on all non-Israeli issues, & to the right of Genghis Khan on all things Israel. It makes for fun arguments.
18 February 2007
-Slowly getting people signed up for One Million Blogs for Peace. Have you signed up yet?
-Just in case you didn't think I've put up enough new content in the last 24 hours, the Blue Pyramid has just undergone its most comprehensive redesign in history, to celebrate being around for five full years. Check it out & let me know what you think! The rollover effects seem to take a little bit of time to load, but otherwise I'm pretty pleased with the result.
-The 1-31-07 ATHF/Boston video doesn't quite seem to have fallen off the radar yet, either. We made it to this article in the Boston Globe today. We get a full paragraph on the second page of the article, buried underneath some other videos, but noted all the same.
17 February 2007
-Alexa has revamped their format & now tells me (among other things) that I have the 3,493rd most popular site in Cuba. This makes me pretty happy. I wonder if Fidel has taken the Country Quiz.
-I do wonder about their accuracy, however, because Sweden ranks high, while Finland doesn't rank at all. & I have concrete proof through my scientific stat-trackers (Alexa is always a ballpark estimation effort) that Finland should be way up there.
-I've updated the Exports page to shun some award-winning blogs to Italics Purgatory & bring back Beth, who is back with a new blog!
-I am very proud to announce the newest BP project: One Million Blogs for Peace! You can read all about it there, but the basic idea is to get 1,000,000 bloggers united in a common movement against the Iraq War during the upcoming fifth year of said conflict. It's ambitious, peace-oriented, & it's going to be a lot of fun. I will also be running a separate, more traditional blog about the movement as it unfolds. I am very excited about where this could go. In the meantime, please sign-up (if you agree) & tell everyone you know!
16 February 2007
-Oh my goodness, they cheat at NASCAR?! Next you're going to tell me that wrestling is fixed!
-I think a big part of the reason I'm never quite caught up with all my website projects (QFG's answers, for example, have lapsed for months & the Search of the Week is not far behind) is that I keep coming up with new ones. & now is no exception. Stay tuned for the upcoming launch of perhaps the most exciting project yet. It's the things I can't stop getting excited about that really get fast-tracked, as though my entire being suddenly united under a common will. This is going to be great.
15 February 2007
Happy Birthday to J. Ariela Maruri
-Woke up feeling a little sick this morning, but I think I've got it out of my system. I haven't had a smoothie in 48 hours & this is my colossal fear with these things... that once your system gets used to having those boosts, not having them will immediately throw your body into disrepair & illness. I'm relieved that I don't think I'm actually sick, but worried that my main thought is to make sure to have a smoothie today to throw things back into balance. Mmmm de facto addiction.
14 February 2007
-Apparently the snow just doesn't stop in Nuevo!
-I was prepared to post here about how the internet had solved the troubles with my scanner, because it recommended I clean the glass & this led to back-to-back flawless scans (which hadn't happened in a long time). But this morning, it failed again. Now I must admit that there was some mention on one of the forums about disassembling my scanner into microscopic component pieces, cleaning each of them, & then reassembling it to functionality. I don't know if I'm up for all that. For the record, it also makes no sense that the scanner can tell the difference between imagery it scans & specks of dirt.
-I actually missed a train today... by about 30 seconds. I think it's the first time I've been close but just plain missed it.
-The Mexicali Rose was giving out roses with dinner tonight. I was stunned by the number of other people who chose that for their Valentine meal. It was just nice to have Em in town for the day for the first time in our marriage.
13 February 2007
-I don't think I have any friends who spend a ton of time in Idaho, so it's probably a bit much to ask if this article showed up in the print edition of the Idaho Statesman as well. But I'll take it... the Media section could use the love.
-I'm not one of those folks who post a bunch of shuffle playlists, especially those going on for pages (though any post would beat the post-rates of a lot of you folks out there... ahem), but this one I was offered by Em's iTunes account was particularly interesting to me today... "Father of Mine" (Everclear), "Independence Day" (Ani), "The Swing" (Everclear), & "Feelin' Groovy" (S&G). Basically a 4-song tour through bitterness, detachment, reconciliation, & resolution. Not really relevant to today or earth-shattering, but still an interesting musical jaunt. The patterns broke down thereafter, but these were the first four tunes it offered.
-Uh, are we really still "searching for a motive" as to why a teenager would be shooting up a card store two days before Valentine's Day? Really? I'd like to solve the puzzle. What is love?
12 February 2007
-Thus embarks the last full week of me being 26. I've been on a campaign to get myself used to being even older, so I've actually internalized it pretty well. The number doesn't sound horrific, but I think that's mostly an aesthetic favoritism of sevens over sixes. I have a good feeling about this year approaching, but it may be unfounded.
-Change is the only constant.
11 February 2007
-We made up a to-do list for today & got a startling amount done, though still way less that we'd hoped. Unfortunately, some of the most vital elements (tickets for our two April jaunts east) are still unaccomplished. I did manage to get the APDA Nationals 2007 site up, in the rose & gray of Vassar College. It's going to be a fun time, & hopefully I can learn enough about modern APDA to properly assign judges & avoid the problems of yesteryear.
-Also on the debate front, congratulations to 'Deis for breaking three teams at BU & Mark & Joel for making finals! I haven't heard about the tournament from anyone directly yet, but I have this funny feeling that they flipped Gov & ran something outrageously fun. Load up those Brandeis teams so I can see everyone this April!
10 February 2007
-"Bobby" is a really disappointing prelude to a great final 15-20 minutes. The movie feels nothing like 1968 & is filled with trite portrayals of mostly bad people, right up till a closing scene that's incredibly well done & very '68. Bizarre. If you can, watch a documentary of the year right before the last section of the film, instead of the rest of the film.
9 February 2007
-Unfortunately, "Why am I here?" isn't quite appropriate for a question for a question card at a big conference. I really would've enjoyed debating in that hall though. & we mercifully were able to leave early, so it all ended well.
-It baffles me how much people are willing to pay for parking in the city of San Francisco. After hearing a little about LA & NY rents, though, this area still feels cheap.
-I can only be responsible for things that I know about.
8 February 2007
-We pulled our Site Visit off like a charm & with everything I knew about in on time. I was pretty proud to be representing FYCC today.
7 February 2007
-More talk, less action! Or at least more talk.
-A new idea that feels like a breakthrough: we need to do to drugs (alcohol, tobacco, psychotropics, & the things this society actually terms "drugs") the same thing that has been done to racism, sexism, & so forth. It is not illegal to be racist. It is illegal to deny jobs or housing on the basis, but the mere fact of being racist is not a crime. When Michael Richards went on his insane racist tirade, no one came to lock him up. He was not even brought before a judge on a community-service-yielding racism misdemeanor. For years, I have struggled with the problems inherent to illegalizing any drugs & the disaster that was Prohibition in the face of the clear & pressing need to deter & drastically reduce drug use to salvage humanity. This feels like the solution I have so long looked for... to simply make it socially unacceptable. Create coalitions, hold marches, protests, rallies, provide evidence of the insanity of mind-altering substances everywhere. I am now officially in favor of legalizing all drugs & implementing the same tactics used to quell racism & sexism. I feel like a very small pilot of this has been conducted with tobacco with remarkable evidence of its success. Strengthening that & implementing it on a universal scale might just do the trick.
-The State Quiz was often fabled to check IP addresses rather than actually follow the path of the quiz's questions. That's how accurate it can be. But this is the first documented case of the same theory being applied to the 2008 Presidential Ticket Quiz!
6 February 2007
-I got hit in the back with the Routine Stick this morning, with it occurring to me how staid my weeks are in many ways. Any amount of predictability grates on me pretty quickly, even if it's good predictability. I love my job, but I would do a lot to shake up routines like having to eat & even commute. I can understand why my boss has declared Thursdays his work-from-home days. It's really at the basic level, though... the showering & meals & such... where I start to feel like a robot. Oh look, I'm just a food processor! There's really no way around things like that on this planet, & they have the slightly positive impact of making me want to go jump into the middle of something unprecedented. Maybe I'm just bummed that our video seems to have run its course. A lot more than 20,000 people would enjoy it, but so it goes...
-It is important to always be reading a book which one enjoys, at least when commuting. Sometimes trying to slog through a borderline book can make the train twice as long, or even actively annoying. Sailing through a well-written tome will make the trip a destination of its own. At least when one gets a seat... which has been a challenge in recent mornings since they've chopped a car from my regular route.
5 February 2007
-Back from Fresno after the classic late night drive up after the SuperBowl. It's hard to care about teams like Chicago & Indianapolis, but I liked the Blockbuster commercial with the rabbit, guinea pig, & mouse.
-& suddenly, it's back to work time.
4 February 2007
[from Clovis, California]
-I get easily overwhelmed at times like this... there are just so many people around at all times. I've been trying to balance my tendency to be a bit of a hermit amongst the whole clan with the importance of being a bit social. It's just a time when I feel everyone feels a bit awkward... maybe it's just me.
3 February 2007
[from Clovis, California]
-Came down late last night on the train, running into many chatty folks on the platform, but ending up sleeping almost the whole way down. Turns out I forgot many things in the effort to bring everything Em wanted me to bring, but so it goes. Who needs stuff at a time like this?
-Our video seems to be doing quite well for itself, collecting fifteen honors last night & taking over a fair chunk of YouTube's attention. Though signs pointed to it really taking over, which in the morning turned out to be greatly exaggerated.
-The service for Em's grandmother was very nice, with a beautiful eulogy by Will & a really nice slideshow by Paul. Em offered the Hopi Prayer for the Soul's Graduation as well. Thank goodness for funerals... without them, I think some people would never show emotion.
2 February 2007
-Russ, Greg, & myself have spent the last 7 hours constructing this video on the events of 1/31/07, based on an idea that hit me like a freight train on my way to work this morning. If you're bothered by ATHF, you won't like it, but if you see the humor in the situation... I'm exhausted, but awfully happy with the result.
-We have made the front page of Digg. That is all. We are on our way.
1 February 2007
-I don't even know where to begin with this story. Apparently it was blaring all over the airwaves yesterday as I worked, but I came home, got on the internet & the top story on CNN had a picture of Ignignokt. This was too weird to believe... surely the Onion had taken over the news! But no, it was real, & the media continues to crucify ... advertising. We talked this to death on the Mep Report last night & especially after the tape was rolling, but I am still confounded by how profoundly stupid the city of Boston & its officials have been in their entire handling of this thing. The Massachusetts AG actually described the light-up ads, saying "It had a very sinister appearance. It had a battery behind it, and wires." Can you imagine? Lights running on a battery with wires?! It's clearly the terrorists coming to get us all! I sincerely hope they tear down all advertising with lights. These ads had been there for weeks, & no one said anything until now. They had been in other cities for weeks, & no one said anything elsewhere. I'm sorry, but the first indication that any even moderately competent terrorist had planted a bomb would be its explosion. The fact remains that there is absolutely no effective prevention against suicide bombing or bombs left somewhere & detonated remotely or on a timer. The fact that such attacks have not been levied indicates a lack of interest in people performing such attacks, & nothing more. The only hoax here is that there is some looming threat to be afraid of, not a reasonable series of goofy-looking ads with... oh my God, wires!
31 January 2007
-Aubrey Ingraham (1910-2007). This was not altogether unexpected, & Em was actually planning on going down to Fresno later today as her condition was deteriorating. She's heading down there this morning instead. The last couple of years for Emily's grandmother were not the best for memory & lucidity, but she still maintained some of her spirited wit from years prior. A good long life, though.
30 January 2007
-In a nation with different guiding principles, we would not have Microsoft Vista... now or ever. The US guiding principle is likely progress, often at any cost & regardless of who is regressing to provide for this illusory goal. #2 might be get rich quick, the seedy Biercian reality behind the lofty phrase The American Dream. A better embodiment of these principles than Vista is hard to find, with the understanding that the fastest road to gold-paved progress is surely planned obsolescence. It's so much work to make actual progress in leaps & bounds, so why not phase it in over time, every five years for the rest of your life! More & more, I am convinced that they have a secret vault somewhere of 50-GHz processors, 6650x5000 resolution monitors, & a host of mind-blowing technologies that will be rolled out to the consumer base at a numbingly slow, but seemingly exciting pace roughly reflective of the last decade or so. In a country whose guiding principles were, say, tradition and honesty, there would be no Microsoft Vista. (& far be it from me to defend tradition really, I'm just making a point.) In such a nation, Windows would be releasing its 150th free upgrade today, patching over the latest advances of hackers, & speaking about glorious centuries of the operating system to come. Heck, we might still have DOS in that society, & then we'd all be better off! I know what you pro-American capitalists are smugly thinking: "But Storey, in that society, we wouldn't have computers! We would be pounding rocks together to make newspapers!" Guiding principles, folks, not the only ones. A bit of science & technology isn't bad, as long as it's tempered. & the profit motive is always bad, because it trains us all to be little monkeys, jumping at bait dangled by those who control everything. Poor little monkeys.
-With ever-increasing conviction, I am beginning to believe that the root of all the ill that is committed by human beings in this world is the result of one thing: Fearful people feeling threatened. I guess greed could account for some of it. But isn't greed deeply rooted in the fear of not having enough resources to survive? I suppose there are those who just want to feel power over others, the truly maniacal evil-doers. It's an interesting study as to whether they all can be traced to fears & threats or not. I'm still going to commit to about 90%. The leading cause of everything bad you can think of. It's right there.
29 January 2007
-I was somewhat incommunicado this weekend, & I'm not really sure why. I wanted focal discipline (surprise) to work on some lapsing projects, & at least I got started. Other things were somewhat more difficult. I don't anticipate any near-future repeat of this, but it seemed like the thing to do at the time.
-Nothing makes me quite so angry as doing taxes. That's not exactly true... a lot of things make me very angry. But taxes seem to impact me profoundly & drive me nuts. There are a lot of factors... arcane & overly extensive instructions, the fact that PIRG withholds roughly 5 cents a year from Em's paycheck (requiring a massive adjustment check each year), the fact that I have a seemingly infinite number of tiny sources of income (e.g. advertising on this site), the little friendly graph that tells me personal income tax makes 3.5 times the contribution to the Feds that corporate taxes do, the similar graph that informs me "national defense" is the largest outlay of funds (though all my money is going to education, national parks, & museums). The taxes themselves took me the least amount of time ever, though if they really cared, they could probably bounce back my 1040EZ, saying I needed to fill out three times the paperwork & "show my work". I never liked showing my work in math class or logic class, so why should I when it's the IRS? I doubt they'll toss up any roadblocks for that. Not for an old crook like me. Given that I claim more income than has been reported to them, they should be fine. It is a sweet relief to be done, though there is residual anger.
28 January 2007
-Spent an ill-advised night last night reading through the first half of 2005 of Introspection. I even re-called the fact that I bluntly warned myself 2 exact months ahead of the catalytic day... writing "consider myself warned" on 16 March, only to not have heeded by 16 May. I say "re" because I analyzed this for myself already, on 11 June. The idea that this was all less than 2 years ago kind of blew my mind, even though I'm often mentioning the experiences of Seneca to my Glide co-workers, or recounting the trauma in my mind at a given idle moment. I think it's been cataloged next to other similar moments there, all of which are older. Am I wiser? I must be. This must all be going somewhere. At least I've found myself in the best (work) position ever now, so that lends credence to me.
-6-0, 6-1. But we're both getting better & having fun. Even on cold, blustery evenings.
-Progress? Really?
27 January 2007
-It never gets easier.
-Patterns patterns patterns. How long do we have to struggle with the same things? How long the petrifying fear of change? How long the inadaptability of the most adaptable species on Earth?
26 January 2007
-What is this strange beast called a not overwhelming Friday at work?
-Sometimes I feel like a sailboat torpedoed, only to find that it was a false alarm & the ship has righted itself after plunging underwater for a bit. Baffled, I wonder how such a thing could be possible & it naturally dominates my thoughts & concerns for far too long after. As long as there is no appearance of torpedoes in the water, all can be placid & calm. But calling the torpedoes phantoms doesn't make them go away.
25 January 2007
-I had to take the van out to drop off some tiny hats & mittens that no one could use at our center (we were glutted) at Goodwill. On the way back to the parking lot, I heard the song "High School Never Ends" for the first time in my life & was immediately enthralled. I didn't hear the whole thing, but the last two minutes were solid gold. This put me in a good mood for about 5 seconds, before I had to park the bloody van in the back corner of our parking lot, reversing all the way, with uncommunicative help.
-Migraine: 7 hours*, left side, significant, caused by insufficient food.
-Ah, the synchronization!
24 January 2007
-Migraine: 11 hours, right side, severe, caused by fluorescent lights.
-After roughly a decade of sleep, I feel remarkably better physically. My mind is a bit offset by a variety of marginal to horrifying dreams, including an especially difficult one where I was living with David Kunkel & his mother in Baghdad, debating about when it was safe to leave the heavily fortified domicile. The point is that I'm doing much better... better than I could've hoped to feel at this point.
23 January 2007
Happy Birthday to Geoff Dean
-Something's gotta give with this illness... going to work took a ton out of me yesterday, so I'm not doing that again today.
-Well instead of something giving, how about getting a migraine? I'm not sure I could feel any worse than I do right now... any additional pains would merely take the pressure off something else & make it a wash.
22 January 2007
-I feel like I'm feeling better this morning, but not sure if it's better enough. Bleh.
-I just want to take this moment to thank all the fine folks at the new Vox.com for their rampant late support of the BP. It appears to be a new blogging site hoping to seamlessly integrate all the popular bells & whistles (YouTube, Flickr, etc.) with standard blogging fare. It also appears to be a haven of bloggers who had never had contact with BP quizzes until the last week. Welcome, Voxers!
21 January 2007
-Well another weekend goes plummeting down the drain (primarily) as this sickness has just dominated my experience. This has not been a terribly good month since returning from Nuevo. I wish I knew if this were something that is going to go away naturally in a couple days or if it won't go away until I get antibiotics or something. I think my lungs are just inflamed somehow & it should be gone in a few days, but I don't know if taking time off work to rest will help or be about the same.
20 January 2007
-I have come down with a strange illness... a mighty cough that is heavy & frequent, combined with an achiness (though not quite traditional soreness) in my throat. It is incredibly exhausting & I feel highly debilitated. It seems a little like a low-level bronchitis, & it's something unique in my experience in life thus far. It's better than a sore throat in overall feeling, but completely overwhelming for no really good reason. Yuck.
19 January 2007
-Today is the 2,504th day of Introspection! I note this only because I forgot to actually note the date at the time (though it is documented in the header graphic currently). That number is more staggering to me than I'd like to contemplate. At least I've used my time here for something...
-Time has leveled up again. It's moving even faster than before. Another year, another step up. I would believe that it's Monday if you really worked hard to convince me. Another weekend already? You've got to slow your Mustang down.
18 January 2007
-I've really got to stop pushing lunch back to 4:30. I wouldn't let anyone else get away with it.
-Video stores may be even worse than grocery stores for soul-sucking depression, stagnation, & even paralysis. Something about the way they're designed makes me never want to watch a movie again, let alone do anything less recreational.
-I feel like I'm supposed to be sick, but my body won't quite let me get actually sick. I'm definitely feeling overdue for an illness this season, but I'm realizing that these smoothies & their silly immunity boosts may actually be building me an immune system. They can't hold up forever, but I think they're stunning my body by staving off the annual winter cold.
17 January 2007
-Last night, I was exhausted for no reason, but the workday was quite pleasant, thus allaying my fears carried over from the Friday prior. Em pointed out a truly pivotal point that I seem to have my worst days at this job prior to trips, holidays, or 3-day weekends. I was literally stunned by the relevance of this revelation, & the fact that I hadn't put it together myself. This made me feel a lot better about everything, because that pattern means it isn't a more worrisome pattern of things generally trending down. Which they aren't.
-Today, we had a wipeout at work. Four of the five managers were out, plus both family advocates. I had to co-conduct an interview for the first time ever to help cover the tremendous shortfall. The bulk of the day felt like a plague had hit our building, with only scattered teachers remaining immune. This wound up meaning that I officially caught up today, & was even able to fix the printer which had smoldering paper lodged in it.
-I can't believe 2007 is nearly 5% done already. There are times I can work myself into a near-panic thinking about things like that. Or the fact that I'm just over a month shy of 27. Good God. That's the age my Dad always claimed to be because it was a bastion of vibrant youthful adulthood. & while it was always crazy, it was always a Dad number more than a me number. I need to get crazy with accomplishment, & fast. Twenty-seven! I feel woozy.
16 January 2007
-Well, that's to be expected. The key is to not get caught up in it.
-I was going to post about the extreme irony of Drew winning the Emotional Honesty BPBP & then promptly password-protecting his blog, but it turns out it was for Google-ducking purposes. The point is that it's unlocked again, so the spirit lives on. "But the soul still burns..."
-So maybe that gargantuan number from a few months back was a bit inflated, but you've gotta trust the UN, right? I think so. 11 & a third September 11ths this year. Incidentally, I think we should start officially using "September 11ths" as a widely accepted term for numbers of deaths to put in dramatic relief how many horrible deadly events there are that should (but don't) outweigh that day in popular consciousness. Just to drum reality into peoples' heads. For example, "Hunger caused over 2,000 September 11ths this year." or "Hunger deaths have equaled about 5 September 11ths daily for decades." Finally (also incidentally), I notice when looking at the above link that CNN classifies their Middle East category as "meast", which somehow seems like a perfect description for the behemoth of struggle that region often can be. Who reading cannot imagine going to visit the vicious meast just acquired by the local zoo, which uses its oversized jaws to torture its victims in its clutches, or warily eye the remarkably cute meast cub while pitying that it cannot stay that benign forever? Release the meast!
15 January 2007
-Spent a great day at Point Reyes with Gris & Anna (Em had to work today despite the holiday) hiking up & down the peninsula, enjoying the view, the cloudless weather, & the multitude of elk along the trail. The drive up was somewhat long & quite windy, but 'twas easily worth it for the six or so miles we put in on foot. We hit some great Mexican food on the way back that was incredibly filling.
-I'm not the biggest fan of awards shows generally, but it's really hard for me to take the Golden Globes seriously. Every award is redundant with some more important one, so it's like a ceremony of silver medals.
-I really managed to do next to nothing on this extremely recreational three-day weekend, but I think that's probably okay. Often one needs to do nothing in order to do something.
14 January 2007
-Broke out the new tennis rackets for my first game-style play of the sport in what has to be close to a decade. I beat Em 6-0, 6-0, 6-1, but we're both a long way from being any good, as there were a lot of service faults & general errors. I think we both improved greatly over the time that we spent playing & a few more sessions might bring us close to being able to play with someone else & not get totally steamrolled. Maybe.
-The problem with exercise is that it makes one tired. This is predictable, though it really seems like some advocates of lots of physical activity tend to forget this.
13 January 2007
-After yesterday's misery, I felt I needed something to clear my mind & give me a bit of a thrill, so last night I decided to find & go to the closest live no-limit poker game, even if that meant driving to Napa. Turns out, there's been such a place under my nose this whole time, making me feel foolish & sad that I've wasted time (& some money) trying to figure out the limit game at Oaks. Well Oaks is officially history after my first trip to San Pablo netted me a $118 haul. I was up a bit more than that earlier, but managing to leave before losing much of the winnings is perhaps the hardest challenge in live no-limit. The game is probably the best design of poker for my play I could imagine, with a $100 minimum AND maximum buy-in, so there's complete equality in where people start out (though of course you can keep your $700-1,000 on the table if you earn it there, & people do). The blinds are called "2-2-2, 4-to-go" which means your table rent is $6 per round (button & both blinds), but that buys you no flops... all flops are at least $4. It's near-perfect. I had a great time despite waiting close to 2 hours for a table, had good conversation, & more than doubled up in about 3 table hours. I have a feeling this could quickly become a regular activity for me. Even if the cashier tried to up-sell me on my way out, noting that if I stuck around, I could double my money in just one hand. Don't worry cashier lady, I'll be back.
-Migraine: 7 hours, left side, moderate, caused by toothache.
12 January 2007
-So I was already having by far the worst day I've had at work since... ever at this job... when a pigeon decided to unload on my head. & the day's only gotten worse from there, with or without picking bird feces out of my hair. There are days when one just has to give up.
11 January 2007
-The Book List is super-hot right now, nearly outpacing all the quizzes combined for total traffic in the last 24 hours. There has certainly never been a time before when that's been even close to the case. I don't know what's getting everyone so excited, but it's cool.
-My wonderful animal-free belt of nearly four years broke in two a few days ago, & I have since been made aware of a lot more about my life with belts than I ever would have realized otherwise. In the process of either borrowing a belt from Emily or going without, I have discovered that I have the exact same philosophy about belts as I do about shoelaces... they should be worn at the tightest possible level at all times. Granted that belts tend to be absolute necessities for me in a way that tight shoes do not, because without them, my pants would literally fall off of me most of the time. But having a belt tight enough to keep my pants on & loose enough to not be super-tight is still an obnoxious feeling. We now return you to your regularly scheduled programming that does not involve massive over-analysis of clothing habits...
-Follow up: Alexa is on board with the new hotness of the Book List.
10 January 2007
-Scorps on a plane! If only it had been US Airways to incur my extended wrath...
-Working a full day as hard as I can, missing lunch, & not being able to catch up can be disheartening. Really just exhausting. But then again, I don't have to worry outside of the hours of 8:30-5.
9 January 2007
-I read something in the Examiner yesterday about the proposed street-corner surveillance cameras for, among other places in SF, the corner nearest my work. The article told me that 233 crimes were committed on said corner last year. At first, I was taken aback (this is .64 crimes a day), but then I realized that I routinely commit a crime on that corner at least 4 times a day (jaywalking). This made me realize that in an unjust state, a phrase like "crimes" without specification becomes utterly meaningless. I witness many more serious crimes on the corner all the time... primarily drug crimes, but also the occasional assault. I've probably seen at least 233 crimes in the act of commission, maybe many more. But if someone happens to be selling drugs near me, is that really something I'm concerned about? No more so than walking by a bar, certainly. How irresponsible is it to have statistics that lump rapes, speeding, murders, draft dodging, thefts, fraud, tax evasion, the sale of marijuana, assault, and jaywalking all into the same category? How could anyone make a judgment about such a statistic? I additionally just don't understand what all the fuss is about having a camera posted on a street corner when over half the population walks every street armed with a cellphone camera. The only difference between them is that the latter cover more ground & are likely actually being watched by someone.
-Sometimes, the best e-mail one receives in a day can be from the person least known to you, and entirely incidental in its transcendent humor.
-I just corrected each day since the 3rd of the year from "2006" to "2007". Looks like I'm not ready for this year after all.
8 January 2007
-It creeps in like a stray cat, then washes over with a wave. It impacts every breaking-point decision, just at the edges, before later preventing them altogether. It couldn't be less like a disease, but it will take over if you don't fight it. & when you don't have the energy to fight it...
7 January 2007
Happy Birthday to Natalie Garin
-Spent a surprisingly dull day yesterday in Tracy, waiting for someone to want to play games or do something. I did get in my normal running around time with the kids, who are all getting old enough to verbalize & start to be interesting. I also got invested in the Seahawks game, which turned out to be incredibly exciting at the end, despite still being, y'know, a football game. At least one Seattle team can be doing well these days. Then I cleaned up in TTR Marklin.
-The less said about this day, the better. What is to be done?
6 January 2007
-"Children of Men" is very good, but I would do anything to have not seen a preview for it.
5 January 2007
-I can't say enough good about my routine at work. Fridays seem to manage to be the busiest for weird reasons, but when it's 5, I can not worry about things till Monday. Which more & more seems like a required element of any job I can enjoy.
-What was that phrase from years ago? Something about making life difficult? That sounds about right.
4 January 2007
-Finally made it home last night, with many thanks to Gris for picking us up with our abundant luggage. I am not really ready for work, but I don't have a choice. With the extra two days of absence, it should be even more challenging to catch back up, but hopefully January is as relatively chill as predicted.
-The day was slow, as could have been anticipated (first days of any kind always run slow), but quite good overall. I got a little tired of talking about the snow & the trip back, but I'm not going to complain about a workplace where I have close to 20 people interested in talking to me.
3 January 2007
[from Albuquerque]
-Had an epic Risk game with Em, Jake, & my Dad, where a mid-turn turn-in for 70 finally sealed the deal for me. Em has played less than I assume, & less recently, & my Dad still clearly is able to put his years of Risk experience to use (he finished second). We all had a great time, & it was a nice send-off for this extended journey.
-Never try to change the status quo too much on a last day somewhere. One risks losing the whole thing.
-With any luck, we'll finally be winging our way Bayward today, after a 60-hour delay & much wrestling with US Airways. Catch you on the flipside.
2 January 2007
[from Albuquerque]
-Migraine: 6 hours, left side, severe, caused by movie.
-I think sitting further back in the theater makes the likelihood of migraines from a movie much greater. I have been casually tracking this, & it seems to hold up. At least this one was quite short & much improved by throwing up.
1 January 2007
[from Albuquerque]
-Spent a relatively wild New Year's at Fish's, another one rung in there for the ages. There was a great deal of drinking (& ratio for the singles), but we managed to pull off some Mafia early in 2007, much to Em's surprise & my joy. Chalk up a millionth time of people being amazed that I'm the one who doesn't drink, but is somehow crazier than everyone. Just as we were about to leave, we found out that our 6 AM flight had been cancelled, despite the same flight the morning prior taking off just 9 minutes late, in comparable weather conditions (snow, ice, fog). So it looks like we'll be here... till Wednesday afternoon. I personally don't mind staying at all, but I'm frustrated by missing work & the airline apparently not offering us much compensation. We'll see how that works out once my Dad gets involved...
-Well, much involvement, but not much to be done. I put in some phone time with US Airways/America West & I can't say as I recommend anyone ever flying them. They're getting close to Compaq levels of unusability. At first they said we could switch to another carrier, we found a Southwest flight, they then said anyone but Southwest, then we found one of their own flights on Orbitz, they said this wasn't a seat but an option to get in the back of the line for an oversold flight, then someone else said we couldn't get on another carrier at all. In the end, we get nothing but a waste of half a day. But there's always something to be learned, I s'pose.
-"Blood Diamond" may be one of the more important movies to see this year, if you can manage to actually watch it.
31 December 2006
[from Albuquerque]
-Wandered around the neighborhood yesterday, went sledding in the Heights (even managing to haul out my old-school DC wood-&-runner sled for a few runs), & wound up at Fish's for a classic McFeeley dinner. We wrapped it up with some three-handed bridge & an eventual attempt to come home on the icy roads, which led to a 4th Street U-turn & spending the night. What's an Albuquerque vacation if you can't crash the tank?
-I put too much pressure on calendar dates, on year ends & beginnings. I wanted to write something about the death of a year, of what to make of it, of how to treat this passing of time. But the real significance is in the use of time, especially here, especially now. Friends of half my life, parents of my whole life, my wife the relative newcomer. I will evaluate 2006 when I have the chance to catch my breath. Life will always give me time for over-analysis, fear not.
30 December 2006
[from Albuquerque]
-As of 5:30 this morning, there is a good 8-10 inches on the ground, & the storm continues to swirl like a stalled-out hurricane over the state of New Mexico. This has to be approaching some sort of record, at least for the time that my family has been here. How excited I am that I'm here for this storm! I would be devastated to miss such a massive snowfall, which may be the largest snowfall I've ever seen in a place I've lived. It may even be the largest snowfall for a place during the time I've been there, though both Glasgow & Shaver Lake must be competitive. How I love snow!
29 December 2006
[from Albuquerque]
-Snow! About time. After it didn't come yesterday, I was very concerned that it wouldn't be showing up at all. Now the storm seems almost as big as the one I missed just prior to coming here.
-It's been snowing all day & there was enough accumulation for us to go out & build a snowman. It wound up a little formless, & looking very much like a Russian peasant, but was great fun to construct.
-It doesn't look like the parties & hang-outs scheduled for today are going to traverse the 4 inches of snow, nor the slush becoming ice all over the roadways.
-Spent a wonderful evening playing Clue & Scrabble with Em & my parents, reminding the latter as always that we have a grand time playing games. It seems to take a while to get the momentum going, but then we all enjoy it greatly when it's underway. I took both the Clue games, but my Dad's all-7-letter use on unreeler proved insurmountable in Scrabble.
28 December 2006
[from Albuquerque]
-Despite twinges in my back yesterday, went bowling last night with a myriad crew. I bowled relatively poorly, in descending form, posting a 136 average over 4 games. That wasn't too terrible, but losing 3 successive bets (including a record 2 to Fish!) certainly was no good.
-It is a merry Christmas, if a few days delayed by our own choice. It seems that the old haunts of Oregon will be joining three East Coast jaunts in 2007. Otherwise, we had many books, CD's, & calendars changing hands, as per usual.
27 December 2006
[from Albuquerque]
-Had a remarkably depressing time yesterday at the fabled Anodyne pool hall/bar/smokatorium. The smoke from the casino (slight) & bar (significant) has dried out my lips & lungs. Not everywhere can have California standards, sadly. I don't know why I expect anything less than to be absurdly sad when everyone around me is drinking, but sometimes I head back into the fray anyway. My back was also hurting to a massive degree, making pool difficult & eventually even standing or sitting a challenge. I feel like a major relapse on the back front is impending. I just said back front.
-Sometimes I don't know why I even bother.
-This whole trip has been utterly surreal, as though it weren't really happening but were some warped dream of coming to Albuquerque. I am convinced that subconscious sputterings are calling the shots.
26 December 2006
[from Albuquerque]
Happy Birthday to Paul Garin V
-Migraine: 15 hours, right side, moderate, caused by movie.
-Went up to Sandia Casino for my first ever entrance into a New Mexico gambling establishment. They have highly alluring 1/2 no-limit tables, which Freez, Fish, & Emily joined me on. I won $73, though lost $25 more on the last hand I played, while Em dropped a hundred to give us a slight net loss. Our overall party won money, mostly on the back of a ridiculous haul by Freez, who apparently cashed in his sixth straight visit there. Suffice it to say that I had a great time, & live no-limit is truly wonderful. If only I could convince Oaks to adopt some of these tables.
-Garcia's & bridge nicely rounded out the evening.
25 December 2006
[from Albuquerque]
Happy Birthday to Holly Harper
-Well I didn't collapse from exhaustion early last night as is my trend after all the luminarias, so of course it was time to keel over for far too much sleep once I did get to bed. Though I just looked at the clock & it's two full hours earlier than I thought it was. Time is different here... nearly everything is, including how hungry I tend to get. Part of it all must be altitude, but a lot of it is just New Mexico. Regardless, we have postponed Christmas behavior (gifts, dinner, & such) until the 28th so we could have time to get gifts & leave the last couple days for luminarias. Today, it might just be time to go to the movies.
-Okay, I will admit that I now probably deserve a fair bit of flack. I just looked up the past few Introspection entries for 24ths of December spent in Albuquerque. My "taking it easy" this year may have actually been the most lumis we've ever put up at this address. Both '04 & '02 netted exactly 507 luminarias each, which in itself is a remarkable fact. '01 was simply described as "less that 500". '00 may have been more, but I didn't post the number & it seems highly unlikely that I would've surpassed 525 lumis the day before leaving for Scotland (especially if I'd known how hurt I would get there). '99 may well have been some extravaganza (I feel like 576 is the record... that number is etched in my mind for some reason), but otherwise yesterday was the record. But I stand by it... I paced myself better than I have in years, if not ever.
24 December 2006
[from Albuquerque]
-Sometimes it just isn't your year.
-Went to Garcia's & played games with much of the old crew, including a rivetingly competitive game of Oh Hell where Freez bested me by 3 points, & a similarly close game of Boggle that I emerged out of a 3-way tie on the last round. Coopoly & Risk were discussed, but set aside for the time being. There may be cards of a different color on the day after Christmas.
-So much work to do on lumis!
-Wound up with a display of 525 luminarias, which I couldn't imagine was possible given how little of the yard we covered. I made good on my pledge to not touch a ladder this year, avoiding even the side wall & arch, let alone the roof. The front courtyard area was a bit anemic too, without much on the inside of the walls. Still, all the new patterns & raised structures in the very front took attention, & we double-bagged the front walk (it's raised slightly, allowing for two tiers), so the display was still pretty solid. Em was an immense help this year, while my parents did nothing after folding bags leading up to our arrival. There was also a massive wind problem right before & around lighting time. We were relatively sheltered from it - I saw entire displays down the road that got blown over before lighting - but still had about 10 full bag fires, which were perhaps the first 10 ever. There had to be one or two sometime in the past. They're not nearly as scary as one would imagine (again, I saw many in the neighborhood going off much of the night), but one near this very frondy plant was of concern. An additional 15 bags wound up with little holes in them from brief contact with the flame, requiring some replacement & some mere relighting. No one believed that I was taking it easy this year, but I feel I was. Some year, I'm going to come a week before Christmas, work hard for the whole time, & we're going to put 1,000 of them out there. But for now, this is great.
-My parents do like their entertaining. But Fish & his fam & Lisha & her sister showed up to make the party far more interesting for Em & I.
23 December 2006
[from Albuquerque]
-Got in at around 4 this morning, then promptly waited 45 minutes for our luggage to come off a flight that had to be hours & hours later than any other. At least we hadn't come through Denver. Fish was a champ in picking us up, & the Frontier has repealed their closure on weekends overnight to avoid bar traffic (they had instated this a few months ago in reaction to the rowdiness of this crowd). So we ate & came home to surprisingly find my parents wide awake & anticipating our arrival. The new lodge room that is serving as my Mom's office is probably my favorite of all my Dad's many room designs over the years. It's been 12 hours of travel, but it's definitely home.
-Long way to go on luminarias, but I promise to relax & take it easy this year.
22 December 2006
-Just sat down & wrote the next 12 Duck & Covers, for today through the 2nd of January. Some of them are some of my favorites in awhile... I'm elated because I woke up early to get them all done before the trip, I kept a good level of consistency on them, & the scanner worked on just the 2nd try! & since once it starts working, it works for a good bit of time thereafter, I was able to do all 12 in one shot. Very exciting. I'm going to try to release them daily as normal since I should have (dial-up) access in Nuevo.
-Now packing may be another matter altogether...
-Save some snow for me, Albuquerque!
21 December 2006
-I've been on quite a tear of great percentile finishes in big poker tourneys that net very little money proportional to the time it takes to get there. Still, it builds confidence & sure beats losing money. Must... crack... through...
-QFG is back & I put up the 2008 Quiz Stats page. & my complete bafflement with Bush's decision to increase troop levels in Iraq is expressed in D&C. Suffice it to say that this war may yet make Vietnam look like a joke.
-After talking to co-workers, few people felt the 3.7 earthquake last night in the hills above Berkeley & Oakland, but I felt it during the Mep Report! Be sure to tune into Mep Report 61 for continued earthquake hijinx!
-I just can't shake an uncanny feeling of destiny. I wish I could, believe me. But... Have you ever thought your future self was leaving you clues? Or that, since perhaps all time exists at once, you can sense the impending nature of the big stuff well before it happens, or at certain heavily imprinted moments? All the time.
20 December 2006
-Got to see a movie on work's time & dime today, in exchange for a portion of my many errands with the gargantuan van today. The movie was, of course, the very relevant "Pursuit of Happyness" (my second viewing thereof), which is about one of Glide's former clients. A good time was had by all, though we returned to discover that the building really does seem to have a hard time without us there.
-I'm glad it's been cold in SF lately, to better prepare me for the real chill that will be Nuevo. Been getting a little complacent, & going from 60 to 25 overnight is no good.
19 December 2006
-This is me waving to all the new fans of the quizzes in Croatia! Croatia joins a long list of countries (most recently Estonia, & most notably Taiwan & Finland) to get hooked on the BP.
-Snow in Albuquerque! Near record levels! Why couldn't have this waited just one week? Still, as long as it stays cold, I'll get to see much of the glory, I hope. So exciting!
18 December 2006
-The craziness is now primarily behind me, after I awoke at 3 this morning to be into work just before 6 to help run the Old Navy/Steve Fox Shopping Spree. We had to shuttle nearly 200 kids with a corresponding number of volunteers into a clothing store for two hours, then get them all home, while simultaneously monitoring & tracking (or trying to) everyone. Another exhausting experience, but one that was well worth it for the looks of joy on all the kids' faces. I'm fuzzy-tired again, but haven't managed to want to sleep for hours upon hours after getting home (early). & it's mostly cruising from here till we leave for Nuevo in four days!
-After checking the list, I just realized that I have read more than 20 books this year. That might not sound like much to you speed-readers out there, but for someone who has been struggling with reading painfully slowly over recent years, & never as much as I'd like, it's pretty great. Given that much of it is aided by my new commute structure, & that I started working at Glide in May, it makes the idea of doing the 50-books-in-a-year thing seem not utterly crazy. I mean, still a little crazy, but not utterly. Naturally, this abundance of books is going to make the annual top five into a dogfight. I've been trying to track them as I go, but I have no real idea where the just-finished The Year of Magical Thinking belongs. I know it belongs in the top five somewhere, but I'm wrestling with ideas of it being in each of the five spots. It was certainly the most gripping read of all the books of 2006, but not necessarily the best. But maybe it was. It certainly didn't disappoint me in any of the myriad ways I was anticipating it might. In this way, it was unlike most of the movies I've seen lately.
17 December 2006
Happy Birthday to William Garin
-Though I did them a little later in the year last year, & there are still two weeks to go, it's a very busy two weeks ahead. So let's uncork... the 2006 BPBP's! I'm a little trepid about ramping these up, given that last year's served as a bit of curse. The two main winners last year both ditched blogging by the middle of the year... though Beth had an awfully good reason. ReadySteadyGo has managed a late comeback, which is appreciated, but still posted just once in a 4-month, 10-day stretch. Freez definitely handled '06 better than the rest of the '05 winners, but drifted to football overanalysis quite often. Despite the precedent, here come this year's winners...
-The 2006 Blue Pyramid Blog Plaudit for Emotional Honesty goes to quemarropa. This blog navigated a gut-wrenching & complicated break-up with unrestrained openness & a fantastic cross-section view of the emotional fallout that followed. In breathtaking detail, the roller-coaster ride was embarked with day-to-day updates of every peak & valley. I must note a small demerit for the deletion of one post, which is contrary to the principles of Emotional Honesty, but the overall body of work still dominated this field.
-The 2006 Blue Pyramid Blog Plaudit for Humor goes to Count Me Out. While infrequent with the posting, this blog staged a late comeback with a multimedia experience of primarily funny material. Comics, pseudo-historical stories, & phrases like "What is the most discouraging thought that that frog could ever have without ever deciding to give up?", this one edged out other infrequent posters for the '06 title. Honorable mention goes to Adam Duritz for the seagull entry, which at times had me in irretrievable stitches.
-The 2006 Blue Pyramid Blog Plaudit for Best New Blog goes to Scrawl (my name with yours...). This is a win by default if I've ever seen one, this being literally the only blog started in 2006 that made the list. I'm not saying it wouldn't have beaten some competitors, but after a roaring start in Guatemala, the blog has fallen to only posting twice since 18 October. Time will tell if this is a fade or just a lull.
-I wanted to add a category a year with this thing, but it's really hard to imagine what else I would do, or who would win other things. So many people have faded or outright quit this year, that there are only a handful of blogs who consistently stay out of Italics Purgatory. I've thought about doing a Frequent Poster Award, but I don't have the energy to literally count posts in the high-frequency blogs. So this will hold till next year, & hopefully more people will start & others will ramp up in 2007.
16 December 2006
-Yesterday went extremely well, but I'm not sure I've been so tired in months. Not to mention sore. But our apparently usually quite frenetic Adopt-a-Family distribution day went smoothly, was spread out over the whole day, & allowed staff to hang out almost as much as they were working, rather than be scrambling. Organization is a nifty thing. Now Monday is ahead, slightly more challenging, but I have a whole weekend to recover.
-Sometimes you just have to get things off your chest.
-Em's cookie-baking-&-games party went quite well, & I think everyone enjoyed themselves. Team New Mexico got so profoundly schooled in Trivial Pursuit (20th Anniversary) that I at one point had to get brown paper bags out of the kitchen so we could wear them over our heads. We did get unreasonably more difficult questions, that edition always seems to get to me, & we uttered two correct answers for pie pieces & talked ourselves out of them. Still, it was the worst game of TP in my life, though entertaining.
-Once again, this page proves useful as a historical document for correctly recalling the past.
15 December 2006
-Yesterday, today, & Monday mark the 3 biggest & busiest days we have at Glide's FYCC, my place of work. The frenetic nature of organizing & planning these events we hold, along with the crazy amounts of troubleshooting & last-second adjustments that are being made are strangely reminiscent of running debate tournaments back at 'Deis. I even talked to one of my co-workers about this analogous feeling & how I feel I thrive under these pressured & even harried conditions. I'm having a blast, but am fully aware of how other functions are shutting down in the face of needing to pour energy into this. Sometimes I wish life were like this more often, but usually I'm just glad these things are contained. Here we go...
14 December 2006
-QFG will return soon, I promise. Hopefully this evening. As far as the answers... I painted myself into a corner with that one. It was never part of the original plan to have user-submitted answers, because I knew what a time drain it would be. Not surprisingly, after being convinced to do it, it has lapsed since 9 August, roughly a third of the entire time QFG has been up. I need a part-time programmer.
-I've been thinking about selling T-shirts for the new 2008 Presidential Ticket Quiz on a by-request basis. As in, if I get an e-mail requesting a design for a specific ticket, I will make that design on CafePress. Because honestly, I'm not doing 768 right now, but a few of the big ones might be popular. Is this a weird system or does it make sense?
-Coming home on BART, I was seated a few rows back on a full train when a woman boarded & said to a young man seated in a zone marked as potentially reserved for seniors & those with disabilities, "Excuse me, I have a disability, I would like to sit down please." After getting her to repeat the perfunctory comment, the young man begrudgingly shuffled up out of his seat & bitterly grabbed a railing. But then, lo & behold, the woman winked at the person she was sitting down next to. She winked! There are people out there (who obviously have no trouble walking) who think it's perfectly acceptable to lie about having a physical disability in order to bump a youngin' from a seat! File this under my ever-growing bafflement at peoples' sense of entitlement.
13 December 2006
-Any day where one gets to lunch at 4:05, 7.58 hours deep into one's shift, is a little busy. & it's only going to get crazier as the next few days pass. Of course, I used to work 16-hour shifts with no lunch break, so...
-SFO could stand to be a lot nicer. I guess that's why all the particle board is up everywhere.
-Whoa. APDA is blowing up right now, with a secret internet project being outed. Crazy.
12 December 2006
-Smoothed out a couple of bugs on the 2008 Presidential Ticket Quiz, including a few pages where names & images were duplicated, & another where there was a dangling </font> code on all 768 answer pages in the results posting area... something that would have been insurmountably exhausting to fix before my find-&-replace salvation. These things always have a little bit to work out after their debut... compared to the PS3, this was an immaculate release.
-I do my morning routine in the dark. I usually get up about 90 minutes before I have to leave for work & wander about in the dark... making coffee, showering, getting dressed, writing the morning's cartoon, updating this page, & looking around the internet. I stay in the dark partially to help Em sleep later & mostly because I just don't like light very much & would live in a cave-like atmosphere if it were all up to me. But the hazards can be quite significant... as I discovered today. I poured my coffee as normal, just after the shower, having let it brew while I was bathing. Taking a sip, I noticed it much colder than normal, a tepid temperature precisely at the epicenter of disgusting. But being in a place where I needed coffee, did not have enough in the pot left to constitute a morning's intake, & somewhat baffled by the mystery of why my coffee was so cold, I plowed on. It wasn't until I retched up the last swig from the cup & nearly had a larger round of nausea that it hit me: the cup had been almost half-full of yesterday's leftover coffee when I had poured the fresh brew. Maybe a light for coffee-pouring wouldn't be the worst.
-A few months ago, or maybe close to a year, or perhaps even more than a year ago (perhaps I should just say "a while back"), Em made me buy more expensive shoes than I would ever normally obtain for myself. I have spent most of my life wearing $10-20 pairs of shoes & wearing them to the bone, & have quite enjoyed this fact. Em spent a very long time in a shoe store trying to cajole me into a $50 pair that did, admittedly, look cool, but were 2.5 times what shoes should cost at most. I eventually said I would give it a shot after she promised many times over that they would last 2.5 times as long as my normal Payless bargains. But the first time I wore them in the rain, I was in for a terribly rude awakening, as I realized that these shoes were the least waterproof shoes I had ever worn in my life. & I don't just mean that John Schneider could have failed to waterproof them back in highschool - no! I mean these shoes have large gaps in them wherein no water is stopped until it gets to the core of the wearer's foot. This fact is also notable when it's windy, as lo & behold, I felt wind on my feet the first time I wore them in said weather. It's somewhat inexplicable to me, because the shoe appears to be solid (some readers inevitably think I mistakenly bought a $50 pair of sandals, which I detest), but in fact is mostly air. It's like a bag of Doritos. Fast forward to now, when the rainy season in San Francisco is really getting its water on... it just isn't pretty. My feet have been soggy (& soggy-smelling) all day, & there's no sign of relief in sight. This, mind you, is not the result of jumping in puddles or dancing in the rain, but simply walking to work while it is raining. Now inevitably some of you are thinking, perhaps rightfully, why not buy another pair of shoes? This is a principle for me. I have signed away my shoe budget through 2008 on these bags of Doritos & I can't jettison them now. If I buy another pair of shoes, I'm only extending my shoe-buying moratorium through 2009 or longer, which can't be a good idea. I say this now, of course, but if the rain keeps up all week... look out.
11 December 2006
-I don't think I've ever been pleased with an opening day of traffic since the Book Quiz, but given that it's December & the recent trends have been as they have, today's been pretty good for the launch of the latest quiz. Plus I'm very relieved to have it done & can go back to concentrating on everything else. But not for too long... I'm going to have to start up a new project in January at the latest.
-Communication is an under-rated skill. It is the bedrock of all that could ever follow.
10 December 2006
-This program just saved my life. I don't know if this is going to make me sound like a complete moron or not (not that many of you out there are programmers), but the find-and-replace-across-multiple-files function is something I had never heard of until I got so desperate with a mistake I made in the latest project that I couldn't take it. Facing 256 open, change, save, & close operations after already spending about 12 hours on this project today, I went to Google to see if my problem could be solved. I was even ready to accept spyware or possibly pay money. Instead, I found a brilliant, simple, small spyware-free, free program that took about 8 seconds to do what I was prepared to spend hours doing. The implications are much larger than just that one operation. Now adding links to new quizzes I create on old quiz webpages can be an instant process, rather than taking the hours I've already spent on it in the past. Instant update possibilities are everywhere! It really is possible to overhaul everything quite quickly. I'm just flabbergasted by how much easier my life with the Blue Pyramid just became. & how foolish I feel for not looking for something like this earlier. If necessity is the mother of invention, then desperation is the mother of asking for help.
-That's going to help the team.
-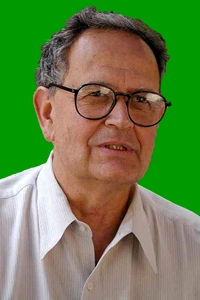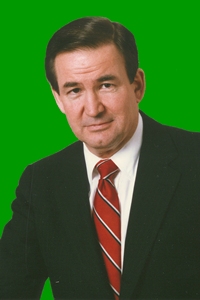 You're Camejo-Buchanan!
As Peter Camejo, you have strong convictions that you take with you wherever you go. You believe in peace, justice, and a very un-American way that challenges big business and the status quo. You want to shake things to their very core, but can never seem to quite get a foothold in your endeavors and often fall a little short. In spite of all your egalitarianism, you live in a rather spoiled suburban environment.
You select Pat Buchanan as your running mate to pick up some extra votes in Florida.
Take the 2008 Presidential Ticket Quiz at the Blue Pyramid.
-As you can see, it's on the loose! Go take it, tell your friends, tell the world. There are 768 possible outcomes. Yeah, that's right, 768. You can't even comprehend of how much time you can waste on that quiz. Also, please report any bugs (things that don't seem to make sense or especially broken pages) to me ASAP, because it takes too much time to fully beta-test a quiz this size, at least when I've been working on it this long & the weekend ends in just a few hours.
9 December 2006
-So a long time ago, a few people suggested Pandora to me, & not just because it shares a name with my cat. I loved it, but promptly forgot about because music doesn't drive my life quite as much as those of many of my friends. Or maybe I just got overwhelmed. Well it was Time Magazine's coolest something of the year this year & so I went back this afternoon while working on the latest project. It took them about 45 minutes to get to ... I can't make this up ... a live Matt Nathanson cover of "Romeo & Juliet". I almost died, but settled for crying. I guess these folks have nailed me.
8 December 2006
-Happy 28th anniversary to my parents! It's so hard to comprehend that large a number, but then I remember that I have to be less than that, & then I remember how old I am...
-"The Pursuit of Happyness" is premiering tonight at the Metreon... Glide is having a huge fundraiser around it & it's all very exciting. Work wound up being a little too exciting, but mostly in an exhausting way. I like that when work gets too exciting at this job, nobody gets hurt.
-So much to slog through for this project...
7 December 2006
-Setting up for the staff party today was pretty fun, but waiting around for it to start seemed to suspend the mood for everyone. No one really wanted to start any big projects (self included), & the anticipation was high. Turned out to be a great event, with extremely high attendance & a great gift exchange. I even won the grand prize raffle, though I almost lost my ticket! It created a weird, but ultimately workable situation. Suffice it to say it was the largest Christmas bonus I could picture getting. The only thing lacking was a decent veggie meal since it was banquet-style, but that's to be expected, given the whole halal/kosher/vegetarian/vegan/health-nut/no-salt/no-taste/people-who-don't-eat-food all-in-one meal.
6 December 2006
-This morning, I realized just how well this month is going so far & tried to analyze my euphoria without letting it slide. Unsurprisingly, the main factors involved are less sleep resulting from more motivation applied toward creative endeavors. As with poker (which has also been going ridiculously well lately), I've always known I have all the tools there, it's just a matter of having the energy & discipline to apply them consistently without slowing down. Life is surprisingly often not about figuring things out, but about chugging away at what you've already figured out. Of course I have a wonderful marriage & a wonderful job, & those are not to be underestimated, but that last tipping point is all about having a full fledged & exciting outlet for what I actually want to be doing. I am unspeakably happy about this latest project, & it seems (I hope) to depend less on its overall success in the public eye than in the process of doing it. I'm sure that status will go away the day it's released, but I can try to hold on now. The things to remember to carry forward now are: (1) starting a new project shortly after finishing one to avoid lag time burnout, (2) not getting snagged by setbacks with projects (which there've been a couple), (3) working even when not feeling completely inspired, because this process often leads to sparking inspiration, & (4) tempering work with play, even to the point of "threshold rewards". If I can be consistent about this, I would be infinitely closer to my goal of constant creative productivity.
-The flip side of analytical: the soft, comforting, transcendent embrace of God in the universe & knowing that we all get caught, no matter where we fall or land.
5 December 2006
-Every morning when I scan the day's Duck & Cover (I need to get back in the habit of writing them at least a couple days in advance), it's a coin-toss as to whether the scanner will work. My all-in-one printer/scanner/copier/fax/coffee-maker/catapult thinks it's breaking or is just attention-starved, & likes coming up with errors just before scanning. I guess I have been giving it a daily workout for 509 straight days. But since it can't team up with the toaster & microwave to unionize, it just flashes red lights & often makes me choose between being late to work & not posting the day's cartoon till the evening. Both of these choices are lousy, & the stress of the situation is often the most frustrating aspect of my day. If there were ever a time when I weren't able to get the scanner to work after 5-15 minutes of patient troubleshooting, I would just conclude that my relatively new machine is shot & look into newer ones, but it always works after a time. This morning, however, when I started serenading it with a rendition of "Roxanne" ("Priiiiiiinter... you don't have to put on the red light..."), I realized that I might be about to crack.
4 December 2006
-Last night, I had photo-editing dreams wherein the subjects in my subconscious wanderings had little dancing half-lines around everything & I had to crop out the blurry edges. This marks the point in time where I have officially become obsessed with my latest project. I have dreamt of many things in my day... Tetris, Dark Age, debate, classes, work, Loosely Based, & now the latest project joins the rank. But I can't see it going much longer than a week to ten days from here. In the words of Led Zeppelin, all will be revealed.
-768 is a big number.
-The more things change...
3 December 2006
-Spent a truly ridiculous portion of time questing for a Christmas tree that did not cost fifty bucks. Ended up successful ($19.99) at the fifth place we looked & got a huge tree... our first real family-sized tree. Pando seems a bit horrified yet somewhat intrigued. We even have a classic metal Christmas tree stand. It's like we're all grown up or something.
-I am duly impressed with this quiz on American accents. It said I have a Western accent, which is correct, & that this means "no one thinks you have an accent", which is also probably correct. & I am furthest from a Northeastern accent, which is just sort of philosophically correct, if nothing else.
2 December 2006
-Okay, maybe I am good at poker.
-This latest project is dominating my brain & my time at nearly unprecedented levels. All will be revealed this month, barring disaster. I will say that the CQII is on hold till next year, to make way for this project. The biggest thing I need to work on is controlling my hopes from getting sky-high about the phenomenon this could be.
-"Stranger than Fiction" was quite enjoyable, though the ending was fishy. I say that exact sentence about a lot of movies, mefears, but it's just the case a lot of the time. Few people know how to really do endings properly. I would still recommend it, as it was rather clever. & if you can see it at the Grand Lake, so much the better.
1 December 2006
-Uh, who ordered the December?
-The Mep Report has officially released our first-ever video. It's a whole new angle on our highlight about the Even-Number Principle & face-eating moles. You must immediately check it out here.
30 November 2006
-I have felt so many things about this week. At the same time, I've been tired & exuberant, both overwhelmed & comforted by my current routine. I have all the pieces & know they will come together. It's just a matter of timing, enforcing that timing for myself. It's all up to me. The control we are given over our own destiny can be shocking at times.
-It's amazing to me how consistent the pattern of repeated heavy lifting or carrying making me extremely angry is in my life. I'm not sure anything, even a migraine, puts me in a bad mood faster.
29 November 2006
-Some people at work were today baffled that it was still November & not December. Others were stunned that it wasn't still September or perhaps October. I think I'm still reeling that it's not 2003 anymore.
-When the computer-fixer's computer isn't working, it's time to go home.
-I think I may have had an ear infection since 2001. They apparently can go relatively dormant & flare up again, as it has again in the last couple days. Sigh.
28 November 2006
-Russ is good at poker. Me, not so much. But congratulations to him!
-Unexpected traffic bonus yesterday! It's about time. Just stick around, folks...
27 November 2006
-Migraine: 33 hours, right side, minor, caused by excessive light.
-Though it was minor, the things that had to be done during the headache (driving home, for example) made it seem a bit major. So it goes. Gris & Anna even got in from the snowy wilds of Montana via Washington. But I'll be fine.
-Everyone seemed a bit groggy coming into work, but I was able to shake it off & get a surprising amount done. This week or two up ahead are going to lull me into a false sense of security before the full holidays blast me into oblivion.
-Project project project! Much exciting fun.
26 November 2006
[from Clovis, California]
-Geoff & I are about as evenly matched at Madden as two people can possibly be. He always has some late-game heroics, whether they come up 4 points short or 1 point ahead.
-"Happy Feet" was neither as good nor as bad as I anticipated. At times, it seemed utterly chaotic & fully aware that animated penguins were all they needed to float a blockbuster film. At other times, they went against preachy missions against human wastefulness, religion, & even communism (though this sort of backfired, because it was clear that communal behavior was the only thing keeping the penguins alive most of the winter, unrealistic dropped egg or no). There were also some unnecessary race issues. But the penguins were every bit as great as hoped for, & that's what I was going to see. I don't know why movies like this aren't more explicit about the importance of being vegetarian, or at least of not eating fish. There's this nebulous fish shortage for the penguins the whole time, & vague mutterings about the humans not fishing in the area of the Antarctic (presumably because the rest of the world's oceans are so flush with unfished sealife), but no one comes out & says that fish are penguin food, not human food. If you're going to have a preachy message, at least do it right.
25 November 2006
[from Clovis, California]
-People are finally warming up to playing some games, after a surprising disinterest (or lack of momentum) in this area. & I'm forcing myself to relax, to not be so focused on keeping up, to really let things go a bit & have a vacation. I don't have as much trouble with this as some, but even I can get too caught up at times.
24 November 2006
[from Clovis, California]
-Did a little Thanksgiving-for-Christmas last night, garnering Sid Meier's latest Railroads game as well as a variety of giftcards. The kids all picked up about a bazillion toys & we all wondered how it is that kids these days seem to amass quite so many of them. As always with these nieces & nephew, I'm furiously taking notes for what I would want to do (or not) in raising a child, if applicable.
-Mefears I've been a bit antisocial this weekend in working on my fast-track project, but if it's even a fraction as cool as I think it could be, it'll all come out in the wash. All you need to know right now is 768. Think about that for a while.
23 November 2006
[from Clovis, California]
-Got down here early morning as per usual, after an unusually foggy drive. I love the fog, though driving is not the best context for it per se. I'm looking forward to just letting go for a few days... though I have projects I will also be trying to steal time for. The whole clan is starting to assemble & the Garins are nothing if not unchangingly consistent, which can be very comforting.
-I'm thankful for just about everything in my life at this point, & always a little weirded out by associating thanks with a time when our ancestors stole everything from other, more deserving people. I hope to live up to the blessings I've been dealt.
22 November 2006
-Well, my doctor's visit went slightly worse than I could've imagined. Apparently my feelings that they know nothing about migraines whatsoever were entirely confirmed. This is, in fact, what the medical profession is willing to say about itself. So everything they prescribe to be taken daily for migraines is an off-label drug... don't even get me started with the dangers of off-label prescriptions. But the real kicker? My doctor wants me to take... get ready... anti-depressants! For migraines. Without discussing the impact it might have, say, on my outlook on the world, or my headspace, or anything. & she didn't even pitch it as "this will save you from migraines", but rather as "it probably won't work, but hey, it might!" I know that punting 6% of one's life to be in dark, silent rooms is not everyone's idea of functional, but trading it for destruction of the rest of my life just doesn't seem terribly valid to me, especially when it's from the Try It, You Might Like It School of Medicine. Sheesh. So I talked her down from the ledge & she said that blood pressure medicine was my other option. She didn't tell me about how these pills designed to, you know, reduce my blood pressure would impact my blood pressure. Given that I've had lifelong textbook-perfect blood pressure, I'm not terribly excited about this option either, especially when it's a "beta-blocker" which is apparently supposed to stunt my reaction to dangerous situations. Yes, I would like to shoot my intuition in the face in exchange for a slight possibility of reduced headaches. Finally, she also prescribed my old "stroke pills" from the mid-90's, even after I told her that whatever happened, I didn't want to go back on those. After this whole experience, I'm beginning very strongly to believe that medical health is a zero-sum game. It's all just trade-offs. & after spending a decade & a half getting used to migraines, I'm frankly more okay with them (a known, safe quantity) than voyaging into the realm of unknown side effects, dangers, & explicit impacts of doom. Feel free to try to talk me out of it, but my mind is quickly being made up, & my parents & Em seem to be on my side. The only possibly positive outcome was something called the "Headache Clinic", which sounds a little like a migraine support group. That might be fun, though it sounds like it also might conflict with work hours. We'll see.
21 November 2006
-Migraine: 29 hours, right side, significant, cause unknown.
-Kaiser thinks I have a doctor. Who knew? I'm going to meet her tomorrow.
20 November 2006
-The more I work in the Tenderloin, the more I learn about basic human behaviors & approaches to mundane tasks. For example, walking. I am a very defensive/evasive walker, wherein I will assume that, in crowded sidewalk situations, other people are going to proceed on their course & it's up to me to avert dangerous collisions. In most all walks of life, this works very well, because most people walk deliberately, even stridently, & are not looking to bounce out of their way to yield to oncoming traffic. Not so in the Tenderloin. Seems about 80-90% of my neighbors in this area are also defensive walkers. They're used to getting out of the way or being mowed down. Of course, any pairing of two head-on defensive walkers creates that beautiful moment dance of both people getting in each others' way with the intent to get out of it. Sometimes with up to three or four permutations around here. It's truly amazing. This still has to be preferable to aggressive/aggressive walker situations, wherein collisions must be all but inevitable. I feel like Jake would especially enjoy discussing this facet of human nature & its application to our daily living.
19 November 2006
Happy Birthday to Paul Garin IV
-As though you needed another reason to love Chipotle, McDonald's has apparently fully divested from them, circa last month. I'm not someone who plays politics with economic decisions, because I know everything & everyone in a capitalist system is innately broken & corrupt. But for those who do, you can now feel even better about the delectable delights of Chipotle. That said, this information did come from Wikipedia, so it's possible that Chipotle is actually, in fact, renaming itself McChipotle.
18 November 2006
-That's poker. It's hard to play anything by gut, even when you're right. It's hard to know you're right. Ultimately, I have better uses of much of my time. But I also understand why.
-The Mep Report was noted in the Brandeis University Magazine this season (it's quarterly)... it's in the 2001-2002 Class Notes that should soon be posted to this page (currently, that page has last season's notes up). One never knows who reads those things or how often it will convert into people checking out the 'cast, but it's neat to be in there all the same.
-Too many projects, not enough of that sustained feeling of overwhelming inspiration. I can get in that mode frequently, especially when moving (walking or driving seems to do the trick). It's staying there that offers the difficulty, especially when so many projects involve coding & lots of it. If only there weren't limited amounts of tedium involved in everything I like doing or am good at. Hm. In any event, I predict 2007 will be very exciting for the Blue Pyramid, in a hopeful counterbalance to 2006's tempered disappointment.
17 November 2006
-All's well that ends well, or something... there will always be conflicts in a work environment & I think these were all handled well. I am so done with that issue.
-Had a great time catching up with Stina & an epic conversation that ran the gamut of all the years. It's amazing how much has changed, how time passes, how it all works out in the end. We may not see it on the way, but looking back, the road is damn near perfect.
16 November 2006
-Exit Em, stage Santa Barbara via LA. Not too many of these trips left, at least...
15 November 2006
-Archived 50 days of Introspection, put Introspooktion to bed, & hereby inaugurate the first-ever Wintrospection. The theme is meant to cover the whole season, but somehow all the stuff in the graphic ended up very January. Maybe I'm just baffled by 2007 enough to be focused on it, or to want to hold on to as much of being 26 as I possibly can.
-After we wrapped Mep Report 56 tonight, Greg noted that I was touting some other unknown band without mentioning his. So, though I haven't listened to it, you should go buy The Road's debut album as well. I will shortly.
-Going into work late tomorrow (in order to stay late) sounds rewarding, but I will probably be up just as early, but without anything to do. We'll see though. Maybe I can catch up on other projects...
14 November 2006
-Migraine: 14 hours, left side, severe, cause unknown.
-I can be a real bastard if I'm in enough pain. I suppose that's true of everyone, & why torture can fundamentally change who people are.
-I was bleary-busy today again, which simply reminded me how glad I am to be a non-exempt employee. Someone please remind me of this week if someone ever offers me an exempt position & I consider it. Unlike school, unlike non-exempt positions, unlike nearly anything else in life, I got to walk straight out being busy at 5:00 (well, 5:12, but that's as much as I'll let it slide). & the rest of my day, I get to do whatever I want, until the proverbial bell tolls again. Don't get me wrong, I love what I'm doing & I adore being this busy & coming through on things, but if I didn't have these limits, nothing would stop me from doing a sleepover to get caught up with everything. Instead, I have a great job & plenty of life.
-If you buy one CD this year, it should be from a band you've never heard of: Brad Wolfe & the Moon. Seriously, go get it. I can't get enough.
13 November 2006
Happy Birthday to Jennifer Dean
-Well, my job is rapidly becoming one where time off only delays work rather than skipping it. Though it is truly feast-or-famine, the feast has been on of late. Plus, my role of tech support seems sorely missed when I'm out as a printer got disconnected & backed up 36 jobs from 10 people while I was out, without anyone pursuing the cause. It is nice to be needed, though, I must admit. Nice to be busy, too.
12 November 2006
Happy Birthday to Aubrey Ingraham
-Got some of my best sleep on a plane in my life on the way back from Houston. I think it was the result of simply being insanely tired. Though my neck doesn't hurt despite being terribly positioned much of the sleep. Now I'm craving Waffle House, but had to settle for Pollo's, which would normally not be settling at all. Ah well.
-Weary & all over the place today. But it's nice to have some rebound time when this tired.
-Congratulations to 'Deis (& especially Mark) for winning Tufts! This makes me happy for a wide variety of reasons. For one thing, we finally have a team qualled. For another, we continue our absolute dominance of Pro-Am tournaments. & lastly, Brandeis maintains its title as Tufts champions. Since 2000, Steve-o & I have been the standing debate champions of Tufts University, given that the team & its tournament fell apart shortly after we won that year. Now they've been on a comeback & this was the first Tufts tournament in 6 years, also going to a Brandeis team. Very cool.
11 November 2006
[from New Orleans]
-This trip has gone by amazingly quickly, despite being packed with great activities. I'm so glad we were able to make it with the ticket debacle though. I could use a few extra days, though, if anyone wanted to expand this weekend.
-Congratulations to Isaac & Mo! The wedding was my first-ever Quaker meeting, which was fascinating especially given the thought that I gave to becoming a Quaker during my ongoing religious crisis many years ago. While I think many of the people who spoke didn't quite fulfill the "moved by the spirit" concept of the ceremony (opting to give toasts they thought would be amusing instead), I was still impressed by the nature of the service. The two seem very happy & the environs were beautiful despite the cold & the just suspended threat of storm. While Degas' work doesn't do much for me, the Degas House was beautiful in general. The hordes of PIRGers seemed surprised to see us (I guess there were PIRGy shindigs last night), but it was fun to check in with many of them.
-Next stop, Houston. I'm a lot less excited about this back end of the trip...
10 November 2006
[from New Orleans]
-Commander's in New Orleans (where Ariel used to work) is the exact color that I would paint a building were I to own a building in need of paint. Plus, it's across the street from a really neat graveyard in an allegedly haunted city.
-New Orleans really is a beautiful town. We had a chance to see the nice parts of the French Quarter as well as a haunting walk around some of the most desolate parts of the Lower 9th Ward. This was an extremely moving experience, though strangely I found it hard to be present & not think about Baghdad & Iraq. As desperately sad as it was, it was caused predominantly by nature (tempered by American incompetence), whereas the sweeping destruction in Iraq is ongoing at the hands of the deliberate will of America & its people. Regardless, it was still an amazing experience, especially seeing display boards for neighborhood churches advertising events for August 28th. Time is simply stopped in the area. It's like walking through a time machine set on pause.
-Friends always outweigh places. & we all seem aware of that.
9 November 2006
[from New Orleans]
-Just got in after a surprisingly not-bad 350-mile drive from Houston to the Big Easy. Other than seeing a streetlight that was simultaneously green & red, I haven't seen much of the impact of Katrina, though it is the middle of the night. Plus, I got Waffle House on the way in & that made me happier than I can express.
-Ariel! It's been too long.
8 November 2006
-This was approximately the worst day ever. Expedia claimed that our flight to New Orleans was a week ago, not today, stole at least $200, & made us rebook our flight. Only now, the rates were only remotely affordable to Houston. So we're going to Houston, tomorrow, & driving a rental car the 5 hours each way. A conflict at work got unpleasant. The rest of work was frenzied & hectic as I prepared to be gone & all sorts of stuff just seemed to be hitting all sorts of fans. It was just an era of bad feelings. Which should all be fine soon, because the trip's still on & I'm getting a much-needed day off.
-Russ did an interview for TMR on a show called Podcast 411. You should listen... it's very informative about our show & (unsurprisingly) very funny.
7 November 2006
-If you're voting today, please consider the third parties in your area, especially the Greens. The Dems are paid off by the same military-industrial complex that's ruining the lives of millions of Iraqis & thousands of Americans. Save for a few fringe candidates, the party is still pro-war & believes in ridiculous, nebulous concepts like "victory". Winners aren't going to change anything this year - your only hope is to send a message. Join a vote for peace.
-I truly cannot believe the methods of voting that are considered reasonable in this country, let alone more reasonable than computer voting. Lining up punchcards, marking boxes, or the method I experienced today, which involved filling in the space between two halves of an arrow with a pen. How in the world are things like this considered more effective, reliable, & reasonable than computer voting? Even if the fix is in, I guarantee that computer voting yields more accuracy overall than paper ballots which are open to all sorts of misreading, misinterpretation, & fraud. I also like how all these news agencies are jumping on there being glitches "already" this morning with computer voting machines. Here's the thing, folks... if the computer has a glitch, you know before you vote. If someone messes up your paper ballot, or you didn't punch, fill in, or mark as fully as necessary to make your vote count, it's too late to salvage your voting opportunity. Computers can confirm things & show you the choices you made & allow you to change them, while paper ballots are incredibly unforgiving. Even today, I voted against a proposition that immediately regretted rejecting & decided I probably should have just not voted on one way or the other. On a computer, I could've validated that second thought, but I had no recourse on my paper. Thumbs-down to paper voting!
-&, what, you ask, of fraud or Diebold's notorious fix? Well, it's time for an end to secret ballot. Because computers aren't perfect or reliable either. But as long as we try to hide how people voted, then we'll have inaccuracies, that settling feeling as you leave the polling place that your vote may not have counted, & the possibility for massive election fraud & theft. Public record voting, on the other hand, would be completely transparent & subject to scrutiny, allowing people to ensure that dead people didn't vote, no one voted often, & that everyone's vote... absolutely everyone's vote counted. You could see it right there, on the public record. There are all sorts of more demanding situations where we insist that people tell the truth & sacrifice their privacy... in courtroom settings & law enforcement, for tax purposes, & so on. The only argument you could possibly have against it is fear of reprisal, which is true of almost everything that one does in public. But we don't think reprisal... unjust treatment in the workplace, violent treatment in society, etc.... is valid anyway, & there are already laws against it. & we don't take measures like making everyone wear blue body suits to cover up their race (clearly a more reprisal-likely attribute than a vote) or place shrouds around every place of religious gathering or worship (even more hot-button than politics in many instances). So why take all the pains to make voting inaccurate & painful? In the 1790's, these may have been important steps to take in an era of monarchies where reprisal was taken for granted. But if we haven't gotten used to the idea of the right to vote in 200 years, then there's really no hope anyway. It's time for public record voting, which may well be the only thing that can save our so-called democracy.


Introspection, My Worst Friend* (Current)
Ye Olde Archive (Past)

Tell me this is not the end...*


*-lyrics from an as-yet unreleased song, "The Same Old Frontiers", by SWClayton.