Virtual Rally #1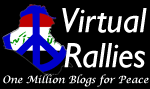 Virtual Rally #1Site
: digg.com
Goal
: Elevate OMBFP to front page of digg.com.
Mission
: Spread word about OMBFP to a wide audience.
Participant Actions
:
(
1
) Register as a member of digg.com (
28 March - 3 April 2007
)
[
Register
]
(
2
) "Digg" OMBFP article which will be linked (
Wednesday, 4 April 2007
)
[link available April 4th]
I am very pleased to announce
Virtual Rally
#1. As explained above, you may participate by registering as a digg.com user over the course of the next week. Then on Wednesday, April 4th, I will post the designated article about OMBFP, which will be linked for everyone to "digg" (vote for). With wide participation, it should be easy to reach our goal!
Please spread the word about this Virtual Rally! As with all of these, participants need not be part of OMBFP, nor do Bloggers for Peace need to participate in Virtual Rallies.
Labels: Virtual Rallies