Twenty-Third Tuesday Topic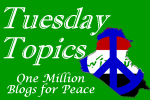 At a recent U.S. Democratic debate, the top three contenders for that party's nomination (Hillary Clinton, Barrack Obama, and John Edwards) all said that their administration might leave American troops in Iraq until at least January 20, 2013.
For a second straight election, it seems almost certain that the United States will be prosecuting a war that the majority of the country opposes while having no major-party candidates who are against the war.
How can the two-party system be circumvented to prevent war without end?
Labels: Tuesday Topics