YouTube Challenge Begins - Post Videos Now!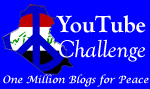 The time has come to begin the YouTube Challenge!
Here are your four easy steps to participation:
1
. If you haven't already, record or construct a video.
2
. Go to
YouTube
and
upload your video
.
3
. Send a link to your YouTube video URL to
peace@bluepyramid.org
.
4
. Go to the
YouTube Challenge page
to track your video's progress and see others' videos!
I look forward to seeing everyone's creations!
Labels: Challenges