Twentieth Tuesday Topic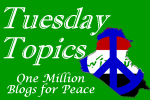 While the original justification for invading Iraq was the false allegation that they held weapons of mass-destruction, much of the argumentation shifted to ideas of spreading democracy in the Middle East as the war dragged on.
Do you think democracy as a concept has been helped or hindered by the invasion and occupation of Iraq?
Where do you see democracy in the Middle East in ten years? In twenty?
Labels: Tuesday Topics