Thirteenth Tuesday Topic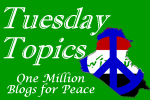 In combatant countries in the Iraq War, myopia seems to keep misgivings about the War at bay amongst much of the population.
The media and politicians are able to collaborate in getting citizens to ignore the travesties of a War that has enacted a civilian death-toll equivalent to at least twenty-one September 11th's.
What types of daily activities or behaviors (as opposed to large one-time protests) do you think can help alert these populations to the fact that this is unacceptable?
What do you think of the idea of refusing to rise for anthems or pledges in combatant countries until the War is ended?
Labels: Tuesday Topics