Tenth Tuesday Topic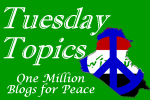 Over 1,000 Iraqi civilians have been killed since three US soldiers were kidnapped in Iraq.
During that time, the predominant focus of thousands of US troops has been to locate those three soldiers.
What does this say to you about the priorities and ethos behind the Iraq War?
Labels: Tuesday Topics