Fifth Tuesday Topic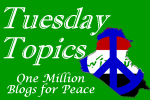 When asked about the anti-war movement during Vietnam and at the time, during 2003, Kurt Vonnegut (who passed away last week) said the following:
"When it became obvious what a dumb and cruel and spiritually and financially and militarily ruinous mistake our war in Vietnam was, every artist worth a damn in this country, every serious writer, painter, stand-up comedian, musician, actor and actress, you name it, came out against the thing. We formed what might be described as a laser beam of protest, with everybody aimed in the same direction, focused and intense. This weapon proved to have the power of a banana-cream pie three feet in diameter when dropped from a stepladder five-feet high.
And so it is with anti-war protests in the present day. Then as now, TV did not like anti-war protesters, nor any other sort of protesters, unless they rioted. Now, as then, on account of TV, the right of citizens to peaceably assemble, and petition their government for a redress of grievances, 'ain't worth a pitcher of warm spit,' as the saying goes."
What do you think of this quotation?
How do you think the modern anti-war movement can rise above the value of a pitcher of warm spit?
Labels: Tuesday Topics