Virtual Rally #2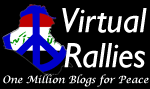 Virtual Rally #2Site
: digg.com
Goal
: Elevate OMBFP to front page of digg.com.
Mission
: Spread word about OMBFP to a wide audience.
Participant Actions
:
(
1
) Register as a member of digg.com (
11-15 April 2007
)
[
Register
]
(
2
) "Digg" OMBFP article to be linked (
Monday, 16 April 2007
)
[link available Monday]
We're shooting for a Monday morning effort to catch the week on the upswing and hopefully ride the momentum all week long.
Also, OMBFP merchandise will be available this weekend on CafePress.com. Stay tuned for details! Thanks to the
Guerrilla Blogger
for a reminder to get going on this.
Labels: Strategy, Tools, Virtual Rallies