May Challenge!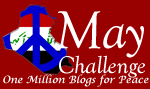 May ChallengeThe Contest
: Refer as many blogs as possible to sign up for One Million Blogs for Peace during the month of May 2007.
The Contestants
: Anyone signed up as part of One Million Blogs for Peace, from an Inblogural through May 31st.
The Prize(s)
: $50 Amazon.com gift certificate to the winner. Other prizes as donated by OMBFPers or their supporters.
The Details
: The first challenge at One Million Blogs for Peace is designed to drive up our membership by getting you to actively recruit during the month of May. We will periodically update a list of the top referring blogs on this page so you can keep posted. To count towards your total, that blog
must
cite you as the referring source with their registration for One Million Blogs for Peace. I will also post a list of additional prizes donated by supporters of this challenge as they become available. Prize selection will be up to the winners, so the grand prize winner can
choose
which prize (s)he would like of all available prizes, then second place gets their choice of remaining prizes, & so on. This maximizes the use of prizes by giving everyone what they most want!
Why Just May?
While the focus is on May, you will be rewarded for doing your hard recruiting work before May as well! The top overall referrer (since OMBFP was created)
who does not win the May Challenge
will receive a $30 Amazon.com gift certificate!
Get Involved!
Start encouraging everyone you know to sign up today!
You can keep track of this challenge
here
!
Labels: Challenges