Seventh Tuesday Topic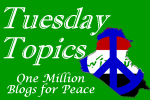 The United States Congress passed a bill last week limiting war funding and calling for substantial withdrawal by next March.
President Bush is expected to veto. It is also expected that there are insufficient votes to override this veto, and this will lead to negotiations on a compromise bill.
Do you trust those who are against the war in the US Congress to stick to their policies and stand up for peace? If not, do you find any wholly political solutions likely or viable for the short-term in ending the Iraq War?
Labels: Tuesday Topics