Eleventh Tuesday Topic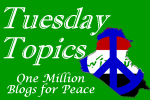 Cindy Sheehan, perhaps the most famous personality in the effort to end the Iraq War in America, announced yesterday that she is leaving the peace movement.
She cites extreme disillusionment with both American politicians and the peace movement in general, as well as personal exhaustion and strife, as her reasons for the departure.
What do you think of this decision and its reasoning?
What impact, if any, do you think her announcement will have on the peace movement?
What parts, if any, of her frustration do you relate to?
Labels: Tuesday Topics