Twenty-Second Tuesday Topic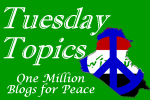 What do you think of Nouri al-Maliki's leadership?
Do you think it is the place of non-Iraqi politicians to criticize his work in attempting to unite Iraq?
Do you think the USA would attempt to oust him as they did with "uncooperative" South Vietnamese leaders during the Vietnam War?
Labels: Tuesday Topics