First Tuesday Topic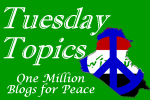 Think back four years ago, to when you first heard that the Iraq War had started.
Were you for or against the war at the time?
If you were for it, what has changed your mind over the last four years?
If you were against it, why were you against it?
Labels: Tuesday Topics