Eire Duck's Pond of Peace
She's perfect for me. There's got to be someone for you.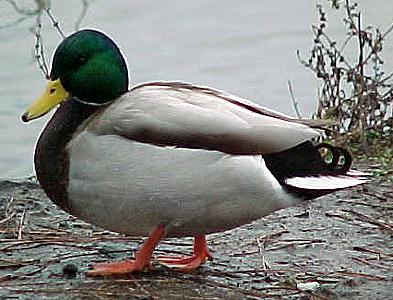 You see, there's this island. And then there's this bird. And they both want peace. And so do I. Quite simple, really. I know what's going on in the world right now. But it doesn't have to be this way. Some day, it won't be.
---
Where the Ducks Are
A Table of Contents
Navigation has often been a past difficulty in the Pond. In the hopes of smoothing your feathers & the water, here's a quick-hitting guide to where to go on this front page...
History
Personal Identity
Geography
Visiting
Socializing
Photography
Going Home
Memorial
Fine Print
Thank You
---
The Pond's Past
A Brief History of this Webpage
Ducks have webbed feet. We humans these days tend to have webbed pages. Here's the humble history of the page you have stumbled upon...
8 February 1999: Webpage founded with much fanfare. In its original formulation, it was little more than a 2-bit homage to our Risk statistics from the 60-70 games we played on Scheffres 2nd that semester. I was really sick at the time & honestly had nothing better to do.
22 February 1999: The first picture is added to the Pond. Graphic diversification is, after all, a must in today's fast-paced society.
23 April 1999: The shrine to the greatest restaurant in the world appears at the Pond. This was before they got their own site. The Pond as a pioneer.
8 February 2000: At the one-year anniversary, the Pond is averaging just over 4 hits a day. Consideration is made for the building of additional lanes.
13 March 2000: The Introspection section, the most popular & controversial part of this page, is begun. Initially designed as a way of keeping a diary, it became a method of keeping people informed about my life without sending them a weekly e-mail. & a source of controversy. But there's nothing wrong with that. Now it's just something beyond my efforts to contain.
19 March 2000: As a sign of international acclaim, the Pond is recognized by one of the Web's true heros, Lisa of annabegins.com. It was just a thank-you for linking to her page, but symbolized the great success of the Pond's efforts to reach out into the ethereal community.
27 March 2000: The first diatribe to be officially released on the Pond is written & released. March 2000 was rather active, wasn't it?
8 November 2000: The height of the old-look page is achieved. With over 4,000 hits, the Pond is an established force on the Brandeis web.
18 January 2001: To usher in the new era, the Pond sheds its old look for a more streamlined overhaul. Who knows what future awaits the Pond?
8 February 2001: With 5,240 hits, the Pond celebrates two years of existence. This indicates an average of over 7 hits a day over the course of the Pond's first two years, but well over 10 hits a day for the period between the 8th of February 2000-2001. At this rate, the Pond is expected to clock 16 hits a day in the coming year, projecting over 11,000 hits this time next year. But that's just statistics.
The future will add to the fact that this many:
people have visited this place since 8 February 1999.
Unfortunately, this is still short of our goal of eighty-thousand-factorial (80,000!) hits.
The Pond was most recently updated on 6 November 2001. Newly added is almost nothing, to be honest. It had been 5 unanswered months since the front page had been updated, though. Mostly this page has simply become a conduit for Introspection. I should've put a counter on that bad boy. Pretty soon, this'll all be shipping off to the Blue Pyramid, so don't hold your breath quite yet.
---
Who am I, Why am I Here?
My Tribute to Admiral Stockdale
If everything works out perfectly, my name will be well-known in about two years. & not just for being a bizarre (unique?) approach to naming. It will be for writing the next great novel of our time, or maybe of the time(s) upcoming. I don't spend all my time thinking this way, but I do spend too much time thinking this way. The rest of my time, I realize that I have accomplished what I deem to be very little in spending over twenty-one years sucking up oxygen on Earth. I am one of two North American Debate Champions from the year 2001; Adam Zirkin (my debate partner of that year) is the other. Hopefully more accomplishments will follow these, but don't hold your breath. Meanwhile, I'll be writing, which is day-to-day toil & joy. If you want to read, I've written plenty else, as you will see...
If you're an old friend, drop a line my way at eireduck@hotmail.com. Or if you'd like to be a new friend. Communication is our greatest gift. Well, besides breakfast burritos.
---
This Must Be the Place
Where You Should Go from Here
I Am a Writer!
College is Not the Promised Land
When I Think Back on all the Crap I Learned in High School
I'm the One in the Mariners Jacket
Debate (National)
Debate (Local)
An Apple for the Teacher
Chess is Universal
So is Separation
Listen to the Music (Boston)
Listen to the Music (Albuquerque)
Listen to the Music (Waltham)
Listen to the Music (My Taste)
Listen to the Music (MP3)
Read These Books
Read this "Newspaper"
Attend School (Public)
Attend School (Catholic)
Attend School (Remedial)
Break for Lunch:
Seek & Ye Shall Find
Seek & Ye Shall Find (Me)
The No-Crud Bureau (Briefly) Revisited
As You Stood There Counting Crows
It's All or Nothing
Blazer-Ball
Tom Tomorrow Today!
What's Your Alibi?
Diplomacy (Last Year, Abandoned)
Diplomacy (This Year, Active)
Diatribe (Heston Bad)
Diatribe (Nader Good)
Fantasy Baseball & Basketball
I Wanna Be Bob Dylan
I Wanna See Bob Dylan
Teaser & the FireCat
Feed Me!
There Never was a Good War or a Bad Peace
Storm the Castle!
Demand Justice!
Overthrow the Status Quo!
Fight for Your Mind!
My Life as an Emu...
---
Friends in Need
Homes of the Folks I Know
J.P. Schneider (not currently active)
D.W. Gray
J.J. Quicksall (Old)
J.J. Quicksall (New)
K.E. Myers
A.H. Creel
S.M. Robison
G.E. Mesco (newly reactivated)
K. Grinberg (redirecting?)
---
Friends
Not the TV Show, But Real People!
I love my friends. I think this may be an understatement. It's also probably non-unique; most people love their friends. You know you've been in debate too long when "non-unique" is a regular word. Regardless, my friends page has been recently revamped (read: "simplified"), but you can still find it here on a back page! The old back page can also be seen, if you must. How terribly strange to be 70. Trust me, 21 feels like 70...
---
Picture This
Long Ago it Must Be, I Have a Photograph
1998
Down Time in Detroit
Did I Graduate?
Spelunking Buddies
1999
Hand Me Down
Light Me Up
How Suite it Could've Been
Such a Fine Sight to See
2000
Do or Donut, There is No Try
Model Students
Go West, Young Birds
Going into the Lair
Waiting on a Train
Dubious!
A Mighty Big Hole
Cursing the Sun
My Traveling Companion
Lush Life

---
Good Morning Watkins Family
My Small But Beloved Fam

Yes, family are friends, too, but they seemed worthy of their own little section. Some people have really large families. I have a relatively small immediate family, consisting of my beloved mumsy & daddy. They're family enough, though; I have no complaints... I actually miss them very much. I also deeply miss my recently departed grandmother.
---
Kevin House
(1980-2000)
In August, Kevin House, one of my best friends from my time in Oregon, was killed in an auto accident. He was 20 years old. One of the most tragic elements of this for me has been the fact that Kevin & I had allowed ourselves to grow apart a bit in the more recent years. We were still in some contact, but the proximity had lessened & we let our lives get in the way. Now he's gone & I hope I've learned something from that loss. I'm dedicating the coming year of accomplishments, whatever they may be, especially in debate, to Kevin's memory. I hope I can do something to live up to what Kevin did for me in his time on the planet.
---
Look ma (& Verardo), no ads!! Of course, you better read the fine print...
---
Thanks for Playing Our Game
People Who Deserve a Good Word
My time has been blessed by many people. Most of them can be found on the friends page, but just to make sure that some thank-yous are clear, I'm going to take some time here. Usually people talk about how they coded their page or some such at the bottom of the page. I don't think you care how this was coded. But I care about some peoples' contributions...
Mike Topper, for being the actual founder of this page, as well as contributing scanning time & CoSi knowledge to the advancement of the Pond.
Matt McFeeley, for winning the Flack Contest. I'm never making the mistake of holding another one of those again!
David Gray, for almost winning the Flack Contest. (Note: I am NOT here thanking a Scottish folk singer.)
Alisha Creel, for giving me the idea for the Introspection page, even if she's altered her own version thereof. Also, for fixing the Font Code Disaster of 6 July.
Charles Heinberg, for convincing me to keep doing the Introspection page. Indirectly, which is the best way.
Mohandas K. Gandhi, for constant inspiration.
Ryan Suarez, for any pictures he took which wound up on this page, & for not suing me for lack of earlier photo credit.
All My Friends, for having flowers in their eyes.
In addition, you should know that my "real" name is Storey Clayton (not Eire Duck), & that all the material that appears on any portion of this page (anything with a "~storey" in front of it) is (C) copyright 1999-2001, except of course the things here courtesy of other pages (like the photo of the duck up top or of the Frontier). To contact Mr. Clayton, write to eireduck@hotmail.com or try to yell at the picture seen here. Picture courtesy of Fish.