Scheffres 2nd Risk Statistics
Compiled by Storey Clayton
Programming Assisted by Michael Topper
Updated 19 April 1999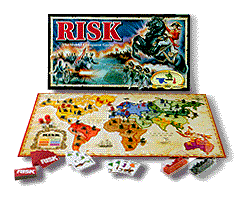 Current Overall Standings
1. Storey Clayton
2. Zachary Pelta-Heller
3. Thomas Sallee
4. John Schneider [BU]
5. Ashwin Pai
6. Andrew Becker
7. Frances Sullivan-Lewis
8. Michael Topper
9. Christina Robison
9. Eric Niver
9. Adam Juda
12. Gregory Mackintosh
13. Benjamin Elgart
14. Colin McMullan
14. Rebecca Pappas [CC]
16. Steven Lubitz
17. David Gray [NYU]
18. Benjamin Bilski
18. Maureen Treling
20. John Quicksall [GT]
21. Matthew McFeeley [UCSD]
22. Todd Gonzales
22. Mary Guzelian
24. Bradley Dennison
25. Rachel Kessous
25. Jessica Tobacman
27. Mark Kestnbaum
Risk Tournament Results – Game One
1-Storey Clayton (green)
2-Adam Juda (yellow)
3-Zachary Pelta-Heller (blue)
4-Eric Niver (red)
5-Michael Topper (black)
6-Andrew Becker (gray)
Risk Tournament Results – Game Two
1-Andrew Becker (gray)
2-Storey Clayton (green)
3-Adam Juda (black)
4-Christina Robison (blue)
5-Gregory Mackintosh (red)
6-Rachel Kessous (yellow)
Risk Tournament Results – Game Three
1-Storey Clayton (green)
2-Zachary Pelta-Heller (blue)
3-Gregory Mackintosh (red)
4-Adam Juda replaced by Christina Robison (gray)
5-Michael Topper (black)
6-Ashwin Pai (yellow)
Risk Tournament Results – Game Four
1-Storey Clayton (green)
2-Christina Robison & Frances Sullivan-Lewis (blue)
3-Michael Topper (black)
4-Gregory Mackintosh replaced by Benjamin Elgart (red)
5-Ashwin Pai (gray)
6-Benjamin Bilski replaced by Benjamin Elgart (yellow)
Risk Tournament Results – Game Five
1-Zachary Pelta-Heller (black)
2-Andrew Becker (gray)
3-Christina Robison (blue)
4-Gregory Mackintosh [& Aaron from Yale] (red)
5-Storey Clayton (green)
6-Benjamin Elgart (yellow)
Risk Tournament Results – Game Six
1-Storey Clayton (green)
2-Ashwin Pai (yellow)
3-Zachary Pelta-Heller (gray)
4-Michael Topper (black)
5-Eric Niver (red)
6-Christina Robison (blue)
Risk Tournament Results – Game Seven
1-Zachary Pelta-Heller replaced by Michael Topper (black)
2-Adam Juda (yellow)
3-Gregory Mackintosh (red)
4-Andrew Becker & Mary Guzelian (gray)
5-Christina Robison & Frances Sullivan-Lewis (blue)
6-Storey Clayton (green)
Risk Tournament Results – Game Eight
1-Christina Robison (blue)
2-Adam Juda (yellow)
3-Storey Clayton (green)
4-Ashwin Pai (red)
5-Andrew Becker (gray)
6-none (black)
Risk Tournament Results – Game Nine
1-Michael Topper (black)
2-Storey Clayton (green)
3-Andrew Becker (gray)
4-Ashwin Pai (yellow)
5-Zachary Pelta-Heller (blue)
6-Adam Juda (red)
Risk Tournament Results – Game Ten
1-Zachary Pelta-Heller (yellow)
2-Storey Clayton (green)
3-Andrew Becker (gray)
4-Christina Robison replaced by Mark Kestnbaum (blue)
5-Ashwin Pai (black)
6-none (red)
Risk Tournament Results – Game Eleven
1-Zachary Pelta-Heller (red)
2-Ashwin Pai (yellow)
3-Andrew Becker replaced by Adam Juda (gray)
4-Michael Topper replaced by Christina Robison (black)
5-Storey Clayton (green)
6-Adam Juda (blue)
Risk Tournament Results – Game Twelve
1-Storey Clayton (green)
2-Ashwin Pai (yellow)
3-Andrew Becker (gray)
4-Adam Juda (red)
5-Mary Guzelian (black)
6-Christina Robison (blue)
Risk Tournament Results – Game Thirteen
1-Andrew Becker replaced by Christina Robison (gray)
2-Ashwin Pai (yellow)
3-Storey Clayton (green)
4-Christina Robison & Frances Sullivan-Lewis (blue)
5-Zachary Pelta-Heller (red)
6-Adam Juda (black)
Risk Tournament Results – Game Fourteen
1-Zachary Pelta-Heller (black)
2-Storey Clayton (green)
3-Adam Juda (red)
4-Ashwin Pai (yellow)
5-Andrew Becker (gray)
6-Christina Robison (blue)
Risk Tournament Results – Game Fifteen
1-Benjamin Elgart (green)
2-Benjamin Bilski replaced by Storey Clayton (blue)
3-Ashwin Pai (yellow)
4-Michael Topper (black)
5-Adam Juda (red)
6-Andrew Becker (gray)
Risk Tournament Results – Game Sixteen
1-Zachary Pelta-Heller (black)
2-Storey Clayton (green)
3-Christina Robison (blue)
4-Adam Juda (yellow)
5-Benjamin Elgart &amp Bradley Dennison (red)
6-Mary Guzelian (gray)
Risk Tournament Results – Game Seventeen
1-Frances Sullivan-Lewis (green)
2-Zachary Pelta-Heller (red)
3-Andrew Becker (black)
4-Ashwin Pai (yellow)
5-Christina Robison (blue)
6-Adam Juda (gray)
Risk Tournament Results – Game Eighteen
1-Christina Robison [&amp Jeff from UMass] (blue)
2-Storey Clayton &amp Zachary Pelta-Heller (green)
3-Frances Sullivan-Lewis (red)
4-Adam Juda (yellow)
5-Andrew Becker (gray)
6-Todd Gonzales &amp Jessica Tobacman (black)
Risk Tournament Results – Game Nineteen
1-Storey Clayton (green)
2-Christina Robison (blue)
3-Zachary Pelta-Heller (black)
4-Andrew Becker (gray)
5-Frances Sullivan-Lewis (red)
6-Thomas Sallee (yellow)
Risk Tournament Results – Game Twenty
1-Thomas Sallee (blue)
2-Zachary Pelta-Heller (gray)
3-Ashwin Pai (yellow)
4-Christina Robison &amp Frances Sullivan-Lewis (red)
5-Adam Juda (black)
6-Storey Clayton &amp Andrew Becker (green)
Risk Tournament Results – Game Twenty-One
1-Storey Clayton (green)
2-Christina Robison (blue)
3-Frances Sullivan-Lewis (red)
4-Ashwin Pai (yellow)
5-Andrew Becker (gray)
6-Steven Lubitz (black)
Risk Tournament Results – Game Twenty-Two
1-Storey Clayton (green)
2-Ashwin Pai (yellow)
3-Andrew Becker (gray)
4-Christina Robison (blue)
5-Zachary Pelta-Heller (black)
6-none (red)
Risk Tournament Results – Game Twenty-Three
1-Michael Topper (black)
2-Storey Clayton (green)
3-Zachary Pelta-Heller (yellow)
4-Christina Robison (blue)
5-Andrew Becker replaced by Thomas Sallee (gray)
6-Frances Sullivan-Lewis (red)
Risk Tournament Results – Game Twenty-Four
1-Zachary Pelta-Heller (green)
2-Thomas Sallee (blue)
3-Andrew Becker (gray)
4-Ashwin Pai (yellow)
5-Michael Topper replaced by Storey Clayton (black)
6-Christina Robison (red)
Risk Tournament Results – Game Twenty-Five
1-Thomas Sallee (yellow)
2-Zachary Pelta-Heller (green)
3-Michael Topper (black)
4-Adam Juda (blue)
5-Eric Niver (red)
6-Andrew Becker (gray)
Risk Tournament Results – Game Twenty-Six
1-Eric Niver (red)
2-Ashwin Pai (yellow)
3-Andrew Becker (gray)
4-Storey Clayton (green)
5-Michael Topper (black)
6-Christina Robison (blue)
Risk Tournament Results – Game Twenty-Seven
1-Storey Clayton (green)
2-Adam Juda (yellow)
3-Andrew Becker replaced by Thomas Sallee (gray)
4-Zachary Pelta-Heller (red)
5-Christina Robison (blue)
6-Thomas Sallee (black)
Risk Tournament Results – Game Twenty-Eight
1-Ashwin Pai (yellow)
2-Zachary Pelta-Heller (red)
3-Christina Robison (blue)
4-Andrew Becker (gray)
5-Adam Juda (black)
6-Michael Topper (green)
Risk Tournament Results – Game Twenty-Nine
1-Andrew Becker (red)
2-Adam Juda (gray)
3-Storey Clayton (green)
4-Ashwin Pai (yellow)
5-Zachary Pelta-Heller (black)
6-Christina Robison (blue)
Risk Tournament Results – Game Thirty
1-Storey Clayton (green)
2-Andrew Becker (gray)
3-Christina Robison (blue)
4-Zachary Pelta-Heller (yellow)
5-Benjamin Bilski (red)
6-Michael Topper (black)
Risk Tournament Results – Game Thirty-One
1-Adam Juda (green)
2-Andrew Becker (gray)
3-Ashwin Pai (yellow)
4-Frances Sullivan-Lewis (red)
5-Steven Lubitz (blue)
6-Michael Topper (black)
Risk Tournament Results – Game Thirty-Two
1-Thomas Sallee (blue)
2-Michael Topper (black)
3-Storey Clayton replaced by Christina Robison (green)
4-Zachary Pelta-Heller (gray)
5-Andrew Becker (red)
6-Adam Juda (yellow)
Risk Tournament Results – Game Thirty-Three
1-Thomas Sallee (red)
2-Ashwin Pai (yellow)
3-Michael Topper (black)
4-Andrew Becker (gray)
5-Christina Robison (blue)
6-Storey Clayton (green)
Risk Tournament Results – Game Thirty-Four
1-Storey Clayton (green)
2-Andrew Becker (gray)
3-Michael Topper (black)
4-Thomas Sallee (red)
5-Christina Robison (blue)
6-none (yellow)
Risk Tournament Results – Game Thirty-Five
1-Storey Clayton (green)
2-Zachary Pelta-Heller (blue)
3-Andrew Becker replaced by Steven Lubitz (gray)
4-Michael Topper replaced by Ashwin Pai (black)
5-Adam Juda (yellow)
6-Steven Lubitz &amp Maureen Treling (red)
Risk Tournament Results – Game Thirty-Six
1-Ashwin Pai &amp Michael Topper (black)
2-Andrew Becker (gray)
3-Gregory Mackintosh (yellow)
4-Christina Robison (blue)
5-Storey Clayton &amp Zachary Pelta-Heller (green)
6-Maureen Treling (red)
Risk Tournament Results – Game Thirty-Seven
1-Storey Clayton (green)
2-Zachary Pelta-Heller (blue)
3-Thomas Sallee (black)
4-Maureen Treling &amp Todd Gonzales (red)
5-Ashwin Pai (yellow)
6-Frances Sullivan-Lewis (blue)
Risk Tournament Results – Game Thirty-Eight
1-Zachary Pelta-Heller (green)
2-Michael Topper (black)
3-Andrew Becker replaced by Steven Lubitz (gray)
4-Frances Sullivan-Lewis (red)
5-Steven Lubitz &amp Maureen Treling (yellow)
6-Christina Robison (blue)
Risk Tournament Results – Game Thirty-Nine
1-Christina Robison (blue)
2-Storey Clayton (green)
3-Zachary Pelta-Heller (yellow)
4-Michael Topper (black)
5-David Gray (gray)
6-none (red)
Risk Tournament Results – Game Forty
1-Storey Clayton (green)
2-Zachary Pelta-Heller (blue)
3-Frances Sullivan-Lewis (red)
4-Michael Topper (black)
5-Andrew Becker (gray)
6-David Gray (yellow)
Risk Tournament Results – Game Forty-One
1-John Schneider (black)
2-Thomas Sallee (blue)
3-Andrew Becker &amp Michael Topper (gray)
4-Maureen Treling (red)
5-Storey Clayton (green)
6-David Gray (yellow)
Risk Tournament Results – Game Forty-Two
1-Christina Robison &amp Frances Sullivan-Lewis (blue)
2-Gregory Mackintosh (yellow)
3-John Schneider (black)
4-Zachary Pelta-Heller (green)
5-David Gray (red)
6-Andrew Becker (gray)
Risk Tournament Results – Game Forty-Three
1-Storey Clayton (green)
2-Gregory Mackintosh (yellow)
3-John Schneider (red)
4-David Gray (black)
5-Zachary Pelta-Heller (gray)
6-Christina Robison (blue)
Risk Tournament Results – Game Forty-Four
1-Ashwin Pai (yellow)
2-Gregory Mackintosh (gray)
3-Storey Clayton &amp Zachary Pelta-Heller (green)
4-Michael Topper (black)
5-Frances Sullivan-Lewis (blue)
6-David Gray (red)
Risk Tournament Results – Game Forty-Five
1-Thomas Sallee (black)
2-David Gray (yellow)
3-Zachary Pelta-Heller (green)
4-Frances Sullivan-Lewis (blue)
5-Maureen Treling (red)
6-Andrew Becker (gray)
Risk Tournament Results – Game Forty-Six
1-Zachary Pelta-Heller (black)
2-Andrew Becker (gray)
3-David Gray (yellow)
4-Storey Clayton (green)
5-Frances Sullivan-Lewis (blue)
6-Thomas Sallee (red)
Risk Tournament Results – Game Forty-Seven
1-Storey Clayton (green)
2-Adam Juda (red)
3-Andrew Becker (gray)
4-Michael Topper (black)
5-Zachary Pelta-Heller (yellow)
6-David Gray (blue)
Risk Tournament Results – Game Forty-Eight
1-Storey Clayton (green)
2-Gregory Mackintosh (yellow)
3-Christina Robison (blue)
4-Zachary Pelta-Heller (black)
5-Frances Sullivan-Lewis (red)
6-Andrew Becker &amp Adam Juda (gray)
Risk Tournament Results – Game Forty-Nine
1-Zachary Pelta-Heller (green)
2-Christina Robison (blue)
3-Frances Sullivan-Lewis (red)
4-Andrew Becker (gray)
5-Ashwin Pai (yellow)
6-none (black)
Risk Tournament Results – Game Fifty
1-Thomas Sallee (red)
2-Andrew Becker (gray)
3-Storey Clayton &amp Zachary Pelta-Heller (green)
4-Frances Sullivan-Lewis (yellow)
5-Michael Topper (black)
6-Christina Robison (blue)
Risk Tournament Results – Game Fifty-One
1-Frances Sullivan-Lewis (red)
2-Zachary Pelta-Heller (yellow)
3-Storey Clayton (green)
4-Christina Robison (blue)
5-Michael Topper (black)
6-Andrew Becker (gray)
Risk Tournament Results – Game Fifty-Two
1-Storey Clayton (green)
2-Zachary Pelta-Heller &amp Frances Sullivan-Lewis (red)
3-John Schneider (black)
4-Andrew Becker &amp Christina Robison (blue)
5-John Quicksall (yellow)
6-Matthew McFeeley (gray)
Risk Tournament Results – Game Fifty-Three
1-Storey Clayton (green)
2-Michael Topper (black)
3-Matthew McFeeley (blue)
4-Zachary Pelta-Heller (yellow)
5-Frances Sullivan-Lewis (red)
6-John Quicksall (gray)
Risk Tournament Results – Game Fifty-Four
1-Michael Topper (black)
2-Colin McMullan &amp Rebecca Pappas (yellow)
3-Christina Robison (blue)
4-Andrew Becker (gray)
5-Matthew McFeeley (red)
6-Storey Clayton (green)
Risk Tournament Results – Game Fifty-Five
1-Zachary Pelta-Heller (green)
2-Frances Sullivan-Lewis (red)
3-Aswhin Pai (yellow)
4-Andrew Becker (gray)
5-Christina Robison (blue)
6-none (black)
Risk Tournament Results – Game Fifty-Six
1-Zachary Pelta-Heller (black)
2-Storey Clayton (green)
3-John Quicksall (yellow)
4-Frances Sullivan-Lewis (red)
5-Christina Robison (blue)
6-Matthew McFeeley (gray)
Risk Tournament Results – Game Fifty-Seven
1-Storey Clayton (green)
2-Adam Juda (red)
3-Andrew Becker (gray)
4-Michael Topper (black)
5-Christina Robison (blue)
6-Zachary Pelta-Heller (yellow)
Risk Tournament Results – Game Fifty-Eight
1-Frances Sullivan-Lewis replaced by Storey Clayton (red)
2-Christina Robison (blue)
3-Zachary Pelta-Heller (yellow)
4-Michael Topper (black)
5-Andrew Becker (gray)
6-Storey Clayton (green)
Risk Tournament Results – Game Fifty-Nine
1-Adam Juda (green)
2-Christina Robison (blue)
3-Ashwin Pai (yellow)
4-Frances Sullivan-Lewis (red)
5-Andrew Becker (gray)
6-none (black)
Risk Tournament Results – Game Sixty
1-Steven Lubitz (green)
2-Andrew Becker (gray)
3-Maureen Treling (blue)
4-Michael Topper (black)
5-Frances Sullivan-Lewis (red)
6-none (yellow)

The Largest Battle Ever
In the midst of Game Forty-Seven, Adam Juda's North Africa invaded Andrew Becker's Brazil. The invading force lost 114 of its 145 armies (excluding the one who remained in North Africa), while knocking out all 97 of the defending forces. To our knowledge, the 211 casualties resulting from that single battle mark the largest during all the games in the Tournament.
Wins & Points
S. Clayton (20 wins, 162 points)
Z. Pelta-Heller (12 wins, 143.5 points)
A. Becker (3 wins, 110.5 points)
C. Robison (3.5 wins, 84 points)
M. Topper (3.5 wins, 74.25 points)
A. Pai (2.5 wins, 74 points)
A. Juda (2 wins, 58.75 points)
F. Sullivan-Lewis (2.5 wins, 58 points)
T. Sallee (6 wins, 44 points)
G. Mackintosh (30 points)
J. Schneider (1 win, 14 points)
D. Gray (11 points)
E. Niver (1 win, 9 points)
S. Lubitz (1 win, 8 points)
M. Treling (7 points)
B. Elgart (1 win, 6 points)
B. Bilski (5 points)
J. Quicksall (4 points)
M. McFeeley (4 points)
C. McMullan (2 points)
R. Pappas (2 points)
M. Guzelian (2 points)
T. Gonzales (1 point)
B. Dennison (.5 points)
M. Kestnbaum (.5 points)
R. Kessous (0 points)
J. Tobacman (0 points)
You get 5 points for a win, 4 for 2nd, 3 for 3rd, 2 for 4th, & 1 for 5th.
Also, you get 1/4th of the points you normally would for being a replacement & finishing the game.
Sharing control gives each person half the points.
Colors
Green: 29 wins
Black: 12 wins
Red: 7 wins
Blue: 6 wins
Yellow: 4 wins
Gray: 2 wins
Don't believe everything you read in quizzes. Sometimes they are "unreasonable". Eric Niver is rigging the results of the above quiz inordinately in favor of "red". Actually, he was doing that. Now I think he's stopped.
John Schneider wanted his name on this page. Now we know why. His name should be all over this page for a while.