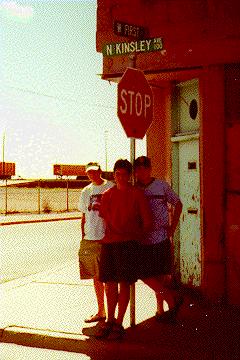 Such a Fine Sight to See
Standing on a corner in Winslow, Arizona, it's (left to right) Gris, Jaque, & Fish.
We had seen Bob Dylan & Paul Simon. Together. Our lives were nearly complete. & upon achieving this milestone, in the footsteps of the Eagles, we were left just about Shady Grove & a whole cucumber short of a lifetime. Even if I've already done both of those. If you have yet to understand a word of this paragraph, that's okay. But something tells me this might not have been the precise corner the Eags were singing of.
Between the three of them, they must have seven women on their mind. Or maybe that's just my mind.