Thirty-Third Tuesday Topic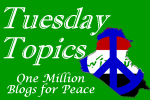 Given US President Bush's recent admission that Iran does not have and is not developing nuclear weapons, how much faith do you have in the information on which the US is basing its decisions?
Do you foresee another similar "revelation" about the status of Iraq?
What kind of information do you think, at this point, would bring the government to the realization that it's time to end the war?
Labels: Tuesday Topics