Twenty-Ninth Tuesday Topic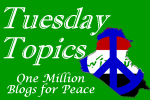 How do you think veterans of the Iraq War will be remembered in the United States and other countries?
Will they face the plight of Vietnam soldiers, disregarded with the shame of losing the war?
Or will they be lauded for signing up to kill for their country, even though the cause was unjust?
Labels: Tuesday Topics