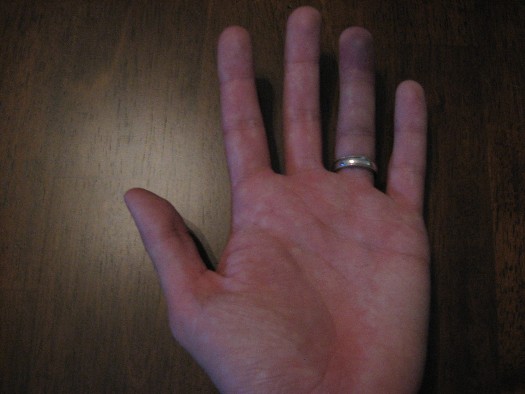 Portrait of the blogger as a left hand.
One of these five is not like the other. One of these five just isn't the same. And if you said "it has a wedding ring," you're not quite telling the whole story.
I already discussed how this happened from Chicago shortly after the incident. Believe it or not, it looked much worse at the time, a couple days ago, being predominantly swollen and even greener-purple throughout the whole finger. At this point, it's really just sore and vaguely annoying – something to avoid bumping into things and to tread lightly on the letters s, w, and x. It's great it's healing so rapidly, because I don't know what a day at work without being able to type quickly would look like.
It's hard to argue with the idea that this was the best trip to Chicago ever, despite the depiction above. After last post, Fish & I hosted an old-style Nuevo enchilada night with plenty of his student-friend posse and introduced them all to Mafia to cap the evening. We then went to Shedd Aquarium the next day in what may have been the first time I've hung out with both Fish and fish in over a decade. Put it this way, though… if I'm feeling okay about going to an aquarium in April in Chicago, you know there's a certain level of comfort I'm feeling with my destiny. You might say I'm giving fate the finger. Of course, you might've also said I was asking for it.
There was an earthquake in Chicago, or at least somewhere in Illinois. That night, both Fish's girlfriend and I had dreams about earthquakes, though mine ultimately morphed into some sort of nuclear attack. Chicago thus joined New York City on the list of places where I have experienced earthquakes that conventionally never get earthquakes. As the old way of looking at these things goes, I brought them in from California. Funny that Homeland Security can't pick those up on the scanners.
I don't reckon I'll be back there for a spell, though the eight-year gap just past is a pretty wide swath to repeat. At this point, it may have even passed Glasgow on the all-time list of places in the world. Maybe next time, Chicago, we don't have to shake hands.