Today marks the beginning of what will be a roughly two-week series chronicling our recently ended odyssey in pictures. I've decided to break it up by state, since that divides the pictures into pretty neat little chunks (who wants to look at 250 pictures in one sitting?) and it so happens that my first pictorial post of the Sojourn covered all the noteworthy pictures of California – no more, no less.
And, as a programming note, to help you index the Sunset to Sunrise Summer Sojourn information more efficiently, I've created a category called Summer Sojourn 2009. Just click on it above and you'll see all the similar subject matter, neatly sorted.
To the pictures!
Obligatory blurry taken-from-moving-vehicle state sign picture (this is one of the best of the collection):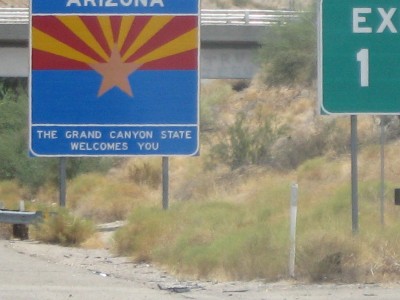 Emily's first sight of the Grand Canyon (Mather Point):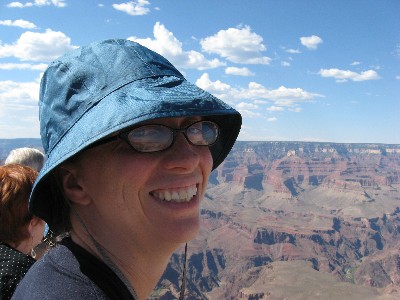 Emily's favorite tree near the South Rim at dusk: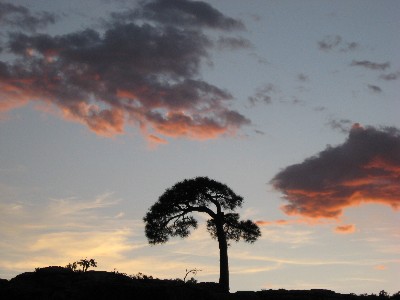 View of our destination from the top – we were headed for Indian Garden, which is the collection of trees and greenery in the center of the picture, in the bottom of the near, visible ravine: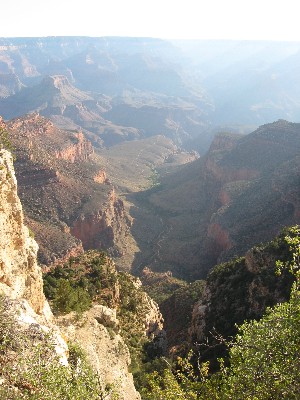 Heading down the trail in the morning, in good spirits: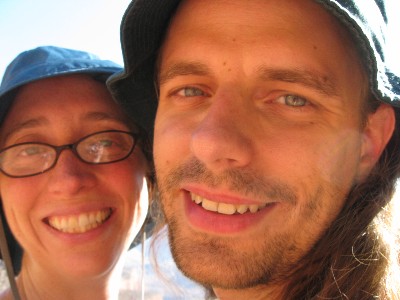 At the bottom – 110 degrees in the shade. They have all these signs throughout the Canyon discouraging people from pushing themselves, lest they die of heat exhaustion or similar: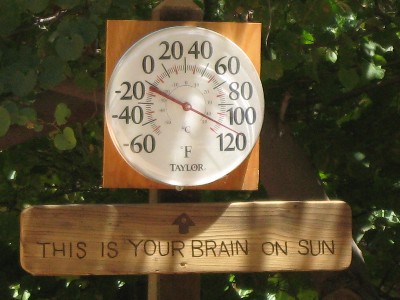 A view from the bottom: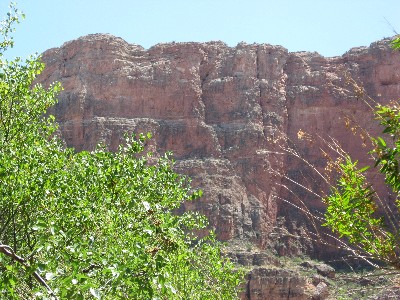 We were going to wait till sunset to hike back up to the South Rim, but a thunderstorm was coming in, bringing clouds to offer us cover from the midday sun: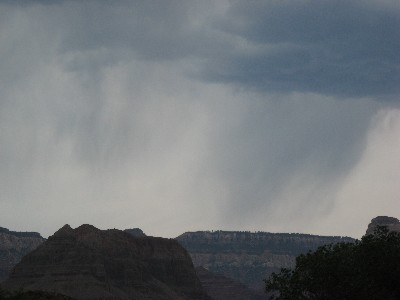 The trail behind us as we walked up: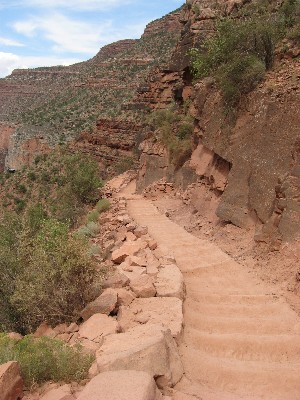 Almost to the top: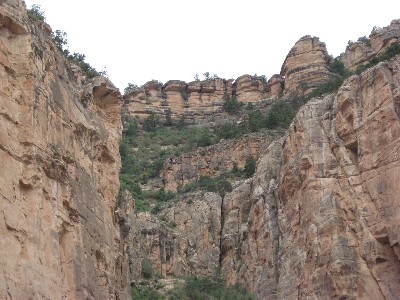 Obligatory squirrel with don't-feed-the-squirrels sign: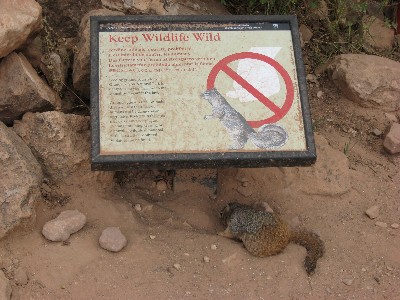 Emily, just shy of the top, surveying our journey: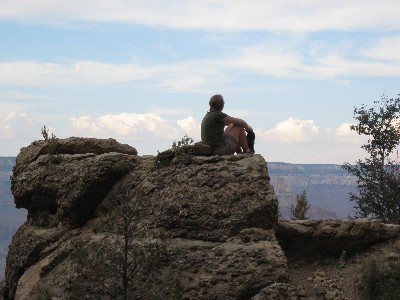 Just too tired to smile (yes, that's the shirt I bought in the summer of 2000):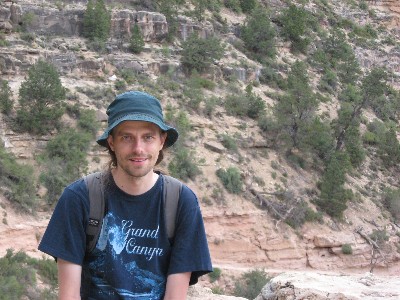 This gives you a good idea of what the Bright Angel Trail is like: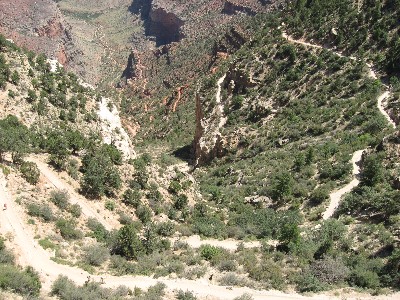 And here's a profile of some of the Bright Angel switchbacks: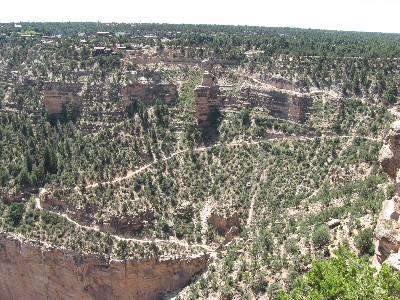 Em's favorite rock formations in the Canyon: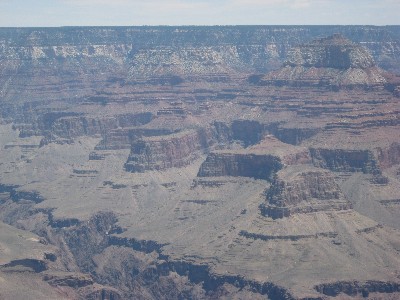 One of the neatest parts of the downtown Flagstaff skyline: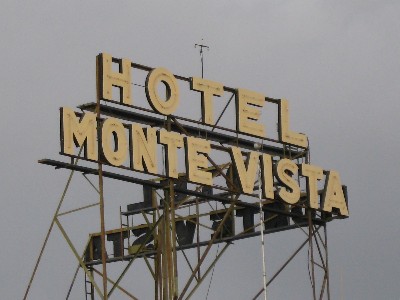 We showed up to Flagstaff pretty late in the day: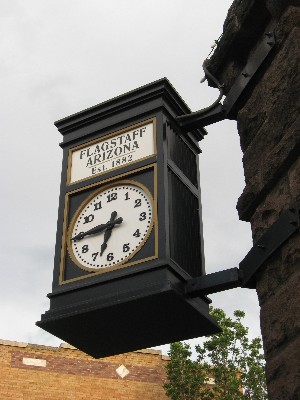 Albuquerque!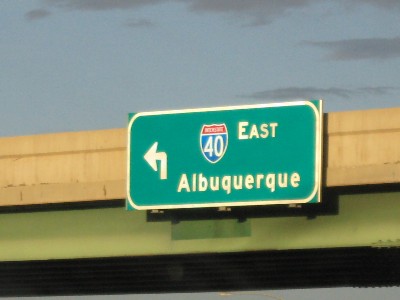 Standing on a corner in Winslow, Arizona: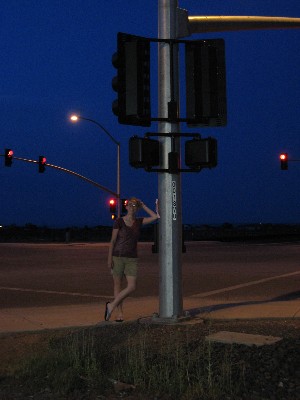 Me too: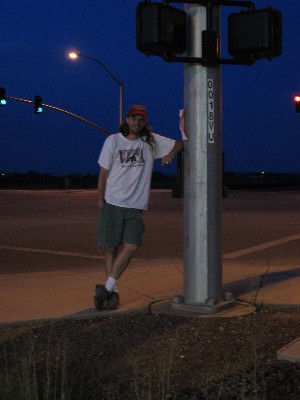 Next up – New Mexico!