It must be observed that this has been a week beyond the average.
To attempt to capture it all in some sort of laundry list seems to trivialize it (as, indeed, the very nature of the phrase "laundry list" captures). Besides, I sort of gave a preview in this post just 12 days ago. To think of a time when I was "searching for direction" seems almost laughable now in the face of directions very much found (chosen?) by the collective perspective.
If nothing else, the turmoil and heightened activity is certainly well captured by my recent prolificity in this very format of communication. It is surely oversimplification to say that when one is writing more, it is a reflection of more events worth living through – but no doubt the volatility in my own mind (or perhaps "mind at large" as my Dad would put it) has manifest in an outpouring of understanding. Like I said, I need to process everything and I get there too.
I imagine Adam Duritz to be somewhat like myself. This is quite an understatement – I have spent much of my life believing Adam to be somehow a kindred spirit, and no doubt a fostering of this perspective through highly empathetic lyrics is at the core of Counting Crows' success over the years. I was not even the first person to describe a CC show as a "religious experience" to myself – I had heard many others say this was so before I even particularly new many Crows songs. And yet the discovery of the truth of the statement was in no way contrived or unduly advertised when I saw them for the first time in New York in 1999. I dubbed it "the perfect show" and am still unsure if it's ever been eclipsed.
Trying to describe a Counting Crows show to the uninitiated (or those who, heaven forbid, don't like or know the band) is a little like Plato struggling with the forms. Yes, we're still talking about chairs and rooms and people, but you've never really seen any of these things in your life until you've been to a CC concert. I realize that I'm sounding hyperbolic to the point of undermining what I'm trying to express, but really. For emotional sponges like me, a CC show is like an oxygen tank for asthmatics. Suddenly, for the first time, there's enough of everything I need.
Last night's show was no exception to any of these rules, though there are a few cautionary notes. It was both a summer show and a double-headliner, both slight drawbacks from maximal emotional flood. They're on tour with Maroon 5 of all people, a band that is perhaps the least like them of anyone they've ever toured with and seems to combine vapid, repetitive sound with lyrics that sound like a kindergartener regurgitating the most average pop songs they've ever heard in staccato. It occurred to me early in the show that they selected this matchup to heighten the contrast between the opener and closing act to pack an even tighter, more profound emotional punch.
But the summer shows (yes, it's September, but it was an outdoor concert with summer-type billing) tend to be shorter, slightly less focused, and a little more crowd-pleasing. It's important to stress that these are all questions of degree – the lamest Crows show ever is still probably the best concert experience you'll ever have this side of Simon & Garfunkel.
But it's worth noting because I feel that even Adam got in too deep too quickly in last night's show and had to back off a little bit. Which both heightened and flattened the effect of the message, making me wonder if there isn't something even larger and less grapplable going on that we're just scratching the surface of.
The stage featured an almost pyramidal array of stair-steps toward the drums, keyboards, and then a massive fake-brick wall peppered with a large screen and several smaller ones. The most striking component of the set-up, though the clustered sodium lights were notable, was a huge clock in the center of the wall, set to 11:00. It's the eleventh hour, and Adam's letting you know. Already, the chills were underway.
I don't think I've ever seen Adam in such a mess as a show began as last night. Emily leaned in and remarked something to this effect, implying he was somehow intoxicated, but it looked much more to me like he was grappling with some kind of emotional chasm that was entirely unchartered. He couldn't get some words out through teary bleary overwhelm. He changed everything about every song, peppering the opening "Round Here" with plaintive cries of hope against hope. The only thing familiar were strands of "Have You Seen Me Lately?" intermingled with new riffs into the song, made all the more stunning when the second song of the act was the original "Have You Seen Me Lately?".
But before I even knew that was happening, the screen filled with upraised arm silhouettes clawing for some sort of solace or retribution, all aiming at 11:00 on the wall. It was the most viscerally moving and distressing thing I've ever seen at a concert in my life. This was on display for the whole final third of a "Round Here" rendition that must have taken ten minutes. I was openly weeping, not even knowing how to take this and being altogether sure that I was not ready for the depth and breadth of the show I was about to witness.
It was thus at once disappointing and relieving that the rest of the concert never reached the tremors of that level of expression. It's exceedingly rare for a CC show to peak on the first song, but it felt like peering over the abyss, building up as though to jump, and then thinking better of it and dancing on the edge instead. Enough Maroon 5 fans were walking out as the show went on anyway that we have ended up with a concert for a thousand people had he pushed it. And that's not what summer shows are about, no matter how close they fall to October.
While the show had many obvious and more surficial themes, including a concerted effort to include every song with any sort of reference to California (there are many), key threads of desperation and hope against hope in the face of overwhelming odds seemed to carry throughout. You could argue that these themes are constants for Duritz and company (company probably including me), and you might be right, but it doesn't make it any less relevant. Those may be the themes of the last decade or so, after all, and the coming few years. If indeed we have years to come.
Early on, it formulated in my mind that the show felt a bit like Adam's suicide note. And then again, perhaps just a love note. Isn't every suicide note a love note? And of course, I'm sure I mostly just have suicide on the brain in the wake of David Foster Wallace's recent action. Then again, it's worth noting some stark similarities between DFW (born in 1962) and AD (born in 1964). After all, they look like they have something in common: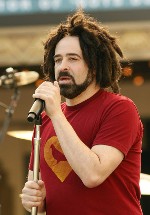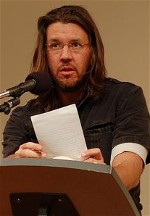 I'm not the only one that sees a resemblance, right? Then again, for that matter: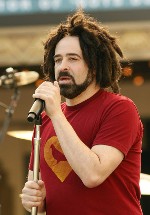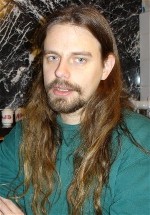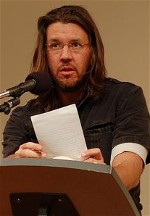 Perhaps I'm pushing things a bit far, but this is how CC gets its fans to relate to what's going on. The intro to the show featured a tribute to the late Isaac Hayes and I was practically expecting something similar for DFW at the show's end. But DFW didn't make music, and for all I know Adam Duritz didn't even read him.
Still, the thread of self-destruction was prevalent in the show and it was hard not to see it as a possible farewell. The unbelievable stripped-bare vulnerability of "Colorblind", the dramatic trauma of "Cowboys", the mostly seemingly ad-libbed earnest regret of "Miami". Every song seemed to have some tie-in to the entire question of deciding whether to exist, though once one starts looking for something in a CC set, it's hard not to find it. By the time the "feathered by the moonlight" line from "A Murder of One" was folded into "A Long December", I was just about ready to lose it again.
And then, a sudden retraction, almost as though he was scared of what he was saying to himself, let alone the fans. "Come Around" closed the set, after a brief explanation that the song was about coming back to cities on tour, no matter what else was going on. A song, for the first time, about constancy and a lack of change. And then, after the briefest encore departure in history and only one more song, just four words, each a sentence, loudly into the microphone: "We. Will. Be. Back."
There was the briefest of hopes that he meant tonight as he walked off stage, but the first strands of "California Dreamin'" over the stereo indicated that he was making a promise for the future. Or maybe trying to convince himself. It's a weird thing to say to your hometown crowd when half the show chatter was about staying at home with the parents and doing laundry, seeing old familiar places, how much he loves Berkeley, which he sees as the town where he grew up. It's the kind of thing you say to Pittsburgh or Cleveland or the Philippines when you're not from there, when those places are remote and perhaps vaguely undesirable, but you're convincing people to tough it out and wait for you.
And maybe he just means that about the planet. It would certainly be understandable, if so. It's not an easy place to be, sometimes, and not looking much easier. Me, I have reason for personal hope right now. I haven't even begun to engage the 10-year reunion homecoming implications of this weekend's trip for which I depart tonight. I almost wrote a post called "High School Never Ends" a month ago and it still needs to be declared. I joked with Fish about offering live updates on the blog after each interaction with classmates.
But I think, for now, I'd rather feel things in the moment. Live each second as it comes, no matter how packed and overwhelming. There is anticipation, excitement, dread. Reason to believe there's no idea what to expect. I am ready, I am ready, I am ready, I am fine.
Round Here
Have You Seen Me Lately?
Los Angeles
Richard Manuel is Dead
Colorblind
Ghost Train
Cowboys
Miami
Washington Square
A Long December
Come Around
—
Rain King (with Augustana, Mr. Jones alt)