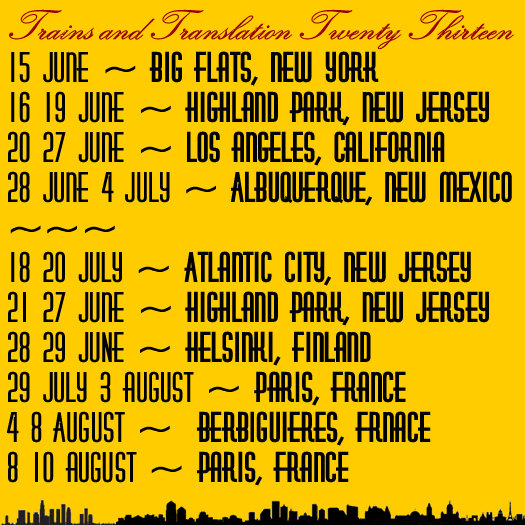 I've changed the theme around these parts to match the above poster for my upcoming summer travel plans. I'm not in love with the title, but I like all the T's and I really like the imagery and all those skylines. At the very least, I've solved the minor dilemma outlined at the end of last month. If you don't see the new theme, refresh the page.
This whole thing may look a bit dark to you. I prefer the term "dramatic". Your mileage may vary. I was actually toying with the idea of getting a new theme altogether for this blog. Not a new name or anything, but a new WordPress theme style with a different arrangement of dates and titles and maybe even sidebar changes. The problem is that I really like the sidebar the way it is and had also just spent a fair bit of time crafting the new header image and needed to ensure that there was space for my 800×350 pixel creation, which is the size I've been working with since shutting down Introspection and replacing it with this.
In any event, this is a pretty extensive tour, including my first stop in Europe since 2008 (and that was only for a few hours in London!). Obviously, an alternate theme for this whole venture could have been about fish, since most of the travel is related in some way or another to Fish's wedding, which is the whole purpose for the European jaunt, of course. Somehow the "Gone Fishin' 2013" concept just seemed a little too much like I'd abandoned vegetarianism, though. It's a shame there isn't an activity with the summer implications of fishing that doesn't involve killing or at least significantly injuring creatures. It seems like it would be fun to fish without the whole death/maiming angle.
Other possible plans for this tour included, at one point, the Bay Area, Seattle, and Alaska. These destinations will all have to wait, or more properly, I'll have to wait to get to them. There's only so much one can gallivant if the intent of the summer is to be somewhat restful and, with any luck, productive.
Regardless of which, even if this summer isn't going places, I'm going places this summer. Neat. If we haven't made plans to meet up in an above-listed city where you're going to be, let's fix that, shall we?