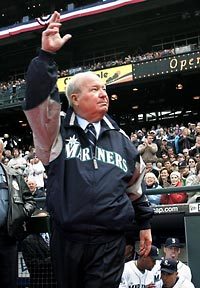 Dave Niehaus died last night at the age of 75. Most of you probably don't even know who he is, but the picture above might give you a running start. He was the man who single-handedly (or voicedly) convinced me to be a Mariners fan. He was the shepherd of my audio youth, the man who may have first inspired me to take an interest in public speaking. Indeed, it was an aspiration of mine to be a baseball radio announcer long before a speaker or debater. Although I guess drama had something to do with that evolution as well.
A lot of what I would want to say about Dave Niehaus today is what I already said about him when Ken Griffey Jr. retired earlier this year. Read that post and you'll see how inextricable the influence of Dave Niehaus as the lead broadcaster for the Seattle Mariners was from my growing to love the team, from my love of all the players whose names he called amid the excitement of "My oh my!", "Fly away!", and "Grand salami!" He was the consummate broadcaster, warm, friendly, approachable, prone to enthusiasm at all the right moments. And of course he was on the call when the greatest moment in Mariner history happened, that fateful fall of 1995:
In recent years, I'd gotten a chance to reconnect with Niehaus during his early-inning stints on the TV broadcasts and late-inning stints on radio, both available in California and Jersey through the magic of the Internet. He'd been wearying a bit, laboring under the strains of a septuagenarian body running through a much younger man's schedule. They were giving him breaks in the middle innings. But in 2008, he finally was inducted into the Hall of Fame, and the lift in his voice that came in the final two years thereafter was clearly audible.
It is thus tragic, but somehow almost fitting, that the M's lost 101 games in his final year with the team, with the planet. The Mariners have never been about winning, not really, not even when they set the record for wins in 2001 only to fall short of a World Series. The Mariners of 1977 that Niehaus first broadcasted lost 98 games. They went on to have six seasons worse than that, including 2010, and one equally bad (1992). They didn't even get above .500 once until 1991, by which time Niehaus was well on his way to converting me away from the A's and into a lifetime of love for Seattle. And the next year they still lost 98 games.
Listening to a Mariners game will never be the same. Dave Niehaus has announced nearly every one of their games in franchise history. No one knows what it's like to be aware that the M's are playing and not know that somewhere, whether directly audible or not, Mr. Niehaus is plying his craft in the booth, musing and screaming with every pitch and swing.
Thanks for everything, Dave. Fly away.