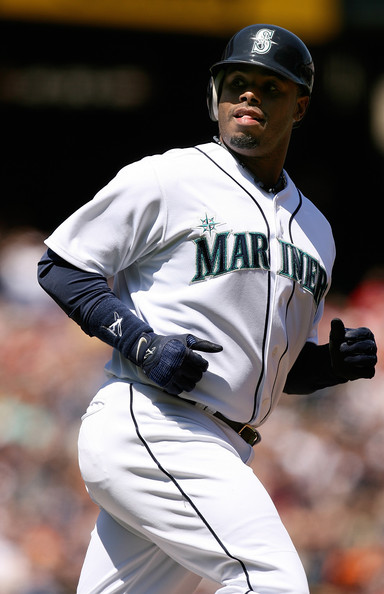 Ken Griffey Jr. reacts to his 616th home run, against the Giants on May 24, 2009. It was the last of his homers I'd see in person.
I moved to Oregon in 1988 and discovered Major League Baseball on a roadtrip down to California that October during the World Series. As I've discussed fairly recently, this led to my being an A's fan for a few years while living in Oregon, though my interest in their green uniforms, elephant mascot, and Mark McGwire was gradually worn down by years of listening to the Mariners Radio Network.
The first year I started listening to baseball was 1989 and the announcers were buzzing about a hot new prospect just called up named Ken Griffey Jr. I think it was Dave Niehaus who first called him The Kid, since his dad was still in the majors (and would be united with him on the M's the next year). And even though I wasn't always rooting for them in those first couple years, I listened intently to about a hundred M's games a year as The Kid lit things up and sparked a previously abysmal Seattle club to something like mediocrity.
The real turning point, of course, was 1995, well after my Mariner fanhood had fully taken hold and I was living in Albuquerque relying largely on newspaper articles and the few rare televised games. I remember being unable to wait to get home from school to see the one-game playoff the M's had miraculously forced against the Angels after being some incalculable number of games back in late August. The 9-1 drubbing, a thing of beauty. And then the series with the Yankees, the impossible 0-2 deficit, including a heartbreaking 15-inning affair in Game 2. (I still remember Fish telling me at school the next day what a great game it had been and that I must be excited and I got really upset with him. Turns out he'd turned it off after the M's scored in the 12th. The Yankees then tied it in the 12th and won it in the 15th.) And then, of course, the comeback, capped by the greatest game in Seattle Mariner franchise history, the decisive Game 5 in Seattle. The 5-3 deficit erased in the 8th. Randy Johnson coming in to pitch extra innings. The 6-5 deficit in the 11th. And suddenly, out of nowhere, The Double. Ken Griffey, Jr. steaming around 3rd base, trying to score from 1st. The play at the plate, the epic slide, the dogpile at the plate. And me, at home in New Mexico, jumping up and down like the world was on fire, like I'd just realized that anything in the world was possible.
Then the horror came. A Ken Griffey Jr. poster was one of the first choices I made to fill my vast collegiate wallspace when I got there and while 1998 and 1999 weren't quite 1995, they were solid seasons. But as 1999 wore on, there were rumblings about Griffey's desire to retrace his father's footsteps, get closer to the homestead, be part of the Big Red Machine. I already despised the Reds and this was a nail in the coffin. And by announcing publicly that he wanted to be traded to exactly one team, Griffey destroyed his value and the M's had to settle for a pitiful return. I was angry, I felt betrayed. Much of the fanbase was more forgiving, but I was resentful. I couldn't believe he'd done that to us, to the people who'd raised him from 19. How could he leave such a talented team, a crew with A-Rod, Randy Johnson, Edgar? (Yeah, I didn't know what was coming.) Just for some parental nostalgia? His dad had even retired as a Mariner! Wasn't that enough?
Well fate was cruel to Grif for the decision and he spent almost a decade in a hellish span of injuries and fan ridicule. He succeeded in tarnishing the Griffey name for almost every Reds fan and made them regret the meager sacrifice they'd made to acquire him. Oh sure, he was still The Kid, still electrifying when healthy enough to put the prettiest swing on a baseball you've ever seen. But it was a rare sight and he never quite fit with the red and white. And then he came on an interleague roadtrip to Seattle with the Reds and dropped the bombshell that he'd like to retire a Mariner.
No one could believe he'd just said that. They thought he was joking. But he was less than cryptic in his follow-ups, and before I knew it he'd signed to come to the M's in 2009. I had the rare treat to see him in three games in May against the Giants and then again briefly as the M's swung through Baltimore last month. I looked for my old KGJ poster and couldn't find it, concluding with some horror that I'd probably discarded it in anger when he became a Red. He looked good back in blue, though older, fatter, his body displaying the tired signs of a typical athlete at the very sunset of his career. Most Mariner fans thought he should've retired after a decent 2009, and the numbers agree. He failed to hit a single homer in two months this year, finishing below .200 and getting benched with aspersions swirling in the press.
And while the book on The Kid is clearly a storied and memorable one, one of glory and contributing more than any other single individual to keeping baseball in Seattle and putting the Mariners on the map, any description of him is incomplete without measuring him unfavorably against his potential. He could've been the greatest. He could've hit 800 home runs, all without an ounce of steroids. He could have been The Franchise for all-time.
Of course he probably would've been beset by the same injuries in Seattle as he endured in Cincy and all that resentment would have been ours over his decaying body instead of his mild betrayal. But no Mariner fan alive would tell you they haven't thought, at least once, that he might have stayed perfectly healthy in the cool rainy air of the Northwest. That he would have been not only a legend, which he certainly is, but The Legend. The Michael Jordan of baseball, but with humility.
We'll never know. But we can thank him and appreciate him for all the things we do know about him. And watch tonight's M's game, as I will, knowing that something special is missing and will never return.