I guess it shouldn't be surprising that having access to all of one's e-mails for several years should allow the refinement of particularly effective advertising. Still, seeing these two back-to-back was a bit jarring this morning: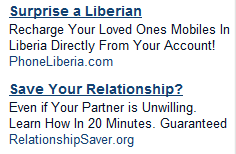 Thanks a lot, GMail. Are there really people out there who are worried that Facebook is closer to taking over the world than Google?
As Goo Goo Dolls would put it, "Scars are souvenirs you never lose. The past is never far."
In other news, while it wasn't the most impressive book overall, methinks it was particularly well-timed for me to read Siddhartha this week. There's a lot of insight in there about the particular paths that might be tempting at this juncture of life and good reminders of what roads are full of folly. Especially interesting as I play some poker and wrestle with the material reminders of my past that I want to haul out to Jersey.
Been sleeping and dreaming too much lately. The hazards of being home. Have extended my home visit a little bit and then will probably be taking about a week to cross back over the country. Leaving Saturday maybe? Still a little bit in flux. Might hike in Rocky Mountain NP, but definitely skipping Grand Canyon and LA, as were possibilities even a couple days ago. Feeling daunted enough about driving another 3k-4k miles at this point.
Next immediate stop: The Frontier!
For those without Facebook, here's the latest album of pics: Volume 3.