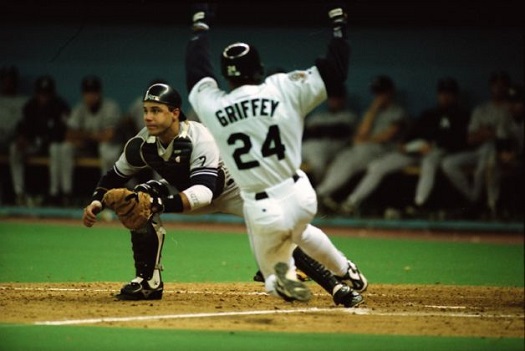 Any Mariners fan knows that 1995 was the most magical year of baseball in our history. The Mariners overcame a 13.5-game deficit (11.5 games on August 24th, with just over a month to go in the season) to catch the California Angels, beat them in a 1-game playoff, come back in the 11th inning to beat the Yankees in the franchise's first playoff series ever, before finally coughing up the ALCS in 6 games. The comeback is perhaps the most legendary in baseball history, but it has a dirty little secret. While reputed as being a fundamentally miraculous turnaround, it coincided completely with the return of one legendary player from injury, who immediately transformed the team from a plucky .500 club to a team with a world-class centerpiece.
That same person ignited the first game that started the turnaround, which happened to be his first game back from an injury that had befallen him in May. He also scored the winning run in the Yankees series. And from today on, he's a Hall of Famer.
Ken Griffey, Jr. is known for saving baseball in Seattle. The Kid, as he was called from day one in Seattle, debuted in April 1989 at the age of 19. I was 9 years old, living on the Oregon coast, and in my first full year of baseball fandom. I didn't root primarily for the M's at the time, but that season of hearing Dave Niehaus recite the dynamic accomplishments of the rookie was already helping turn me away from the team that would win the championship that season and to a lovable band of perennial losers. Of course, Griffey was determined to change the narrative in Seattle. He didn't save baseball in the city, he created it.
He didn't do it alone, surely. Edgar and Randy and all the guys had a big part to play in the 1990s Mariner squads that turned the tide of history for the club and kept them from moving to Tampa Bay, something that was all but a done deal midway through the '95 campaign. But without Griffey, it's hard to imagine any of that success. When he went down with his severe wrist injury that May, it seemed like fate was truly out to get the M's. The 1994 strike had felled a team that had won 9 of their last 10 and was closing in on first, while Griffey was having a career year. Even 1995 was shortened by the strike, with the season getting off to a late start that made The Kid's absence even more powerful. As soon as he came back, Refuse to Lose was born. So 1995 isn't just the story of an unbelievable comeback. The comeback is made a little more believable by the infusion of one of the greatest of all-time.
It's easy to see echoes of 1995 in 2016. Of course, as I've said in several of my "Let's Go M's" posts on this blog, it's easy for a Mariners fan to see echoes of 1995 in every season. Once your team has overcome an 11.5 game deficit starting in late August, no lead in the standings feels insurmountable ever after. But after a hot start this year, the M's have struggled mightily in midsummer, falling back to .500 after a year that promised to finally end our longest-in-baseball playoff drought. Of course, there's a dirty little secret behind this collapse as well: the injury to Felix Hernandez.
On May 27 of this year (Griffey's '95 injury had taken place on May 26 when he crashed into a wall), Felix pitched his last game before going on the Disabled List with a calf injury. At the time, the M's were 28-19, 1.5 games up on the Rangers in the AL West. In his absence, the team slumped back to .500, going 19-28, an exact mirror image of their hot start with Felix available. On Wednesday, he returned to action, with the team 47-47 and 7.5 games out of first (the team's deficit peaked at … wait for it … 11.5 games). While his start was shaky, he overcame a rough first inning to keep the game close and the M's were able to win on a walk-off in the bottom of the 11th. It was a game that looked so much like 1995, it gave me deja vu. The M's went on to beat the Blue Jays 2-1 and 14-5 before slipping today. They're 3-1 since Felix's return and 31-20 overall with him on the roster. And the Rangers have been collapsing, not quite like the '95 Angels, yet, but enough to let us in the door. Entering play today, the Mariners were just 5.5 out.
Am I reaching too hard for a narrative today, the day that Ken Griffey, Jr. was inducted into the Hall of Fame with the highest vote percentage in the history of the Hall? Perhaps. After all, Felix doesn't play every day and there's only so much impact any one pitcher can have on an entire season of games. But as The Kid surely knew in 1995, actual play is only a portion of a superstar's impact on the team. They also teach and inspire their teammates. And their presence, their active placement on the roster and in the field, makes everyone else believe that greatness is possible. It's easier to believe you can fight for that comeback when you know Felix is looking on from the dugout, that he's going to be pitching every five days, that there's always a chance.
It's become fashionable in baseball this century to discredit such notions, to believe that baseball players are human beings on the field who are affected by emotions and momentum and environmental factors. I don't know how these people explain Tiger Woods' epic collapse that aligned with the collapse of his marriage and his public humiliation in the international media, nor even how they explain Griffey's rapid deterioration when he left Seattle, let alone every change in approach made by players after trades, signings, and changes of all sorts. I think the real explanation is much more clear: baseball is still played by people, not robots. Sabermetrics may reveal some trends and statistical value where not previously seen, but the biggest determining factor in a player's performance is still how they feel in that moment. And Griffey was a great not just for his stellar athletic ability. He was an all-time great for elevating everyone around him, making them better than themselves, making them want to be even better than that.
There are a million memories to recount of The Kid, none of which do full justice to him, and all of which are being covered by the mainstream media today as he goes into the Hall. Some I even discussed here when he retired as a Mariner in 2010. By all means, read everything you can about Griffey today.
The city of Seattle and the fans of the Mariners will never be able to do enough to thank Junior for all he did. But the best way to try might just be to make another storied comeback this year. The M's made the playoffs just twice after he left the team, the first two years he was gone, inspiring the meme that M's kept getting better without superstars. Randy Johnson was traded in 2000 and the M's set a record for regular season wins the next year, after losing two Hall of Famers in back-to-back years. Of course, Ichiro had joined the team in 2001 at the peak of his career, so, y'know, we didn't only lose future denizens of the Hall. But there's a Mariners cap in Cooperstown, now and forever. My oh my.