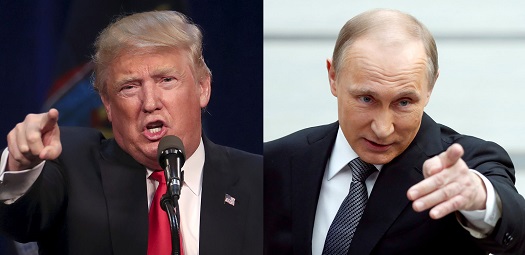 "I always felt fine about Putin. I think that he's a strong leader. He's a powerful leader. … He's actually got a popularity within his country. They respect him as a leader. … I would talk to him, I would get along with him. … He has absolutely no respect for President Obama."
-Donald Trump, from two separate interviews, on Vladimir Putin
Donald J. Trump, Republican nominee for President, is not the second coming of Hitler. Sorry to disappoint, kids. I know Godwin's Law says the first comparison we have to make is to Hitler, just as the Republicans themselves started drawing brushy mustaches on their Obama posters. And it's not because it can't happen here, because anything can happen here. We're not special in America just because we were born into a rich country in love with its own image and alleged impact on the world. As the world's leading exporter of imperialism and militarism, it's certainly a stone's throw to Hitler on a good day, so we should sure be vigilant.
But Trump's model is a different strongman. One who is blonde, like him, like Hitler so desperately wanted to be. Vladimir Putin. Trump, like the Russian people, is obsessed with Vlad Putin.
Vladimir Putin may be the most authentically beloved leader among his or her domestic populous on the planet right now. While he has a strong and vocal group of dissenters, the Russians love the authority and respect he has restored to Rodina (the motherland, in Russian). They don't care so much that he's alienated a lot of foreign nations, for he's done so by empowering Russia to be strong and independent, the idealized image of the nation fostered throughout the Communist years and well before. They love that he took back Crimea, love even more that no one was able to stop him. They like that he poses shirtless, does martial arts, purportedly wrestles bears to the ground between drinking sessions at his dacha. He exudes virility, strength, and power. What Trump wouldn't obsess over such a figure?
But the biggest thing that Putin does best is push the envelope. For what greater test of power can there be than getting away with something more outrageous than anyone would have predicted you could? It's all well and good to claim power in an atmosphere where you gladly offer concessions and make nice with other leaders at home and abroad. Quite another to demonstrate that power by doing something widely reviled and demonstrating that no one can stop you.
Well before he invaded Crimea, well before he praised Donald Trump as "brilliant," Rutgers debaters Dave Reiss and Kyle Bomeisl wrote a case they wound up running in Maryland finals in 2010. The case was written in the midst of some minor spats between Putin and his puppet co-leader Dmitri Medvedev (speaking of wrestling bears – medved is Russian for bear) and proposed a hypothetical where Medvedev went so far as to publicly criticize Putin, which he did not do. The case we ran in Maryland finals was, in this hypothetical instance: "You are Vladimir Putin. Invite Medvedev to appear with you on national television. Then strangle him, on camera, with your bare hands."
What the Maryland judging panel didn't realize is that this was a serious suggestion and exactly in the wheelhouse of what Putin would do. For the lesson of the case was the same as the lesson of Putin's entire presidency/prime ministership/presidency: get away with as much as you can. It will demonstrate that your enemies are powerless and make them look weak and terrified for trying to oppose you in the first place. It would be a whole new level for Putin to demonstrate that he could literally get away with murder.
This theory about Trump/Putin explains so many of the things that come out of the mouth of Trump and his cronies, so many things that otherwise baffle political pundits and observers. He's not just a gaffe machine attempting to eclipse Joe Biden for foot-in-mouth moments. Because he doesn't apologize for these gaffes or walk them back, almost ever. He's just pushing the envelope as far across the table as he can reach, loudly testing the waters of how far he's come and what he can get away with. Melania Trump lifting lines from Michelle Obama? Just a test. Claims about wall-building and Muslim-banning? Just tests. What can he get away with and still be popular, still be leading in the primary polls, still have a commanding presence on the world's highest and most theatrical stage?
This is why people can seriously consider whether the whole thing is some master ruse: either a punt to old friend Hillary Clinton or a set-up for a shocking abdication between November and January (that theory must have died with the appointment of Mike Pence) or some kind of epic joke to demonstrate his superiority over the American people. Because this is not how we're used to our serious politicians operating. We're used to the pandering of the Clintons, the conciliation of Obama, the rallying cries of the Bushes, and the communicating of Reagan. We think politicians want them to like us and we forgot that the most popular people in high school were the ones who didn't give a flying bleep what you thought of them. We have forgotten the first rule of affection: the less you show a desire to be liked, the more people crave your attention.
That said, Trump doesn't always pull it off. He reacts defensively sometimes, a mistake Putin would never make. Putin's response to accusations about small hands would not have been to awkwardly say there's no problem there. He might have just leaked testimony from a former lover in some media outlet, or perhaps a nude picture of himself, doctored if necessary. He might have just ignored it and laughed off any future questions about it. Putin does not go out of his way to be loved. He shows his strength by pulling outrageous and unprecedented stunts, by speaking loudly and carrying a big stick.
Now, yes, this does not paint a very flattering picture of a Trump presidency. Keep in mind that all my efforts to both demonstrate the underestimated power of Trump to win votes and to compare him roughly equally to Clinton are not endorsements. They are not in any way, shape, or form, a desire to see Trump take the highest national office. But I do think it's important that we realistically evaluate who Trump is, what he's capable of, and what his intentions are for the nation.
Like Putin, Trump is an entertainer, a strongman, and an egotist. But he's also a realist, one capable of measuring where the line ultimately is and ensuring that he doesn't do something actually crazy and miscalculated. This is why Trump with his finger on the button doesn't terrify me, any more than the existence of said button and egomaniacal American politicians always terrifies me. Putin has not nuked the US, or Ukraine, has not rebuilt the Iron Curtain, has not recreated the purges. He's done some condemnable things, to be sure, but they're within the range of normal US presidencies: invading some other countries, bombing still more, cracking down on some rights, possibly illicitly assassinating some citizens. All pretty par for what we expect from top-line world leaders these days.
Ultimately, though, the best check on Trump is one that truly does exist for Putin and pretty much anyone else who wants to win the beauty contests of contemporary elections in major world powers. Deep down, despite all the veneer of indifference to opinion and reaction, he cares very deeply about what people think. Donald J. Trump wants you to like him. Desperately. He has crafted an entire life around building an image, building up propaganda, and he really really wants you to think he's cool. In that way, he's almost indistinguishable from Hillary Clinton. He just knows that showing it less makes people like you more. Which is why he's going to win in November.
Again, I don't want this to happen. I also don't want Hillary Clinton to win in November. Almost everyone I talk to agrees with this mutually assured disappointment. Except, of course, that it's not assured. Just like in 1992, if everyone voted their conscience, for the candidate they truly truly truly wanted to win the White House, we would not be sending a Republican or a Democrat to the presidency this year. I think almost any moderately popular moderate could jump in the race right now, or in August (I know they literally couldn't, because they wouldn't get on the ballot in time), on a not-ClinTrump platform, and grab 300 electoral votes. Short of that, I think Gary Johnson or Jill Stein could each pull 20% and put the election in chaos. If one dropped out and endorsed the other, real third-party victory would be possible, if everyone actually voted and voted their heart.
Sadly, we're too busy throwing around accusations of people being like Hitler (or of Benghazi), generating fear to insist that we vote for literally the second worst person we could imagine running for President. In that sense, this whole election cycle feels like it's being run by Vladimir Putin on behalf of the two major parties. They are pushing the envelope as far as they can, offering up the two most hated people in American politics to demonstrate their stranglehold on power. We just keep taking it, eating up the lesser evil, believing in this false dichotomy and being surprised when things get worse. Wherever the line may be, I guess they haven't found it yet. I sure wish we'd resist, though, so we'd start having candidates we didn't have to compare to war-mongering power-addicts.