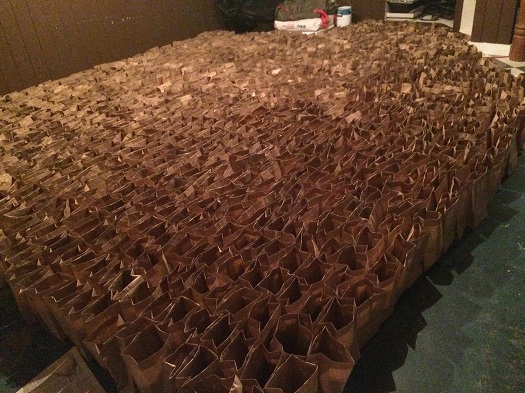 Woke up at 5:30. Set my alarm for just before 6, but I couldn't really sleep. Today is my holiday, the one that I unequivocally call my favorite every year. It's luminaria day, Christmas Eve, in Albuquerque.
It's supposed to start snowing at sunrise, 7:12 AM. I've never seen snow on Christmas Eve here, though a White Christmas is not unheard of. We're getting a huge storm in a couple days that might dump 6 inches of snow, while New Orleans faces tornado warnings and the east coast is in the 70s. But our real Christmas Eve miracle today is that yesterday and tomorrow are both too windy for little paper bags to stand with flames inside, both featuring winds over 20 MPH. Today, however, will top out at 8 MPH, perfect weather for lumis.
Those of you who have followed my obsession over the years know that part of what fuels my love of luminarias is the nature of obsession itself. The ability to set a personal record, to work hard and long hours at something obscure that I like more than most people do. But I've also witnessed in recent years how much joy and excitement others get out of this holiday, and especially my efforts to create a massive display. That is what this season is all about, giving joy to others.
But luminarias hold a special place in my heart for the meaning of the tradition, never more salient in my lifetime than this year. The tradition symbolizes lighting the way for the Christ-child and family as they seek shelter on Christmas Eve. People light a path along the walkways in the dark of night, along their fence lines, roof lines, and leading up to their doors. The message is clear: There is no room at the inn, but there is room here. Come, stay, sit by the fire. We will take you in.
I don't consider myself a Christian, though I think Jesus is an admirable if highly misunderstood figure. His pacifism and the values sometimes found in Christianity are still highly influential to me. But perhaps no story could be more important to us this year than that of those lost and suffering, wandering in the wilderness, seeking solace and comfort on the 24th of December.
For the next 11 hours, I'll be out there making the magic come together, all to symbolize the welcoming nature of our home, our city, our people, the openness to those lost and seeking. Setting up small candles, a bulwark of hope against the dark, in concert with others, to light your way home.