New Orleans has brought me my first-ever NFL game and second- and third-ever NBA games in quick succession (and I have a feeling that, at those ticket prices, we're going to become Pelicans semi-regulars). But it sadly lacks an MLB team or stadium, though I am excited to check out the AAA team when spring finally arrives in earnest.
But it is March and I just had a mini-debate on Facebook about whether Dodger Stadium is great or just meh (spoiler alert: it's just meh) and it got me thinking about what the all-time great ballparks are. It also reminded me that I've long been meaning to, in one cogent place, compile the list of ballparks I've been to for a baseball game, in part to construct the to-do list for the next few years (while I'm taking breaks from training to reprise Rim to Rim to Rim). Though I think I somehow managed to never see one in San Diego despite all the visits to see Fish during his college days, and I overtly skipped my planned trip to Busch in St. Louis to play a poker tournament instead, back in 2011 on the verge of my personal poker revival. It's hard to be interested in so many things.
I've also decided to leave AAA stadiums (and lower) out for now because I think it muddies the waters and makes comparisons more difficult.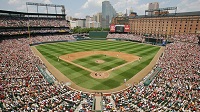 1. Oriole Park at Camden Yards
Baltimore Orioles – Baltimore, Maryland
It's not my favorite team, though it's up there, but I don't think anyone's quite been able to top the original revival of retro-style ballparks. The Warehouse is just magnificent. The skyline is awesome and every seat in the place is great.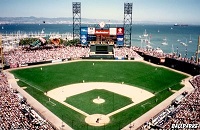 2. AT&T Park
San Francisco Giants – San Francisco, California
This is a very close second, with the scales possibly tipped by how many times I nearly froze to death in these stands in the early 2000s. The view of the water and the possibility of splash-downs are the highlight here, along with the retro architecture that will dominate the top spots in my list.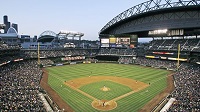 3. Safeco Field
Seattle Mariners – Seattle, Washington
Well I wasn't going to put the home of my favorite team down too far! A classic example of retro style, all the amenities of a top modern ballpark, and the Mariners! Plus the retractable roof is just plain cool, even if you never saw the Kingdome's falling tiles.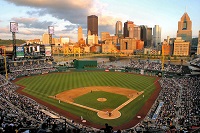 4. PNC Park
Pittsburgh Pirates – Pittsburgh, Pennsylvania
I know this one will surprise a lot of people, but I'm a sucker for skylines. Pittsburgh as a whole is an impressive and surprising city and the Pirates' gem of a stadium stands out among the reasons. Plus, tickets were amazingly cheap during their endless losing years.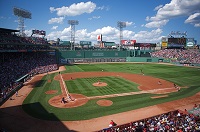 5. Fenway Park
Boston Red Sox – Boston, Massachusetts
Some classic stadiums will not do well on this list, but Fenway, despite its creaks and quirks, really is magical. It's hard to argue with the Green Monster or the obstruction poles and it just feels like the 1920s in there as soon as you set foot. Fond memories don't hurt the ranking here either.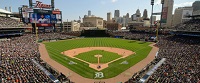 6. Comerica Park
Detroit Tigers – Detroit, Michigan
Another surprise to many, but so many cool unique features like the huge scoreboard and the old-school runway between the mound and the plate.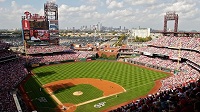 7. Citizens Bank Park
Philadelphia Phillies – Philadelphia, Pennsylvania
Solid retro feel and cool field shape with great scoreboard and light features. Points off, a bit, for being too far from the Philly skyline to really appreciate it. But good use of brick inside and out.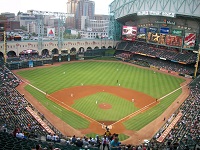 8. Minute Maid Park
Houston Astros – Houston, Texas
It doesn't hurt that they've gone from repping Enron to repping orange juice, but I was really pleasantly surprised by this park and not just because we had 3rd row seats late in the season. Unique feel, the left field wall is awesome, and I personally like the hill in center field – perhaps because I don't have to play there.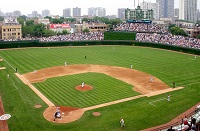 9. Wrigley Field
Chicago Cubs – Chicago, Illinois
I can hear the purists screaming at me, but there's something to be said for the feel of a park and this one was a little bit off-putting. Maybe it was all the day-drinking Chicagoans. Chicago and I have always had a rocky relationship at best. Points for Ivy and history, of course.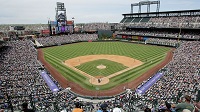 10. Coors Field
Colorado Rockies – Denver, Colorado
A very solid middle-of-the-pack entry, with good amenities and a nice overall feel. It's huge and usually packed, which adds excitement, but there's no special standout features other than lots of seats.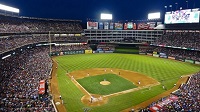 11. Globe Life Park
Texas Rangers – Arlington, Texas
When I visited, it wasn't under that name, but I was really impressed by the retro feel of the park and all the classic brickwork outside the stadium (these pictures fail to capture the beauty of the external buildings). But a little overbuilt in center field.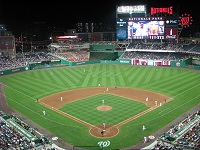 12. Nationals Park
Washington Nationals – Washington, DC
This one may be getting put a bit lower than it should because a lot of its cool features are patriotic and that leaves me a little cold. The Presidents race is awfully fun, but all the stars and stripes are a little much for me at times. Really, Colorado, Texas, and Washington are very similar and interchangeable. Points for metro access, points off for humid heat.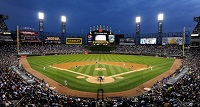 13. US Cellular Field
Chicago White Sox – Chicago, Illinois
I probably would like this stadium more if it weren't in Chicago and weren't named after a cellphone company. We're allowed our biases in lists like this. I do like the lights a lot.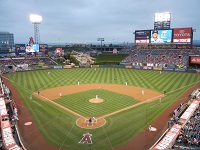 14. Angel Stadium of Anaheim
Los Angeles Angels of Anaheim – Anaheim, California
Now we start to turn the corner into subpar parks, and not just because they insist on superfluously adding "of Anaheim" to everything like some weird civic brochure. The random rock structure in left-center just doesn't do it for me. There's no skyline because suburban LA. And the years of rivalry with the Angels don't help anything for me either.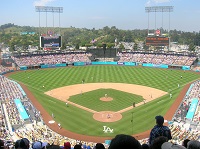 15. Dodger Stadium
Los Angeles Dodgers – Los Angeles, California
Ah, the park that started the whole debate. Samburg's friend said it felt like stepping into the sixties to visit and that's exactly why it's so low on my list. The 60s were the era when America took a hacksaw to architecture and stadium aesthetics. It's a monument to concrete. There's nothing actively offensive about this stadium, but nothing particularly good either. Plus, the Dodgers.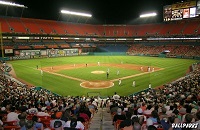 16. Pro Player Stadium (defunct)
Florida Marlins – Miami, Florida
This square stadium had really cool ramps on the corners to walk up and down and a bunch of empty red seats to stare at while watching the game. There was really nothing to write home about from debate camp when I went, other than it being kind of amazing that actual Major Leaguers would play in this stadium.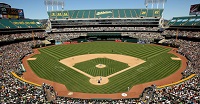 17. O.co Coliseum
Oakland Athletics – Oakland, California
Everything that could be wrong with a baseball stadium. Appalling names that change every other year, concrete on top of concrete, too many seats that obstruct any possible view (and aren't used anyway). Multi-purpose. Ick.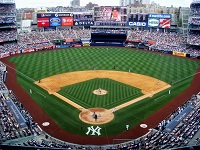 18. Yankee Stadium
New York Yankees – New York, New York
Is it probably technically a little better than Oakland's stadium? Yes. Do I care? No. The Yankees play here. And it is in every way the most overrated stadium in baseball history. There is nothing aesthetic or cool about this park and it was modeled on a park that was in no way aesthetic or cool. Why? Just, why? Babe Ruth was good at hitting homers, but not so much at building houses.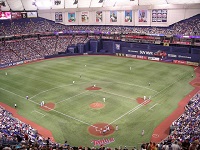 19. Metrodome (defunct)
Minnesota Twins – Minneapolis, Minnesota
I love the Twins and hate the Yankees, but even I recognize that a dome belongs on the bottom of any sane list of ballparks. Just look at that turf. Look at it! And the weird blue folded-up seats in right field that haunted home-run highlights of early days of ESPN watching? It's like they weren't even trying. The roof was soft and had kind of a billowy effect. That was cool, I guess.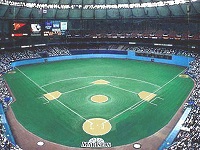 20. Kingdome (defunct)
Seattle Mariners – Seattle, Washington
This is hard, because my first-ever Major League game was here, and my second and third, and the team that I adore saved baseball in Seattle in playoff games in this place. But it is, objectively, the worst building to ever host a baseball game in the history of humanity. My Little League field with an all-gravel right field and no fence was a better shrine to baseball.
I'm not quite sure I'd realized I'd been to so many parks, though I need to loop back to the replacement fields in Miami and Minneapolis. I've seen 17 of the 30 actives, though, which is a pretty cool fact, and really San Diego and Arizona should be easy to pick up to complete the West. And Atlanta while I'm living in the South, and maybe even Tampa Bay, if only to complete the 20s in this list. I think the one I may most want at this point is Milwaukee, which I toured around when last there, but it wasn't a game day, so I didn't really get to see it.