Congratulations go to Adam "Zimmy" Zimmerman, the grand prize winner of this year's first-ever Blue Pyramid University Quiz March Madness Challenge. Zimmy wins an Amazon gift certificate and the adulation of hoops bracketeers everywhere.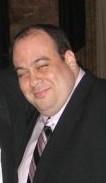 Zim-Zim the Mayonnaise Man
News of a new set of brackets, namely that involving APDA's 2010 National Championship if it were a 64-team single-elimination tournament, is forthcoming sometime early tomorrow.