New image up top. Refresh the page if you can't see it. If you still can't see it, well, here it is below: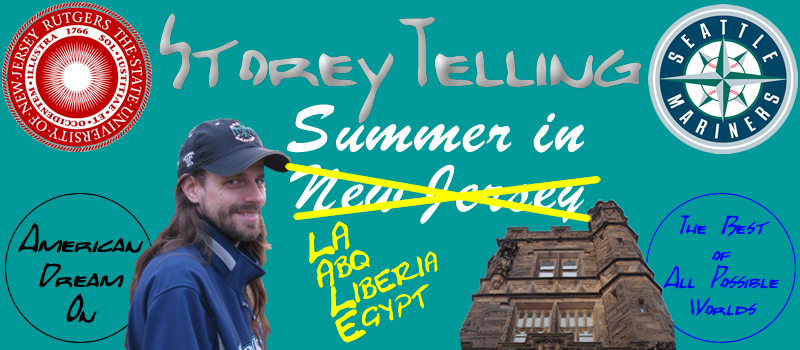 One of the subtler overall changes on the page, going with a relative simplicity that reflects my effort to refind some focus. I'm not that far off, not all over the place, but still not quite as centered as I'd like to be. Ever since I got back from Virginia (all of 48 hours ago), I've felt a bit foggy, rather dissociative. As though this is all a big dream I'm about to snap awake from. Not all of it, as in the last 30 years, but all of it, maybe most of the last 48 hours. It's odd.
Of course, in part, it's April. Every April, I get to thinking and hoping that maybe it won't be so bad, so strange, so despondent. Most Aprils, I have to remember that there's a reason I have this whole time-is-a-place theory going. This time round, at least, I have two insanely busy debate weeks back-to-back to keep me distracted. And then it'll be time to enter the home stretch of a book that feels like it's not quite off the ground yet. This month may yet prove to me that two books a year is a more reasonable expectation than three.
But I'm still hoping otherwise.
This past weekend was pretty debate-heavy as well, if only because it takes about 13 hours to drive round-trip to and from Charlottesville, home of one of the better campuses in its absolute peak time. Arriving in Virginia under an 88-degree sky was pretty much just what I needed at the time and I thoroughly enjoyed the tournament there, in no small part because of Rutgers' great successes. Not only did Dave break for the second straight weekend and the third in the last six, but our newest novices were second novice team and both made the top ten novice speakers. And Dave & Chris managed to establish that they own 7th place, having finished exactly 7th all three tournaments they attended together. One could do a lot worse, especially for a junior-freshman duo. The tournament also just managed to be a bunch of fun, I got to judge many good rounds, and everyone was generally in high spirits. Although the less said about Friday night the better – suffice it to say that it's easy to block out the worse parts of college over time and thus even harder to when they're re-presented to you.
The only good thing about April, consistently, other than debate Nats I guess, is the start of baseball season. And what a great start it was today, with the M's almost coughing up a win only to demonstrate they might have enough offense this year after all. Watching Chone Figgins and Casey Kotchman come through so consistently was great. I am going to have a lot of fun watching this team run this year. It was all almost enough to make up for the heartbreaking NCAA Finals, though that itself was such a great game. And both of these were big uppers compared to the amazing but horrifying video that Russ has up on TMR.
That video was on its way to sending me into quite the tailspin. If you don't want to make the jump or want to know what you're getting into first, it's basically 40 minutes of American military chatter about 11 unarmed civilians that were slaughtered in a 2007 incident the US denied knowledge of until very recently. This is followed toward the end by a triple-missile attack on a building that also seems filled with civilians. It's perhaps the most chilling piece of video I've ever seen in my life. As bad as it is to watch 11 people killed (and trust me, one sees them shot and killed), it's probably worse to hear the live reaction from the people committing the murders. In some ways it feels like a vindication of all the things I say about people in that situation, but I'd really rather just be wrong. Perhaps most compelling of all is the vision of the blurry lines between video games and reality for a whole generation of American soldiers. The whole situation, from the dialogue to the monochrome target-screen, has the look and feel of a sophisticated first-person shooter (I mean, think about that phrase as a genre of video game on face there for a second) and one gets the sense that the people killing can't quite get over the psychic break between the surrealistic setting and the fact that what they're doing is all too real. But maybe that's just wishful thinking; maybe they know full well and are just that awful and/or manipulated.
In any event, I'm still struggling with it. It'll be with me for a long time. It's encouraging to know that there are people who would post it, who would make it available, who would spread it around, though part of me almost feels like it's an Orwellian exemplification of how much can be gotten away with. Still mulling.
The cat's sick and we took her to the vet, who knew no more about why she was sneezing and wheezing than they do about my migraines. But they gave her some medication, just like me, and wished her the best. There was a lot else on my list to do today, but I only did about three other things. My brain refuses to be still and yet won't move quickly either. It's pickling in a jar, just for a time, letting itself soak up the brine between the folds like some grimy spa catharsis. As though to gird itself for April and all it entails. As though to make the push into the depth of where I need to go to really fulfill The Best of All Possible Worlds.
I don't like pickles.