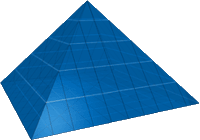 Welcome to the Blue Pyramid.
36 folks a day. 50 on Mondays. 4 pageviews per person, average.

A Note on the June Drought (18-25 June 2002) can be found here.

Birth: 27 July 2001
Groundbreaking: 11 January 2002
Last Updated: 5 July 2002
(check timeline for info on new stuff; this update date is exclusive of Introspection, which is updated daily)

This is the "front" page. Not the only page.

Please send me e-mail at storey@bluepyramid.org.

For a look at what you're familiar with, check out Eire Duck's Pond of Peace. This project will stay up, but won't be expanded on this site, in all likelihood. It will remain a monument to the old web days, from 8 February 1999 - 11 January 2002.

You're also probably looking for Introspection, My Worst Friend. That project WILL continue to be expanded on this site. Hence its own directory.

The first unique item of the site is an explanatory note. This may blossom into an entire section, so stay tuned.

The second unique item of the site is a history section. This too will hopefully gain speed as a larger section in coming months.

The third unique item of the site is a preliminary links page. This is now expanded into two parts, public & personal.

Also, check out the brand-new Bob Dylan List! It's part of the burgeoning Music section.

What good would a Music section be without a complementing Library?

Credits.


The Blue Pyramid is designed & maintained by Storey Clayton.
(C) copyright 2002
All written content herein is the exclusive property of Mr. Clayton.