Misery
(30 July - 8 August 2006)
8 August 2006
-Feeling legitimately much better for the first time in a long time. Which is good, because it was Disaster Prep day with 9 hours of goodness. Things are turning the corner at last.
-I can't believe I put off reading Dandelion Wine until the last couple weeks. It's so gripping! I had no idea.
-Wow. That was one of the most exciting Mariners games I've ever watched. I only got to watch the 8th, 9th, & 10th because of getting home late from the training, but man. A 5-1 extra inning win on a walk-off grand slam following two intentional walks? If that doesn't lift the team's momentum & spirits for weeks, I don't know what would.
7 August 2006
-I can't believe I'm still sick. The folks at work won't believe it either. The second part of this cold has taken a lot longer to shake off than the first.
-So I was Googling the term "free stat tracker" in search of one to keep specific tabs on the upcoming Podcast Quiz when I stumbled across myself on the front page. Turns out the #10 hit (of 50,000) is an Introspection entry from 2002. Sadly it seems even fewer good trackers are available now than four years ago.
-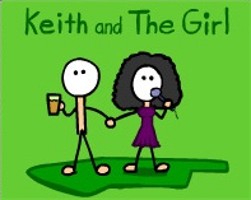 You're Keith and the Girl!
In the beginning the Earth was without form, and void. You are still without form, but have done a lot to rise above the void. You crack people up and seem on the verge of cracking up most of the time. You're known by a lot of outsiders, but you run the risk of living your life in an inside joke. You are willing to go to war to prevent what you perceive as a hostile takeover of your society.
Take the Podcast Quiz at The Mep Report Podcast.
-The PQ is up, as you can see. Go take it! & I got on Google Analytics, possibly the most unbelievable stat tracker in human history. If you want an invite, let me know. It's all good.
6 August 2006
-I can't believe what happened in this three-game series between the M's & A's. I just can't take it. This last game was especially disheartening, between having the lead & stranding about 4 runners at 3rd base. I'm not going to give up just yet, but it's so demoralizing to be on a roll against every team except the most important one to beat.
-Who knew I could write a quiz that fast? In a weekend, where I was sick? Stay tuned, folks, sometime very soon you'll be able to take the world's first-ever Podcast Quiz. It's going to be exciting...
5 August 2006
-More & more lately, it seems I throw my Saturdays in the garbage can. I dunno if there's too much pressure on them or too little, but they always seem to be a little grumpy & a lot wasted. I can't stop waking up early, so I got some stuff done this morning, but thereafter... well, I am still sick, so this is a bit exceptional. But still.
-Trouble.
4 August 2006
-Only made it 6 of my 8 hours today as my cold seems to be relapsing a bit. I kept protesting to all my co-workers that I needed to go home, but as the afternoon hit, it became clear that they were right. As much as I can't stand being sick, it's probably good that I'm not going to get sick during the rest of August, which is shaping up to be super-busy. There's something to be said for getting immunity up when the stakes are lower.
3 August 2006
-Trudged back to work today feeling a bit better, but by day's end I was in a world of hurt. It looks like I'm going to have to go back tomorrow regardless since so many people are out. At least it should be an easy day.
2 August 2006
Happy Birthday to Steve Rabin
-Working 11 hours yesterday was probably a poor idea. I would criticize anyone else for working through a burgeoning illness like that. I had my reasons, & to me they were all true, but I recognize it was likely a mistake. I'm staying home today.
-The biggest non-story I have seen in years may just be this thing about Fidel Castro going in for surgery & making sure that on the off chance that something happened, Cuba didn't descend into chaos. OH MY GOODNESS! Cuban leader plans in same way all modern leaders do for surgery!!!! Holy cow! This really is breaking news. I'm not sure I was more bothered by them somehow trying to cook a news story out of routine surgery or the ghoulish glee with which people reported the possibility of Fidel dying.
-The M's have now won 4 straight series, all against good & middle-of-the-road teams. It's been very exciting baseball to watch. Starting Friday, the real test of our season comes when we host the A's...
1 August 2006
-Looks like I'm getting sick. Sore throat sick. This displeases me greatly.
31 July 2006
-Note to self: remember, never read while standing on a BART train. What made you think you could do this? Silly self!
-It still amazes me how open everyone is at work about how much they don't like other people at work. I feel like the only person even close to getting along with everyone. Today, someone who used to work there came back & started ranting at a co-worker of mine about almost the whole building, & it was clear that she disliked most of the people. She didn't know the first thing about who I was (I was about 2 feet away), or where my loyalties were. It's clear she didn't care for herself, but perhaps she wouldn't want to get her co-worker in trouble? There's just an insanely open environment about talking behind peoples' backs. I'm just out of the fray & somehow popular (I do fix everyone's printer & computers & spare them a call to our Molasses IT Department), & I like it like that.
-Late August is shaping up like much of June. Neat.
30 July 2006
-Gris & I just played a 21-inning game of MVP 2005, with me winning in a final of 2-1. It was my third straight 1-run triumph over him (3-2, 2-1, 2-1). Suffice it to say we are much better pitchers than batters, & quite evenly matched.
-Sometimes I get overwhelmed by how much there is I want to do & how few of me there are.



Introspection, My Worst Friend* (Current)
Ye Olde Archive (Past)
Introspection Directory (Source)
The Blue Pyramid (Home)