Yesterday
(10-19 February 2006)
19 February 2006
-Headed out to Tracy after the move last night to hang with the rest of the fam, plus all the kiddies, & ostensibly play board games but actually watch Olympics. Everyone was pretty well exhausted, so it was a good plan & I got to see some bobsled, which has always been my favorite winter event. I feel like I totally missed the Salt Lake games (I guess I was pretty busy my last semester of college & I never watched TV at 'Deis particularly) & barely caught Nagano (again, last semester of high school... fairly busy). So it's nice to get back to seeing the Olympics... I remember how much I truly loved them as a kid. Able to update a couple D&C's, but I still have a ways to go before I'm back on time with my webpage. Other complications may be incoming as well on that front... sigh.
-Just feeling bleh. All this momentum I had from last weekend & the new place... don't forsake me now!
18 February 2006
-More frustrating? The internet still isn't working despite the estimate of "4-6 hours" from when the call ended.
-Spent the day moving our stuff, using a tremendously large rented truck that successfully hauled all the big stuff in one trip. Em's fam descended to help, so Paul, Jen, & Geoff were doing much of the work. Geoff noted it was the fastest & easiest move he's ever assisted, so I'm glad we don't have much stuff. Of course, we still have a bunch of peripheral stuff & even more books still at Big Blue, but this is why we planned the 2 weeks of overlap, right?
17 February 2006
[from Oakland]
-So... much... anger! Not only did they shut off the internet early last night instead of sometime today, but as I was moving boxes of books over to the new place, I found a note from SBC/AT&T (blast this merger!), saying "Sorry we missed you!" Well no one was supposed to miss anyone, because they specifically told Em that no technician would need to visit the new place to hook up the internet & phone. So I spent 90+ minutes on the phone with an SBC rep, actually displaying my anger at times, trying to move up the new estimated date of connection from freaking March 2nd! Ultimately they said they could reconnect the Big Blue House in the interim, which isn't great since it's just about empty & I'd just moved my computer over, but I suppose it beats nothing. Gah, so frustrating.
16 February 2006
[from Oakland]
-On the precipice of this new move, the end of the era known as the Big Blue House, & the uncertainty that accompanies the great open future, I've gotten rather contemplative. Some of it I blame on the new Mep Report promotional graphic, which I might post. The photo was taken from a super-low point in my life, right after sustaining my back injury in Scotland. I remember more than anything at the time the powerful sensation of having nothing to look forward to... that the future was stretched out like some sort of foot race that I couldn't care less about winning, had no prize, & would only exhaust me. I was a picture of demoralization. There's a sweet satisfaction about this image from my low point coming through to promote a podcast that's been remarkably successful with this old crew of folks at a time when so many things in my life went very right. & being able to look at this picture, listen to the main CD I was listening to in Scotland ("Born on a Pirate Ship"), & contemplating how far I've come... it's all a little like winking at the past & my past self therein, & letting him know it'll all be okay. It's all the sweeter for not having known it would work out in the first place.
-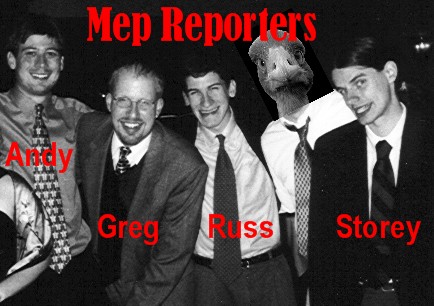 Listen to the Mep Report.
15 February 2006
[from Oakland]
Happy Birthday to J. Ariela Maruri
-Oh tell me that's not what I saw in the inbox. I need more discipline, not less!
-So much upheaval coming in the rest of this month... but now at least I feel ready for it, & well supplied with positive momentum.
-As promised... here's the forum thread with BU results. Also, the slightly less informative BU results page without records, speaks, ranks, or Em's new last name.
-Tell me there's no hope for a third party in America again.
-So the Blue Pyramid Blog Plaudits (BPBP's) now have their own homepage. Also, I polished off the 2005 year in review. So I feel caught-up with most everything on the webpage front, save maybe Book List updates.
-Which reminds me... the reason that Top Visitor Town & Search of the Week haven't been updated is that my stats server isn't working right now, so I don't have valid data for those yet. Hopefully I will soon.
14 February 2006
[from Oakland]
-For the third straight year, Em & I are apart for Valentine's Day, with all 3 attributed directly to PIRG. Better this than missing my birthday, as she's had to do at times as well. So it goes. It's not that vital a day anyway, though I do tire of all the militant opposition the day gets. As Dolphin asks in today's D&C, where is the love?
-Finally took a big step towards dealing with the Kia, which has been sitting around with possible problems for longer than I want to think about. Moving to an all on-street parking situation has finally forced me to do something I should've done ages ago. Better late than never, I hope, & the leading early indicators are actually surprisingly good. For example, AAA was able to jump it rather than replacing the battery.
-Still could use more discipline than I've got, however. Of course.
13 February 2006
-My flight left about 4 hours late, but at least Em's took off right on time. They said the whole time that the flight was going to be on time, but then kept pushing it back to let even later flights take off in our stead. At least I wasn't going to New York or something. I was in no particular rush, but it was hard to read with all the noise in the terminal from people & TVs. So it was a bit dull. Fish was gracious enough to pick me up at 3 in the morning despite having to work today, so I have so many rides to be thankful for. Now I'm just exhausted, but utterly & thoroughly elated.
-Reading people's blogs today, I ran across Jenny mentioning Pandora, which is a niftily-named service that will play a radio station for you based on what they read into your taste. You can put as many or as few groups you like into the system & they'll play some of those songs for you, plus lots of suggestions based on your picks. Totally free. Very cool.
-Everyone should run to theaters to see "Why We Fight". One of the best movies in a long time, to be sure. I also am working on my final list of top 5 movies of 2005, so stay tuned...
12 February 2006
[from Waltham]
-The team dinner lived up to expectations, as we stayed long after the public closing at the old Uno's in Waltham, & told so many old stories that I felt like I was living in 2000 for most of the meal. Being able to share this across so many years of the team was incredible. Then we got back to Brian's mod (where we've been staying all weekend) just ahead of the snowstorm that dumped at least a foot on the ground by morning. Waking up to a snowstorm knowing everything that's happened this weekend just magnified my joy even more. I am so grateful, so happy.
-A long lingering brunch at Sherman. Snow football on the Brandeis great lawn. Hanging out in the new green student center & telling old stories. This is how it should be.
11 February 2006
[from Boston]
-What a careening from great heights... now it looks like we might miss the break after being the top team in the tournament going into 4th round this morning. This would be a collapse for the ages...
-...or maybe not. I got a little too freaked out about a squirrelly & borderline-tight case 5th round, after we legitimately dropped our super-open universal healthcare case. But as Greg has been saying, my radar on what happened in rounds has been off all weekend. Call it rust. Anyway, sadly we're hitting the one unqualled 'Deis debater in the break in quarters. Damn. If only it were in semis.
-Two phenomenal rounds later, one running our old Native American Reparations case, & one opping mandatory organ donation, we're in finals & yes, we get to run Omelas. The case that Brandzy & I wrote ages ago for a hypothetical National final, then Tirrell & I were going to run in National finals if we made it in '02, the case that not getting to run constitutes my one regret about my career from the past 3.75 years... this is what we get to run in our last round ever! I can barely breathe.
-I think it worked out. We dropped on a 9-6 (8-5, 1-1) decision, but the round got quite a load of good feedback. When you run a 12-option double-opp-choice, it tends to go over well, especially with such a fundamental philosophical case. I really hope everyone enjoyed it... I had as good a time running it as I could've, & I felt better about my PMR than most any speech I'd ever given. Em was top speaker, I was third, & our 4.5 Brandeis teams in the break got their recognition, including Grinberg's first lifetime break. I'll post the APDAweb post when it's up. But this weekend has simply been magical. & now, something I've missed almost as much as debate... a team dinner!
10 February 2006
[from Boston]
-Got in on the red eye at 7 in the morning local time, & Mark Samburg & one of the novii (Joel) were kind enough to pick us up from the Beantown airport. We then promptly debated two practice rounds with them, where Em & I sought to shake off the rust. We crashed in the so-called "Debate Ziv" for about an hour or so, took Beth out to lunch at the wonderful old Taqueria, & then came into the Beans. One more practice round with Brian & Lina & then it all begins! Brandzy even made it out of central Jamaica! Ah, the craziness.
-I just know this weekend is going to fly by so quickly as I try to grab hold of it & refuse to let go. But good God, I love debate. I am so happy to have this chance to be back, if only for two days.
-Two rounds in, we've had two of the most fun debates I could've hoped for. We actually got two opps... one standard education case & one very fun case about working at McDonald's vs. dealing crack. Just being with the team, old & new, has been a blast, but to be suited up & involved after all these years is pure joy.
-Tab leaks actually attack you at this tournament! At least they're good.



Introspection, My Worst Friend* (Current)
Ye Olde Archive (Past)
Introspection Directory (Source)
The Blue Pyramid (Home)