Love Minus Zero/No Limit
(10-19 July 2004)
19 July 2004
-Still a bit weary from the prior day, but I have to get going sometime. What I love about this job, but also exhausts me at times, is that I never have any idea what to expect.
-State Quiz Stats are up, which are really only from the release-date of the 17th. I suppose 1,406 quizzes taken in the first day isn't as bad as I thought, but I remember the Book Quiz simply skyrocketed in its first week. I'll give it some time. I do realize, however, that a huge portion of the quizzes' audience comes from college students who do not necessarily stay that wired over the summer.
-While I haven't been talking about this in-depth on this page, my parents have been in a rather turbulent time of late. Noted Albuquerque columnist Jim Belshaw wrote a column on it the other day. I'd include more material from the Journal, but said paper requires subscriptions for most people to view their online content.
18 July 2004
-Yesterday included the best MLB seats I've ever had & a surprise concert (my anniversary gift to Em) at the Greek Theatre. The seats were at the A's/White Sox game where, at one point, Freddy Garcia was pitching to Mark McLemore with Ben Davis behind the plate. All 3 of them were Mariners this time last year. But my poor team is disintegrating as we speak. Then it was on to see the Indigo Girls at the Greek, which had an unbelievable number of highlights. They also played a fair number of things I didn't know, & even fewer that Em knew. But as she put it, they're infinitely understandable & so one can easily enjoy songs that one doesn't know that they sing. Despite playing only two-song encores the whole tour, they gave us four, including closing on an a capella "American Tune", a beautiful Paul Simon song. That was utterly amazing, though there were many other highlights, especially "Power of Two" & "Shame On You". I was also very moved by the rendition of "Virginia Woolf" they did. & I really like their new stuff, especially the song "All That We Let In". While I missed "Hammer and a Nail" & "Romeo & Juliet", that just gives me reason to see them again!
-I'm starting to think that releasing the State Quiz on a Saturday in summer was the best way to minimize its traffic.
-What a ridiculous day! I ended up working at 4 of the 5 houses in our network, including 2 stints at my actual house. I was never in one place for more than 5.5 hours in the 15.5-hour total shift, & while it was nice to have breaks, my head was spinning like a top (or perhaps like a bey-blade) by the end of everything. For some perspective, I worked with 23 clients today & 14 staff.
17 July 2004
-"I, Robot" spawned the same debate for me that so many Will Smith movies seem to spawn. Well, mostly just "Independence Day". Regardless, it was an action movie with occasional thought-provocation, a la "The Matrix" perhaps, with a little less thought. Worth seeing though.
-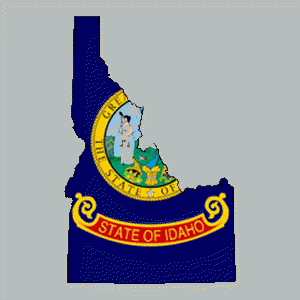 You're Idaho!
You're a real meat-n-potatoes kind of person, or more accurately, a potatoes-n-potatoes type. There's little else that captures your attention from sunup to sundown than farming, eating, or simply admiring the splendor of the tater. Sure, you stop to see the butterflies once in a while, or to look at rocks, but mostly you just wish they were potatoes too. Secretly, you hold a stash of potatoes in the cellar for the time when the government comes to round them up and take them for their nefarious purposes. You will stop them!
Take the State Quiz at the Blue Pyramid.
-Behold, the third quiz is upon us! & there was much rejoicing. I make no guarantees about this one, except that it will increase traffic on this here site. I was actually almost on the fence about a question on this one, & the alternative would've given me California. I promise I don't cheat on these things.
16 July 2004
-Wow, that report cannot be right. Or at least it better not be. I guess I have no idea what's really going on.
-After spending most of the day writing its results, I'm pleased to announce that the 3rd Blue Pyramid quiz will be released early tomorrow. First, we're going to see a movie.
15 July 2004
-So much poker today. Perhaps my biggest wins, however, have come in the past 24 hours.
-Finally seeing Drew fairly regularly 'round here. Plus Nagrom & her friends are hanging out all week. Given upcoming plans for trips this-a-way, I feel like the Big Blue House is a veritable tour venue. I wouldn't want it any other way.
14 July 2004
-People just frustrate me when they completely lack logical explanations for what they say. Debate taught me to always ask why, or to explain why when others are doing the asking. & to know the why behind the why behind the why. When others just repeat assumptions without scratching the why, it is mind-numbingly aggravating.
-Getting to eat for the meeting almost made up for all the frustration, though.
13 July 2004
-Happy anniversary to Emily & myself. It was our first day by ourselves together since sometime in April! We wound up going to Sconehenge, then to the Jelly Belly Factory in Fairfield, then to a rather marginal movie ("The Story of the Weeping Camel") & finally consoled ourselves by getting Gamecube games (Namco Museum & All-Star Baseball). Tremendously fun day. Was great especially to finally see the Jelly Belly Factory in action after we'd been disappointed by its surprise closure last December.
12 July 2004
-I've just been a little off lately. Can't put my finger on it, but I'm glad I have tomorrow off. Any day that starts at the QR door just isn't going to be stellar.
11 July 2004
Happy Birthday to Dom Williams
-A long, almost overworking day. I felt I had my hands full the whole time, & while it made sense given the situation of my co-workers, it didn't make it any easier. But it's a short work so I'm really not concerned.
10 July 2004
-Should I reveal that a new quiz is probably going to be out this month? Might as well generate a little excitement rather than total surprise. Not going to put the subject up until it goes to press, but it's already a quarter done & most of my schedule today will be working on it. With current traffic to the BP at an all-time low since the advent of the Book Quiz (though it's still higher than any time prior to the Book Quiz coming out, which includes the first year of the Country Quiz being out), things need some stirring up around here. More details as they become available.
-On the topic of website popularity, the BP is apparently 608th among the all-time Popdex rankings for links. Granted that Popdex is pretty random, but it's still neat... & it puts me ahead of Napster (not that that really means anything these days).



Introspection, My Worst Friend* (Current)
Ye Olde Archive (Past)
Introspection Directory (Source)
The Blue Pyramid (Home)