---


You're Madagascar!
Lots of people don't really know anything about you, making you buried treasure of the rarest kind. You love nature, and could get lost in it whenever possible. You're remote and exotic, and the few people who know you value whatever they share with you a great deal. For some reason, you really like the word "lemur".

Paste this text into your webpage code!


Take the Country Quiz again or click the links on the navigation bar to take another quiz!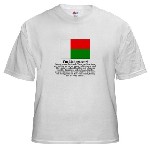 Wear this description!